Jenna Woolley is taking on the newly-created role of executive GM technology at Manukau Institute of Technology. Before this, she was head of strategy and planning at Network for Learning (N4L). Woolley is also on the board of Telecommunications Users Association of NZ (TUANZ). Her previous roles include strategy analyst at Telecom NZ (now Spark) and Asia Pacific lead for BPO and global delivery at analyst firm IDC.
Vanessa Sorenson at a CIO roundtable discussion in Auckland.
Vanessa Sorenson is back at Microsoft New Zealand as enterprise director. Sorenson began her career selling Microsoft software and is set to return after nearly 20 years with Spark, most recently as general manager, heading up the enterprise sales team, managing more than 60 clients.
Barrie Sheers – Managing Director, Microsoft New Zealand
"Vanessa is the perfect addition to our leadership team," says Microsoft New Zealand general manager Barrie Sheers. "She comes with a proven track record as a change agent, having navigated Spark through a transformation equivalent to our own. I'm excited to see someone of her calibre continue to lead us into further success."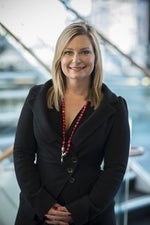 Vanessa Sorenson back at Microsoft after nearly 20 years.
Michael Collins is now executive director people, culture and technology at Southern District Health Board. Before joining the health sector, Collins was with Otago Polytechnic as director of the learning environment.
Michael Collins
Paul Whiston is the new Group CEO of New Zealand IT consulting firm The Testing Consultancy (TTC). He will work alongside founder Grant Borrie and executive director Mike Ewart to further develop the company's footprint in New Zealand, Asia and the US.
Whiston most recently headed Livestock Improvement's (LIC) Automation business in Hamilton. His previous roles include head of sales and marketing and interim CEO of Paymark as well as general manager (International) for NZ technology company, The Simpl Group.
Paul Whiston
Alyona Medelyan, CEO of Thematic, has taken part in the Summer 2017 batch at YCombinator, a startup accelerator which produced unicorns like AirBnB, Dropbox and Stripe.
"The experience has been incredible," Medelyan wrote in the Thematic website. "Every aspect of our business has visibly improved and we've learned a huge amount from the best of the best. Thematic grew three times and has now customers such as ManpowerGroup, Stripe, Air New Zealand, Vodafone, and Ableton. And, we are the only company in the batch that signed up YCombinator itself as a customer.
No caption
"This is special because Thematic is not a classic Silicon Valley start up," says Medelyan, whose work was cited in the 2017 CIO100. "Our story does not fit the usual pattern of two Stanford grads coming up with an idea, getting angel investment, assembling a team, then racing to product-market-fit before the money runs out.
"First, the founders are 30-plus parents with two young kids (one and four) and a sizeable mortgage who live on 'the other side of the world', in New Zealand. Second, we did not raise any money. We've bootstrapped into significant profitability by having a highly-efficient tiny team of just the two full-time founders, with some part-time contractors. And third, we are two engineers who sell to large enterprises – typically a recipe for disaster, but our sales cycle is counted in weeks, instead of months."
Dr Michelle Dickinson brings the Nanogirl show to Singapore
The New Zealand-made 'Nanogirl Live!' science show, created by Nanogirl Labs, was staged in Singapore as the flagship event of the Singapore Science Festival 2017.
"Our research showed that the Nanogirl programmes made a positive impact in building confidence and increasing engagement with science and technology in Singapore," says Nanogirl Labs co-founder Dr. Michelle Dickinson
"With 94 per cent of our participants wanting to do more science and engineering after we left, we were proud to leave behind our New Zealand grown education platform to grow roots in a new market."
The Nanogirl Labs team engaged more than 3000 students and their families, working both within the Science Centre and in schools across Singapore.
No caption
"There is a great deal to be learnt from Singapore's approach to STEM education, and more broadly across their innovation strategy," says Nanogirl Labs managing director, Joe Davis. "It was an honour to be hosted by A*STAR and Science Centre Singapore, and to have the chance to see first-hand how they approach the challenges of preparing their future leaders to succeed in a tech-driven economy."
No caption
School children all over New Zealand will be part of a world record setting event to get the most kids coding in 24 hours. Moonhack is a global event, officiated by Record Setter, to set a world record to get the most kids coding in a 24-hour period.
Moonhack was launched by Code Club Australia last year with the world record being set by more than 10,000 students. This year, the event has gone global with students all over the world set to participate in Moonhack.
"We have been blown away by the interest from teachers and school leaders in New Zealand to use the event as a step closer to the new normal – digital technologies as part of everyday life in the New Zealand primary schools," says Code Club Aotearoa general manager Michael Trengrove.
"More than 23,000 school children from 24 countries have signed up for Moonhack so far and New Zealand has nearly 4000 students all around the country taking part with some entire schools involved, such as Papakaio Primary in North Otago."
Wools of New Zealand chair Mark Shadbolt announces the appointments of three new directors for the group: Auditor Ian Marshall, who will also chair the Audit and Risk Committee; Rebecca Smith (director of the New Zealand Story) and Lucy Griffiths (owner of Innov8 Aotearoa).
Lucy Griffiths
"They are all well equipped to do the job we need today and importantly, have the ability to look to the future and think globally," says Shadbolt.
Ian Marshall
He says the appointments "send an important message of confidence in the strategy behind Wools of New Zealand that we have been able to attract directors of this calibre, particularly given we are a young company coupled with the challenges facing the industry as a whole".
Rebecca Smith
"These new directors understand strategy, sales, branding and marketing, how to tell our story around the world and they acknowledge the disciplines and responsibilities important to a 100 per cent grower-owned company."
Send news tips and comments to divina_paredes@idg.co.nz
Follow Divina Paredes on Twitter: @divinap
Follow CIO New Zealand on Twitter:@cio_nz