We run a global business in an industry that places a lot of importance and value on diversityAngie Judge, Dexibit
"We can't recruit and retain, if there is no one to recruit and retain."
This is the sentiment of Amazon Web Services executive Teresa Carlson, on the ongoing call to ensure the technology industry has a pipeline of diverse talent coming into the sector.
Carlson, who is vice president global public sector at AWS, speaks out on the imperative of having diverse teams across ICT functions. As well, she is encouraging women and girls to consider a career in STEM (science, technology, engineering, mathematics).
For Carlson, it is important to take a hardline stance of having a "diversity loop" right at the recruitment process.
"If you are trying to hire people and you have a loop of three [candidates], and they are all white males, you just say, 'do we have a better group that we can interview'? We need better diversity in that group," Carlson states.
"If you do not have that diversity loop, you have to put a hardline," she says. "You just have to have it, because if you never have it you will never change the way you are doing."
Taking this stance is just one of the ways Carlson is using her position to promote diversity in a sector where women and minorities are underrepresented.
"It makes a better work environment, if we try to be inclusive of all groups," explains Carlson.
No caption
At a conference, we must ensure we have female leaders presenting and speaking on the main stageTeresa Carlson, AWS
She says there are various ways to work together and to have more diversity.
"We need a call to action and set some goals, for something that we want to achieve.
"For instance, at a conference, we must ensure we have female leaders presenting and speaking on the main stage," Carlson says.
She also shares practical insights for those managing IT teams.
"Make sure you intentionally ask them [female staff] to do things and give them responsibility. You can call upon them to answer questions during meetings, because women will not speak up," she claims. "Create that diversity within your team."
Carlson also encourages ICT professionals to find an individual or a school classroom to mentor.
"Do something, do whatever is right for you."
No caption
'Pull someone up'
This is a message that resonates closely with Angie Judge, CEO of Dexibit, which provides analytics software for museums across the globe.
Judge believes it is important to celebrate the stories of successful people in the technology sector that represent diversity.
"Through their example, we can break down stereotypes," says Judge, whose company provides data analytics software for museums worldwide.
"Hopefully, they're in a position where they can reach down and pull someone else up. For me, having other women who were technology leaders or entrepreneurs give so freely of their time, support and networks, helped me get where I needed to go.
"The biggest leaps in my career happened because people took a risk on me, they had faith," says Judge.
Angie Judge, from software engineer to Dexibit CEO.
A diverse team is not just a responsibility, it is good business too.Angie Judge, Dexibit
Prior to setting up her own company, Judge worked for multinational technology companies including Amdocs and Hewlett-Packard. She says during that time, she often found herself the only woman in the room, or one of two in a large group.
Thus, she made sure her company did not have that kind of environment at Dexibit.
"A diverse team is not just a responsibility, it is good business too," she states. "The diversity encourages a great mix of ideas.
"We have a beautifully supportive culture and that warmth comes from embracing our people as individuals. Most of all, we run a global business in an industry that places a lot of importance and value on diversity.
"Our team are passionate about these museums, because they are from their hometown. Or they speak their language, or they represent an ethnicity, or religion, or orientation they identify with.
"I think the best thing you can do to contribute to pushing the diversity agenda, is to do something proactive. Something really big for someone, who might not get a break that often," says Judge, who speaks at various forums encouraging young people to pursue a career in STEM.
"Mentor them. Buy something from them. Promote them. Help them up the career ladder. Invest in them. Most importantly of all, make sure you and everyone around you respect them."
Indeed, a recent report from analyst firm Gartner underscores the importance of diversity in an effective digital workplace programme.
A talent shortage demands IT leaders develop the perception their organisation is an inclusive workplace valuing difference, if they are to attract the widest range of candidates, according to Gartner analysts Debra Logan and Carol Rozwell.
But diversity issues aside, the two Gartner analysts report a greater concern that highlights the importance of the advocacy work being done by ICT leaders like Carlson.
"Technology careers in general are not attracting the needed talent," the duo state.
"Yet there is still fierce competition for talent. To address concerns and take advantage of digital opportunities, companies need to look outside the groups that have previously filled their IT needs."
Angie Judge, CEO of Dexibit, tells the students at the the end of Shadow Tech Day: 'The first computer programmer was a woman, Ada Lovelace.' (Photo by Divina Paredes)
On a mission to build the future ICT workforce
Alexia Hilbertidou is the founder and CEO of GirlBoss, which inspires women to go into STEM roles.
A typical day for her is being involved in workshops on leadership and the future of work, and talking to high school and primary school students to encourage them to go into STEM.
Her work has been recognised internationally, and In July, she was invited to join a 'VIP mission' on board NASA's SOFIA, the world's largest flying observatory. She wrote how the flight left from the US Antarctic terminal and travelled at 45,000 ft towards Antarctica over the Southern Ocean. She also talked to the NASA scientists and wrote, "I was pleasantly surprised to learn how passionate both the male and female NASA scientists were about getting more women into these fields."
Hilbertidou started GirlBoss two years ago, when she was 16 and a student at Albany High School. It now has about 8000 members across the country.
She recalls being the only girl in her digital technology and advanced physics class in high school.
No caption
When you look at the future of work and the rise of automation, women will be most impacted, as they are in fields that are highly likely to be automatedAlexia Hilbertidou, GirlBoss
"It was an isolating experience," she says. "There is so much potential on technology to make a real social difference, while women are not going into these fields."
"I started GirlBoss NZ as a way to connect with other like-minded young women, who are passionate about these fields with low rates of female participation."
And these, she says, are science, technology, maths, engineering, leadership and entrepreneurship.
Women, she says, were among the first people involved in computing. She cites Ada Lovelace, who was considered the first computer programmer.
"It is only further down the road in history, when IT started to be male dominated," she states.
Hilbertidou says that GirlBoss relies on corporate sponsors for its workshops.
"We want to ensure there is equal access regardless of socio-economic background, so young women can get access to our message of support."
She says supporting low-income women is particularly important, because of the impact of automation on people's jobs.
"When you look at the future of work and the rise of automation, women will be most impacted, as they are in fields that are highly likely to be automated, such as retail and administration.
"It is necessity to ensure we close the gender gap and that more young women are selecting these paths [into STEM]."
Technology companies in New Zealand are focusing on diversity, but there is still work to be done, she believes.
"There is always room to put on their accelerator and actually do more to ensure an accepting culture, and that you are actually supporting all your staff."
In December, 2016, she joined Dr Michelle Dickinson, aka Nanogirl, in a tour around the country. They spoke to around 20,000 young people on the opportunities in science and technology.
"We were challenging the stereotype of what a scientist looks like," she says. "We want to highlight current female role models to change the ideas of this is what a scientist looks like, this is what an engineer looks like."
"We want young women to understand if they go into these fields, they have the potential to make a real impact and really improve the world.
"Not having 50 per cent of our population fairly represented in these fields is shortsighted," Hilbertidou believes.
"If we want the best technology inventions and we really want to ensure that we are progressing as a nation, we need to ensure we have equal opportunities for all our people."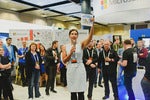 Dr Michelle Dickinson (aka NanoGirl) at the launch of the book 'Sounds Like a Game Changer: A Soon-to-Be Obsolete Collection of Technology Cartoons by Jim' at the Microsoft Ignite NZ.
Send news tips and comments to divina_paredes@idg.co.nz
Follow Divina Paredes on Twitter:@divinap
Follow CIO New Zealand on Twitter:@cio_nz