Kate Kolich is now director of data systems and analytics at the Social Investment Agency (SIA). The SIA supports the social sector to take a collective view and achieve better outcomes through improved practices and better use of a range of evidence, including data and analytics.
Prior to this, Kolich was with Bank of New Zealand. Her most recent role at BNZ was head of enterprise data and information services. Kolich worked at BNZ for almost 20 years in enterprise architecture, data analytics and business intelligence leadership roles.
Before joining the private sector, Kolich was an analyst programmer at the Ministry of Agriculture and Forestry (Now Ministry for Primary Industries). She has been active in promoting STEM and data science across the wider community through her work with NZTech Women and as the NZ Women in Data Science (WIDS) Ambassador where she brought the WIDS conference to The University of Auckland in 2018. The conference was streamed live as part of the WIDS conferences held in different parts of the world.
In recent years Kolich has been an active member of the Data Research Advisory Board of the MIT Sloan Center for Information Systems Research. She is also involved in the Alumni as Mentors Programme at the Victoria University of Wellington, as an industry mentor. Kolich holds a master's degree in information management from Victoria University of Wellington.
Laura Maxwell
NZME's real estate portal OneRoof.co.nz has chosen mortgage and valuation software company Valocity to power its online resource that delivers all things property.
Valocity's cloud based platform combines the best technology with data and advanced analytics and will underpin OneRoof.co.nz's delivery of information and services.
While the market has had a raft of generic information in disparate places, rich Valocity data can now be leveraged to deliver independent, accurate and timely results; all accessed intuitively under OneRoof.co.nz.
"OneRoof is the one place to view listings, do your research and read about the latest news in real estate so you can make better property decisions," says Laura Maxwell, NZME chief digital officer.
"We're focused on delivering a better experience for Kiwis, with richer data, insights and content than they've previously experienced. A partnership with a New Zealand data business who is also focused on innovating for the customer, is a natural fit for us.
Carmen Vicelich
"We believe that Kiwis deserve a better experience than what the old world sites deliver and OneRoof.co.nz will continue to lead the market in relentless innovation for the customer."
"It is a natural partnership with two leading brands both wanting to innovate and challenge the status quo by providing a better way for consumers to access data and insights," says Valocity founder and CEO Carmen Vicelich. "We look forward to leading the way to continue to streamline and transform the property and mortgage industry."
The national winners of Tahi Rua Toru Tech, New Zealand's Digital Challenge, were announced by Dr Michelle Dickinson, aka Nanogirl, at a special ceremony at Te Papa in Wellington.
No caption
Tahi Rua Toru Tech is a new digital technology championship, open to all New Zealand school and Kura students, which launched in April this year.
The finalists – teams representing regions from around the country – impressed the judges at the regional finals in October and November, earning them a place at the final event to compete for the national title.
The winners hailed from Christchurch, Rotorua and Auckland, taking home over $15,000 in cash prizes for the students and their schools.
Primary Challenge winners, Arahoe Coders from Arahoe School, Auckland: The team competed against one other team in an interactive challenge on stage during yesterday's event, completing five mini challenges in the fastest time.
First Challenge winners, The Mish from Hillview Christian School, Christchurch: The team created a digital solution to help an existing volunteer group called the MISH streamline their process by making it easier for them to pick food up from local restaurants and deliver it to the City Mission.
Bronze Challenge winners, Team JPC Vibranium, John Paul College, Rotorua: The Vibranium created a role-playing survival game set in a 3D environment to promote mental health awareness to students their age.
Silver Challenge winners, Team Lunar Eclipse – Starless Night, Westlake Girls High School: Team Lunar Eclipse designed a game to create awareness around pollution.
"The projects on show were truly inspiring and show New Zealand has a promising digital technology future in hands like these," says Michelle Dickinson. "Tahi Rua Toru Tech proves digital technologies are not just about coding, it's about problem solving, creativity and teamwork – there's something for everyone!"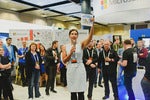 Dr Michelle Dickenson (aka NanoGirl) at the launch of the book 'Sounds Like a Game Changer: A Soon-to-Be Obsolete Collection of Technology Cartoons by Jim'
"It is really important all New Zealand students are prepared for the Digital Technologies Hangarau Matihiko curriculum, which is essential to the 21st century workforce," says Paul Matthews, chief executive, IT Professionals New Zealand.
The competition, backed by the Ministry of Education, aims to encourage greater participation in technology and inform and inspire students, teachers, parents and their communities about the new Digital Technologies Hangarau Matihiko curriculum content.
The curriculum content is currently being introduced at all primary and secondary school and Kura levels for Years 1-13 in 2020.
Paul Matthews
Ministry of Education deputy secretary Ellen MacGregor-Reid says, "The championship is there to provide a positive 'dip your toe in the water' experience to teachers, Kaiako and students about this important learning that is helping to futureproof the National Curriculum. We hope the winning ideas from this challenge inspire other schools and Kura to sign up for 2019."
No caption
Geneious Biologics, an enterprise software solution for companies engaged in screening of antibodies and antibody-like molecules, has been selected by FairJourney Biologics, a leading contract research organisation (CRO), to support the company's growth as it incorporates increasingly large Sanger data sets and next-generation sequencing (NGS) into its discovery programs.
Geneious Biologics is Biomatters' cloud-based enterprise software for analysis of antibodies and related constructs using DNA sequence data. The software applies intuitive visualiSation tools and advanced analytics to help specialist biologic drug development companies accelerate identification of therapeutic candidates.
Geneious Biologics was selected by FairJourney Biologics for its ability to automate analysis and quality control (QC) with accurate identification of relevant regions, sequence liabilities, errors and frame shifts.
"We are processing increasingly larger sets of antibody sequences," says Daniela Teixeira, COO, FairJourney Biologics. "Geneious Biologics allows us to drill into huge antibody sequence sets and quickly identify where errors lie and inspect bad clones. This will ensure we return the most effective, stable therapeutic antibody candidates to our clients, faster."
"We are excited that FairJourney Biologics is preparing for growth and future-proofing its discovery efforts with Geneious Biologics. There is a step change happening in the therapeutic antibody discovery industry as leading research enterprises like FairJourney Biologics leverage the power of high throughput antibody sequencing," says Jannick Bendtsen, vice president of technology services, Geneious Biologics.
"Our focus is building the world's most robust and functional sequence analysis platform to help our customers deliver quicker, more accurate results and identify therapeutic antibody candidates faster."
No caption
Counties Power, the Pukekohe-based electricity distribution company serving the fast-growing areas of Southern Auckland and Northern Waikato, has bought a majority shareholding in two of the six companies owned by Christchurch-based ECL Group.
The consumer-owned lines company has acquired a 75 per cent shareholding in leading energy and technology solutions businesses ECL Group Fuel Systems and ECL Group Technology for an undisclosed sum.
Ownership of the other four remaining ECL companies will be retained by the current owners of ECL Group.
"This is a solid investment in Counties Power's future, benefitting our existing and future customers from a strategic, service and financial standpoint," says Judy Nicholl, Counties Power chief executive.
"ECL already operates in the energy sector and there are strong synergies between us in the areas of industrial electrical solutions, smart energy, EV charging installations, photovoltaics and other electrical high technology fields."
Nicholl says Counties Power is investing wisely in opportunities within the energy and technologies sectors to be well placed for future changes in the broader industries.
"This investment in these two high-performing companies provides an opportunity for Counties Power to prepare for the wider range of possibilities available in the energy and electrical industries in the future. This will improve our customer experience going forward by allowing us to offer better solutions and energy choices."
Follow CIO New Zealand on Twitter:@cio_nz
Sign up forCIO newsletters for regular updates on CIO news, views and events.