Claire Govier is the new CIO at Ministry of Business, Innovation and Employment. Before this she was chief transformation officer at Mediaworks. Her previous roles include CIO at healthAlliance and Vodafone.
Govier was also head of transformation, strategy and architecture at Kiwibank.
Angela Nash is now the chief technology officer at New Zealand Rugby, moving from REANNZ where she was chief information and operating officer. Before this, she was CEO of QualIT.
Angela Nash
Julie Gill joins NZTech as chief commercial officer. She will be responsible for the commercial strategy and the development of NZTech and the Tech Alliance in New Zealand.
Julie Gill
Gill moved back to New Zealand from London, where her most recent role was business growth consultant for The Ad Plain. Her previous roles include vice president IDC (go to market business) EMEA and general manager of Fairfax Business Media whose titles include BusinessDay, Unlimited and CFO; and Computerworld, CIO, and Reseller News that were under license from IDG.
Minister Megan Woods, Microsoft's Barrie Sheers and Jourdan Templeton from Aware Group
New Zealand's political leaders were presented a showcase of Kiwi tech innovation at Parliament last week, after the Minister of Government Digital Services, Dr Megan Woods, invited Microsoft to present its first ever Parliamentary Showcase.
"New Zealand, like the rest of the world, is facing an era of profoundly disruptive environmental, social and economic change," says Barrie Sheers, managing director of Microsoft New Zealand. "New technologies will play a critical role in driving these changes, but also open up opportunities."
Attendees including Dr Megan Woods, Hon Nikki Kaye and MPs Brett Hudson and Parmjeet Parmar, were shown around five "hubs" demonstrating outstanding projects with potential to change our planet and transform education.
Reflecting the government's increased focus on carbon-neutrality, sustainability was a major focus of the event. Camden Howitt, co-founder of Sustainable Coastlines, joined software developers Enlighten Designs to show how artificial intelligence is boosting communities' efforts to combat waste on our beaches. Their innovation was recognised by the award of an AI for Earth grant by Microsoft president Brad Smith, on his recent visit to New Zealand.
Rising concern about the environment and population pressures is also behind new technology finding ways to grow food more efficiently as well as more sustainably. The Food and Agricultural Organisation of the United Nations predicts food production requirements will need to increase by almost 50 per cent (other estimates say 70 per cent) from 2012 production levels.
Dr Megan Woods
Head of operations Jeff Brown and chief technology officer Jourdan Templeton of Aware Group demonstrated how Microsoft's FarmBeats drone and sensor technology combined with Artificial Intelligence provides sustainable farming insights and increased yields. Aware Group have brought the FarmBeats technology to New Zealand, and it is also being used in the US, Brazil, Kenya and India, helping farmers and growers make the most of natural resources using less water, fertilisers or herbicides.
Ross McHugh, senior public sector account Executive from LinkedIn Learning, highlighted how the organisation is helping increase access to learning via online courses available free through participating public libraries.
Representatives from Unify Solutions and the Ministry of Education showed a project that provided secure online access for more than 70,000 members of the education sector, with educational games designer Joy Business Academy rounding out the line-up with a demonstration of how gaming can boost student engagement while building essential skills.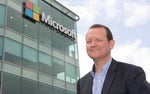 Barrie Sheers
The inaugural ANZLF Trans-Tasman Innovation and Growth Awards has been launched in conjunction with Accenture. Four qualifying businesses from across New Zealand and Australia will win prize packages that include A$20,000 and exclusive invites to winners' summit experiences on both sides of the Tasman in February and May next year.
"The ability for the winners to tap into the expertise of the best and brightest in business and government here and in Australia is invaluable," says Justin Gray, Accenture New Zealand country managing director. "The summits will feature masterclasses focusing on helping emerging businesses in areas where they often struggle, such as investor relations, tax and approaches to scaling up funding."
Justin Gray
New Zealand applicants will be appraised by a judging panel headed by Callaghan Innovation chief executive Victoria Crone.
Victoria Crone
Applicants must have already secured investor funding and have a market cap under A$100 million. The top 10 applicants will be announced in late July and the winners selected in August.
Dmitry Lyfar and Roman Kudiyarov
Auckland-based startup Termius has just closed a $4.10 million seed round with money from some of Silicon Valley's top venture capitalists.
Dmitry Lyfar and Roman Kudiyarov founded Termius in October last year in Auckland, after running businesses together in the Serbian and New Zealand IT sector for more than a decade.
The raise comes off the back of Termius graduating from the world's most prestigious startup accelerator, Y Combinator, and some high-profile praise from Apple co-founder Steve Wozniak.
Kudiyarov and Lyfar lead a team of 25 and plan to grow a core team in New Zealand with engineering talent working remotely around the world.
Termius is used by more than 11,000 network engineers and DevOps mdash; from companies such as SpaceX, Disney, and Cisco mdash; to help them work collaboratively and with more mobility as they manage their IT infrastructure.
It helps speed up many of the repetitive tasks engineers do as they reach, audit and maintain their servers or routers, and allows them to do these tasks on their mobile phones rather than on their desktops.
"Termius served my purpose well and was easy to understand. I like to show off my router and tonight, with family in a restaurant, I even used Termius," one of the godfather's of personal computing, Apple co-founder Steve Wozniak, said when he reviewed the software.
The seed round money will be used to scale Termius from currently being a single-user focused product, to a more team-focussed collaboration tool.
"We believe Termius will totally transform the way network engineers around the world work: whether it's to help them fix network issues on their phones while they're on holiday, or collaborate with their teams in ways previously impossible," says Kudiyarov.
"The seed round, and the calibre of investors which comes with it, is a tremendous show of faith in our vision and we're very excited."
Tens of millions of engineers who look after infrastructure and networks use a system called SSH for troubleshooting and maintenance.
Most of them have to access SSH through old school clients that have not been designed to work on multiple devices or allow for collaboration with other team members. Termius transforms all that by syncing data across unlimited devices using end-to-end encryption.
"The thing that gets us most excited is the thought of helping network engineers in whatever it is they're working on: whether that's getting humans to Mars, or making amazing films for children," says co-founder Lyfar.
"With Termius, we give engineers more mobility and free time by automating much of the menial work they do. That means they get more time to be creative and innovative, which leads to more of society's problems being solved through better technology," adds Kudiyarov.
Nick Hyland and Jacksen Love
Nick Hyland and Jacksen Love have launched Flamingo, a dockless electric scooter-share service, in Wellington.
The two created the company as a first and last mile transport option that eases congestion on roads and helps Wellingtonians get around their city in a fun, affordable, safe and easy way, whilst reducing their reliance on cars. After a competitive pitch, Flamingo is set to be the only New Zealand-owned company, and one of only two companies altogether, who were chosen by Wellington City Council to provide e-scooter services in the capital.
Flamingo is also rolling out e-scooter Segway-Ninebot fleets in Auckland and Christchurch in the following months. It will be the only NZ-owned and operated e-scooter company in each of those cities, and the only single operator with a presence in all three markets – meaning users only need one app as they travel between NZ's three largest cities. Riders will need to complete Flamingo's in-app training before they can use a Flamingo scooter for the first time. Hyland and Love worked closely with the Wellington City Council to design a unique, easy-to-use programme that accounts for Wellington's distinctive geography and city layout.
No caption
"We couldn't be more excited to launch Flamingo in our home city. We're proud to be the only local electric scooter company with the opportunity to contribute to the future of urban mobility in Wellington," says Jacksen Love. Nick Hyland adds, "We're committed to the safety of our riders, so users can expect some unique features such as an in-app safety tutorial and free helmets. The scooters are a lot of fun as well, we're sure people will love riding a Flamingo across town!"
To avoid danger and keep the scooters in a safe condition, an embedded safety device allows Flamingo to monitor and control any scooter at any time. The device will alert Flamingo if a scooter falls over or detects tampering. The Flamingo fleet also utilises GPS and geofence technology to create low-speed zones and restrict riders from riding and parking in designated areas. Flamingo will offer all riders a free helmet, which can be ordered through the app. The company will also introduce a network of local spots which will act as "helmet hubs" for users to pick-up and drop-off borrowed helmets, free of charge, if they do not want to carry their own around. Flamingo staff will also be on the ground to support riders and members of the public.
Xanthe Sulzberger
Xanthe Sulzbergerjoins educational gaming company Joy Business Academy as general manager for its New Zealand operations.
JBA now employs 54 staff in seven countries. Thirty-eight are based in New Zealand, while the Taipei staff handles blockchain, quality assurance teams are based in Romania and the Philippines, with sales teams in the USA, Malaysia and Pakistan. Currently, the business operates in the United Arab Emirates, Pakistan, Malaysia, the United States and New Zealand.
No caption
Flight Centre Travel Group launches SmartFLY for business travelers.
SmartFLY lets businesses earn 40 per cent bonus Airpoints Dollars on all eligible business flights, on top of what the traveller already earns.
It is a game changer says SmartFLY is a 'game-changer' for its corporate customers, as businesses are able to instantly double their Airpoints for Business earn rate, maximising savings and rewards on bookings made via Corporate Traveller, says Nick Queale, Flight Centre NZ general manager corporate.
"Our product team has worked closely with Air New Zealand to bring this deal to market and we're thrilled with the result," says Queale. "SmartFLY allows companies to sit back and earn rewards, while we do the heavy lifting. This is a substantial value driver for businesses."
No caption
Sign up for CIO newsletters for regular updates on CIO news, career tips, views and events. Follow CIO New Zealand on Twitter:@cio_nz
Send news tips and comments to divina_paredes@idg.co.nz @divinap