Nick Kumarich has joined SkyCity as ICT programme director – NZ International Convention Centre Hobson St Hotel.
Also included in this programme is the convention centre and hotel for SkyCity's Adelaide operation.
Kumarich continues as the director of Circle Technology and says that such a marquee programme of work was hard to resist.
No caption
Previously he was the programme director – technology transformation at NZME, where he also held the role of interim CIO.
Marcelo De Santis is moving to Pirelli as their Group CIO, following 20 years in the CPG (consumer packaged goods) industry at Kraft Foods and Mondelez International where he was CIO Asia Pacific, CIO North America and Head of Global IT Strategy.
He led several business transformation initiatives like large MA programs, enablement of shared services as well as building the technology stacks and teams to support the global e-commerce agenda. During his last year at Mondelez, De Santis provided leadership to the development of the digital transformation program for the group.
No caption
The other facet of his life as global CIO is his mission to help underprivileged children while raising funds for Unicef. De Santis organised the 2016 Everest expedition "Climbing for the Children" which raised funds for the UN agency.
The seed for the expedition was planted during a trip to New Zealand when De Santis joined his first alpine climbing course run by Adventure Consultants. "Interestingly enough, we did the training in the same area that Sir Edmund Hillary trained for his Everest expedition," says De Santis.
De Santis will be based in Milan, Italy, for his new CIO role at Pirelli, travelling regularly to the United States and the Asia Pacific.
Taking the Unicef flag to the top of the world is a way to raise awareness about the issues affecting children, says Marcelo de Santis.
On May 8, Amelia Lockley, 12, is taking a day off school and flying down to Parliament to teach New Zealand's political leaders how to code, and to share the importance of teaching coding to all young New Zealanders.
"We use coding in our everyday lives already, and it will become more advanced and used in a wider range of things. I'm really excited to share what I've learnt at Code Club with the politicians at Parliament!," says Lockley.
No caption
She will fly to Wellington with the Nanogirl Labs team – including Dr Michelle Dickinson – to take part in a special Code Club Aotearoa event.
"It's so important that our children learn digital technologies in schools – and so important that our decision-makers understand those technologies as they shape policy," says Dickinson.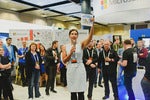 Dr Michelle Dickenson (aka NanoGirl) at the launch of the book 'Sounds Like a Game Changer: A Soon-to-Be Obsolete Collection of Technology Cartoons by Jim' at the Microsoft Ignite NZ 2016.
Julia Raue, former Air New Zealand CIO and now professional director, has been reappointed as a director for the TVNZ board.
Julia Raue
Communications Minister Simon Bridges has also announced the following appointments to the TVNZ board:
Dame Therese Walsh is the new chairperson, replacing Joan Withers who has served on the TVNZ Board since 2009.
Andy Coupe, currently chair of Solid Energy, has been appointed as deputy chair person.
Cameron Harland, chief executive of Park Road Post Production and Camperdown Properties, is appointed a director, replacing Barrie Saunders who is retiring.
Communications Minister Simon Bridges
Harland recently completed a six year term on the Film Commission and is currently a director of Weta Workshop, Phoenix Football Club and the chair of the NZ Story Advisory Board.
Concentrate wins international digital marketing award for its work with AuCom Electronics
Christchurch marketing company Concentrate wins the HubSpot Impact Award, for its work with Christchurch-based electronics exporter AuCom Electronics.
"Digital marketing is so important for New Zealand's technology exporters as it enables them to compete more effectively anywhere in the world," says Concentrate managing director Owen Scott.
"AuCom is a world class technology company, our goal has been to support them to become world class marketers as well, which this award goes towards recognising."
The HubSpot Impact Award recognises certified partners of the company worldwide who use HubSpot software to improve the online marketing of their clients.
Scott says Concentrate had worked with AuCom for several years, and helped them develop their digital marketing strategy, especially in relation to their low voltage product range.
During 2016 AuCom increased their website traffic by 32 per cent and received 20 per cent more sales leads with over 700 new sales opportunities created.
"Selling electronic products into over 40 countries through a complex channel is a huge challenge. Concentrate understand this and bring us real insights into sharpening our strategy and using online technology to connect with our whole supply chain," says Brent Archer, CEO, AuCom Electronics.
Craig Young, TUANZ CEO
The Rural Connectivity Symposium will be held on May 23 at the Westpac Stadium in Wellington.
This year's symposium is again being held as a in partnership with the Telecommunications Users Association of New Zealand (TUANZ), the Rural Health Alliance Aotearoa New Zealand (RH?NZ), and New Zealand Young Farmers (NZYF).
Given the importance of this issue in an election year, the event will kick off with an opening Ministerial address followed by a panel of politicians to provide their views on future policy developments.
TUANZ CEO Craig Young says that the focus of the day is going to be on how rural connectivity can provide better outcomes across rural New Zealand including health and farming.
"The symposium provides a unique opportunity for those affected by the quality of rural connectivity in New Zealand to present a unified voice in an election year as the government and other parties develop their thoughts about the next phase of investment in rural connectivity," says Young.
Endace has appointed Cary Wright as the VP of product management. Wright comes to Endace from Ixia, where he was VP product development for Ixia's network visibility products.
No caption
Endace CEO Stuart Wilson says Wright has more than 25 years' experience in the telecommunications and networking industries, and has been pivotal in creating market-defining products first at Agilent and then at Ixia.
No caption
"Security breaches are a daily occurrence at large enterprises and service providers, and Endace solutions enable the rapid incident response and resolution needed to respond to these threats and to protect business reputation," says Wright.
The latest International Data Corporation (IDC) Worldwide Quarterly Mobile Phone Tracker, reports phone companies shipped a total of 347.4 million smartphones worldwide in the first quarter of 2017.
"The first quarter smartphone results further prove that the smartphone industry is not dead and that growth still exists," says Ryan Reith, program vice president with IDC's Worldwide Quarterly Mobile Device Trackers, in a statement.
"There is no question that 2016 was a pivotal year for the industry as growth dipped to low single digits for the first time. However, we believe the industry will show some rebound in 2017, and the strong first quarter results certainly support this argument."
When breaking down precisely where the first quarter growth came from, IDC continues to see the largest catalysts being a handful of Chinese OEMs. The clear leaders are Huawei, OPPO, and vivo, which have all well outpaced market growth for over a year now. And as these companies gain share in new territories the potential to continue this trend is high, reports IDC.
Huawei's Mate7 (left) and Oppo's R7 Plus (right)
"Although we have seen an abundance of premium redesigned flagships that just entered the market, moving forward, we still expect most of the growth to come from more affordable models in a variety of markets," says Anthony Scarsella, research manager with IDC's Worldwide Quarterly Mobile Phone Tracker.
Ingram Micro has been appointed as a Veeam Cloud and Service Provider (VCSP) Aggregator. The expanded distribution status means Ingram Micro resellers can now access Veeam's cloud service provider solutions, as well as the products already available through the perpetual licensing model.
Gary Bigwood, Ingram Micro New Zealand managing director, says it is unusual for a distribution partner to be awarded Veeam Aggregator status in such a short period of time.
Ingram Micro's Gary Bigwood
"Normally it would take several years to achieve Aggregator status. However, the rapid traction, market penetration and growth Ingram Micro New Zealand has achieved since on-boarding Veeam in May 2016, impressed its management team to such an extent that the company decided it made sense to give us access to the entire portfolio," says Bigwood.
Don Williams, Veeam vice president for ANZ, says "Ingram Micro has done a fantastic job in New Zealand, achieving the fastest market share growth of any newly appointed distributor worldwide. We are delighted with how quickly Ingram Micro has delivered value to Veeam and we have every confidence that this trend will continue with the Aggregator appointment."
Don Williams – Vice President for Australia and New Zealand, Veeam Software
Send contributions to CIO 'movers and shakers' to divina_paredes@idg.co.nz
Follow Divina Paredes on Twitter: @divinap
Follow CIO New Zealand on Twitter:@cio_nz
Sign up for CIO newsletters for regular updates on CIO news, views and events.