Livestock Improvement Corporation (LIC) has over 100 years of history, notes its CIO Paul Littlefair.
When Littlefair joined the farmer-owned cooperative nearly four years ago, he was amazed at how much data was held by the organisation.
"We have a billion records of cows," Littlefair cites. "It is a very data intensive business."
LIC is one of the oldest farming co-operatives in New Zealand, and has pioneered some of the biggest innovations that provide farmers with their competitive edge through a range of services and solutions. These include genetic technology and proprietary animal identification and information management.
Littlefair was recruited to lead LIC's digital transformation, starting with a comprehensive framework for technological advancement.
His work has been recognised in the 2019 CIO50, where he was ranked number two in the list of the most innovative CIOs in New Zealand.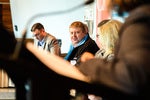 No caption
Learning never stops, technology does not stopPaul Littlefair, LIC
When he joined LIC, the CEO, Wayne McNee, and the board "had a real view that we had to lift our horizon and move out of the legacy systems."
"We were fortunate, because the cloud and AWS have really come of age," says Littlefair. "It was easier to sell the benefits of the cloud and digital technology to the board."
The board was open to looking at fundamental transformation of their systems, instead of lifting and shifting them as they did in the past.
"We rebuilt the LIC technology from scratch," he says. "We started with a blank sheet of paper and that has been the basis of our success and some challenges."
"Being a cooperative, our customers are also our owners," says Littlefair. "How do we make life easier for farmers?"
McNee says part of this is using machine learning to provide valuable, real-time insights to their owners, the farmers.
"This is our journey from a cow-focused to a customer-focused business," says McNee, who was interviewed with Littlefair at the AWS Innovation Day in Sydney.
Continuous learning
During the interview, McNee discloses that one of their biggest projects is the retraining of LIC developers in digital technologies.
Littlefair points out the importance of investing in their team of developers.
"We have some great talent and knowledge of our industry," he says. "They have the knowledge of how animal evaluation systems run."
To which McNee adds, "They have a passion for the industry, as well."
This is a role model for how organisations should look after their people Don Smith, Dev Academy
Littlefair says there is a whole bunch of practices they are looking at as they build the digital platform for LIC.
"We believe what we do is unique enough, we have to build, as opposed to buy. We want ownership of that, and while our outsourcing partners accelerated our adoption of the digital journey, we want to own it."
Historically, organisations would send developers on a week-long learning course.
But for LIC, "It is not just a case of going on a week's course," says Littlefair.
"It is about, how do we create well-rounded cloud native engineers?
It is also engaging with the business, understanding their needs, as opposed to asking them what they want."
"Everyone is a builder now," says Littlefair. "So how do we build cloud native engineers, whether they are developers, testers, or an infrastructure person?"
He also wanted to expose the team to new ways of thinking, and sending one or two people to a course "is not just going to cut it."
The training was held in October to December last year, just before the holiday break.
"It was a boot camp and they learned a whole bunch of cloud native skill sets," says Littlefair.
"I want to be clear with you the priority is learning," Littlefair says he told the team at the start of the training.
The comprehensive course included frontend and backend development, AWS services, DevOps, Docker, continuous delivery deployment, and testing.
"The strength of the team came out when we put them through that process. It was amazing," says Don Smith, developer and educator at Dev Academy, who conducted the training.
"This is a role model for how organisations should look after their people."
Littlefair says there are plans to run another bootcamp for other areas of the business.
But he adds: "I would advise other CIOs not to undertake it if they are not going to do it properly."
"Ten weeks sounds like a lot," he says, but after the course, "the whole group grew [their skills] and continue to support each other."
"We now have a fired up team," he states. "This is important."
"Learning never stops, technology does not stop."
Paul Littlefair (third from left) at the panel discussion on the lowdown on digital transformation at the 2019 CIO50. With him are Sean Davidson, general manager information technology, VTNZ/Dekra; Gary Baird, chief technology officer, Inland Revenue; Matti Seikkula of e-Spatial and Stella Ward, chief digital officer, Canterbury and West Coast District Health Boards
Divina Paredes attended the AWS Summit Innovation Day in Sydney as a guest of AWS
Sign up for CIO newsletters for regular updates on CIO news, career tips, views and events. Follow CIO New Zealand on Twitter:@cio_nz
Send news tips and comments to divina_paredes@idg.co.nz @divinap