Wage inequality compared to male colleagues, workplace gender bias and a shortage of female role models are among the main barriers faced by women working in technology, according to a new survey by global technology association ISACA.
The Future Tech Workforce: Breaking Gender Barriers report identifies the top five barriers experienced by women in technology.
These are:
· Lack of mentors (48 per cent)
· Lack of female role models in the field (42 per cent)
· Gender bias in the workplace (39 per cent)
· Unequal growth opportunities compared to men (36 per cent)
· Unequal pay for the same skills (35 per cent)
No caption
The survey findings reinforce that there is much work left to be doneJo Stewart-Rattray, ISACA
"Women are vastly underrepresented in the global technology workforce. This is not only a societal concern, but also a workforce problem, given the critical shortage of skilled technology professionals faced by many enterprises," says Jo Stewart-Rattray, board director of ISACA and director of information security and IT assurance at BRM Holdich.
"The survey findings reinforce that there is much work left to be done," she says.
"By providing more opportunities, including career advancement programs, we can make long overdue progress in ensuring that women are more equitably represented in the technology workforce."
No caption
ISACA says more than 500 members participated in the survey, which was fielded in November 2016. Survey respondents came from a diverse range of industries including financial/banking, insurance, public accounting, transportation, aerospace, retail/wholesale/distribution, and government/military.
Across the globe, the survey finds pay disparity remains a challenge.
It points out 25 per cent of respondents from Africa, 29 per cent from Asia, 53 per cent from Europe, 48 per cent from Latin America, 60 per cent from the Middle East, 42 per cent from North America and 80 per cent from Oceania report male colleagues tend to be paid more, without a clear reason.
"As an industry, we must commit to changing these numbers and breaking down the barriers for women in technology," says Tara Wisniewski, ISACA's managing director of advocacy and public affairs.
"It is well past time to address these issues, and ISACA has a responsibility to help solve them."
When asked about opportunities for professional growth, 75 per cent of respondents state their employer lacks a gender leadership development programme.
Moreover, eight out 10 women report their supervisors are male and just 8 per cent report never experiencing gender bias in the workplace.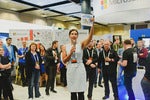 Dr Michelle Dickenson (aka NanoGirl) at the launch of the book 'Sounds Like a Game Changer: A Soon-to-Be Obsolete Collection of Technology Cartoons by Jim' at the Microsoft Ignite NZ 2016.
The survey found that women specifically want mentors, role models and strong networking opportunities.
ISACA says it addresses the lack of networking opportunities through its Connecting Women Leaders in Technology programme, which began in 2015 and connects women in the technology industry.
No caption
The flexibility stigma
ISACA says more companies appear to be offering more flexible work environments which are important to attract female talent.
In the survey, 65 percent of respondents say their employers offer flexible work arrangements such as part-time opportunities, being able to work from home, and extended leave time. A full 60 percent of women say they have taken advantage of these policies.
But having a policy and allowing women to use it without penalty are two different matters, says ISACA.
It says researchers call this the "flexibility stigma" which arises because women are effectively "punished" if they take advantage of flexible work options to raise children and work simultaneously, or take time out from tenure to have children.
It is not enough to offer these options, they must be exercisable without consequence, says ISACA.
The survey concludes there are no immediate solutions to the issues that women in technology roles face.
"The study suggests that there's a chicken-and-egg problem.
"The lack of women in tech jobs discourages other women from entering the field. At the same time, currently employed women feel disempowered to engage with female role models, find mentors or participate in networking.
"Therefore, companies need to address both sides of this issue by doing a better job of recruiting more women to apply for technology roles and a better ?job of providing suitable training, networking, mentoring, fair compensation and growth opportunities for their current female employees."
Tara Wisniewski, ISACA: 'As an industry, we must commit to changing these numbers and breaking down the barriers for women in technology.'
Send news tips and comments to divina_paredes@idg.co.nz
Follow Divina Paredes on Twitter: @divinap
Sign up for CIO newsletters for regular updates on CIO news, views and events.