CIOs at large enterprises are quick to blame Silicon Valley stalwarts and startups for why they struggle to lure top tech talent. But that narrative doesn't sit well with Tassilo Festetics, vice president of global solutions for $132 billion brewer Anheuser-Busch InBev (AB InBev), who believes it's incumbent on IT leaders to change the narrative.
In his view, the uphill battles facing enterprises that weren't born digital present technologists an opportunity to burnish their resumes. AB InBev, which formed in 2008 from a three-way merger between Interbrew, AmBev and Anheuser-Busch, offers data scientists a trove of "real-life" data sets they couldn't tap into elsewhere.
"We offer a lot that tech companies don't have today," in terms of opportunity to solve business challenges, Festetics tells CIO.com. On that score, AB InBev, whose flagship Anheuser-Busch brand launched in 1852, is mining decades worth of data while leveraging artificial intelligence (AI), internet of things (IoT) and blockchain to propel its business into the future.
Drinking the digital Kool-Aid
The track record for legacy companies reinventing themselves as digital leaders isn't great. Emboldened by the idea of transforming itself as a digital industrial company, General Electric lured techies from the likes of Cisco Systems, Microsoft, and Google, only to watch its aspirations fizzle out in recent years. Nike, Ford and Procter & Gamble experienced fits and starts and reshuffled management teams in pursuit of shiny tech products and services, according to Harvard Business Review.
It's too early to say whether AB InBev will suffer the same fate, though Festetics remains committed. Under his direction, the company has reversed course on a long-standing model of outsourcing tech development by developing applications in-house, while shifting more compute requirements from its datacenters to cloud infrastructure hosted by Microsoft, Amazon Web Services and Google.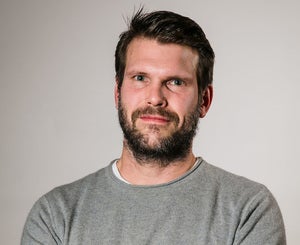 "It's hard for me to operate if I don't own, develop and retain IP for digital products," Festetics says.
AB InBev created B2B, an application that allows operators of the company's more than 4 million mom-and-pop store partners replenish orders digitally. B2B, which uses algorithms to make replenishment suggestions, saves AB's sales staff the trouble of traveling to stores to gauge inventory levels and log orders and allows them to spend time discussing new brands and products with store owners. "It creates a very different relationship between the store owner and sales representative," Festetics says.
Tech engineering hubs in Israel, Brazil and Bangalore support AB InBev's newly-minted insourcing model, but emerging tech flourishes in the Beer Garage, its Silicon Valley-based tech innovation lab. There technologists and business staff use AI, machine learning, IoT, augmented reality and blockchain among other capabilities to create better experiences.
Sensors and AI at more than 350 breweries help monitor the quantity, quality, temperature and other traits in each batch of brew, and help anticipate when growlers and other machines might require maintenance. Another AI project helps the company score the creditworthiness of distributors.
AB InBev also partnered with blockchain software maker BanQU, whose platform allows the brewing giant to track products as they wend their way from cassava and barley farmers in Zambia and Uganda, to aggregated buyers to retailers. "Every drop of [beer] gets validated by us," Festetics says. By recording each transaction in the digital ledger, AB InBev ensures that its supply chain is operating properly. And farmers get paid — digitally — on time.
One challenge is remaining focused on serving the consumers and retail partners rather than getting wrapped up in the latest and greatest tools. It's about transforming the business, "not adopting technology for the sake of technology," Festetics says.
Dirty data muddies the waters
Festetics owns to some early missteps. For example, as he began building out AB InBev's data analytics capabilities two years ago, he hired more than 100 data scientists to create use cases that solve business problems, adding data engineers a year later. The problem? The data scientists spent far too much time cleansing and munging the data during the first year just to make it ready for analysis. If he could go back in time, Festetics says, he would have hired data engineers first to get the company's data in order.
Today, AB InBev's data foundation is in much better shape, thanks in large part to Harinder Singh, global director of data strategy and solution architecture, who joined in 2017 from Walmart's ecommerce business. The company's data was lodged in more than 100 source systems, including Salesforce.com, 15 SAP systems and 27 ERP systems, and the company relied on 23 separate ETL (extract, transform and load) tools to move data from one database to the next.
Singh constructed a data lake as a single repository from which staff can extract information and generate insights about sales, supply chain, marketing, human resources and other business lines. AB InBev also collects and aggregates consumer data from market surveys and social media to analyze trends and deliver the right beers and more highly targeted marketing campaigns, including coupons tailored to consumers at the point of purchase. AB InBev can also identify the best location in the store to sell beers, as well as how to create real-time events to drive more conversion.
Festetics' goal going forward is aping the accelerated operating model with which tech companies build new digital products and services at AB InBev. Hiring more staff from tech companies such as Google, Facebook and Uber will help, he says.
And as AB InBev brings more and more people on board, "they will see we're serious about what we're doing," Festetics says. "We will start to attract talent that never before would have considered working with us."