Building innovative products and services that create a competitive advantage is undoubtedly a strategic priority for most company boards across Australia. So why are less than one-third of senior technology executives in Australia and New Zealand who responded to the 2020 State of the CIO survey spending time on driving business innovation in their current roles?
Only 27 per cent of respondents here and across the Tasman, and 32 per cent across the Asia-Pacific region – according to the survey – indicated that this was part of their remit. But it's an activity that more than half (53 per cent) indicated that they would spend more time on in the next three years.
What's even more surprising is that 53 per cent of A/NZ respondents said that their teams were not tasked with creating new revenue from the development of new products and services with the remainder (47 per cent) having this responsibility.
Rowan Dollar, chief information officer at the Department of Human Services in South Australia, says the challenge every CIO and the technology group faces is simply keeping systems running.
"Regardless of how innovative a CIO might be, at the end of the day when the bosses' laptop doesn't work, you've got a problem and you need to go and fix that."
Innovation is about solving problems but most people are not good at identifying the root cause, Dollar adds.
"Sometimes they might find a problem but the business doesn't actually want to get on with it. Too many technical people sit back and have their blinkers on – they just can't be innovative," he says.
Boards don't want to be disrupted, they don't really want to transform and they don't really want to do anything other than what they have always been doing, he adds.
"We've just had a banking royal commission that proves that. At the end of the day, government and business think that innovation requires money. It doesn't require lots of money, I think that this is the killer of innovation because you starting throwing people at the problem rather than trying to solve the problem,"he says.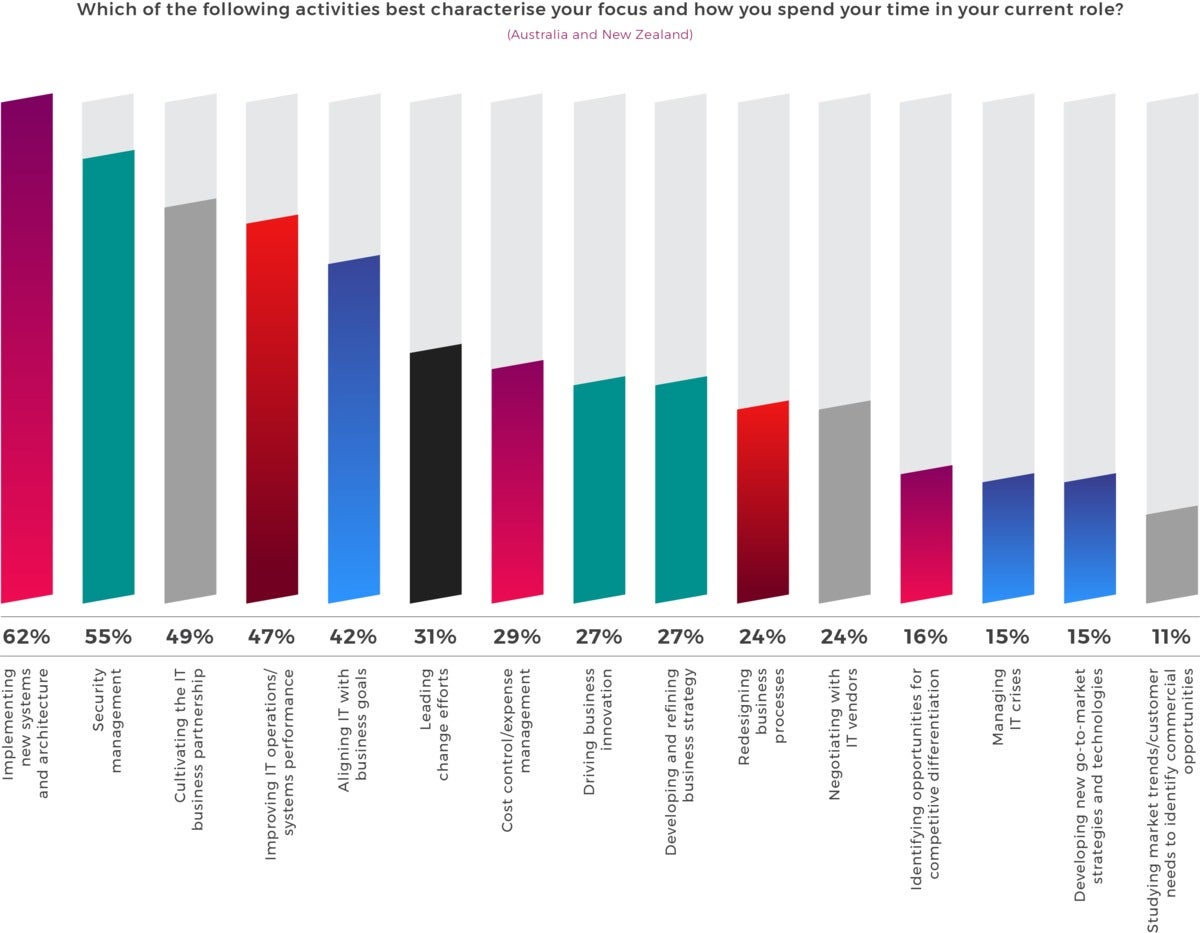 In his previous role as CIO at the Northern Territory Department of Primary Industry & Resources, Dollar and seven of his staff worked with Microsoft on an artificial intelligence project. They used computer vision and machine learning technologies to identify fish species from raw video taken from offshore reef protection zones. The project has global impacts across a range of industries.
"You don't need a $100 million innovation fund to be innovative; the reverse is the case. There are millions of dollars being thrown around innovation centres [but] where is the innovation?" he asks.
"You get so caught up in the 9-5 that you actually stop looking for problems. My approach [to overcome this] is to build relationships with people, I go and build them with not just my peers at the executive level but everyone else that I know."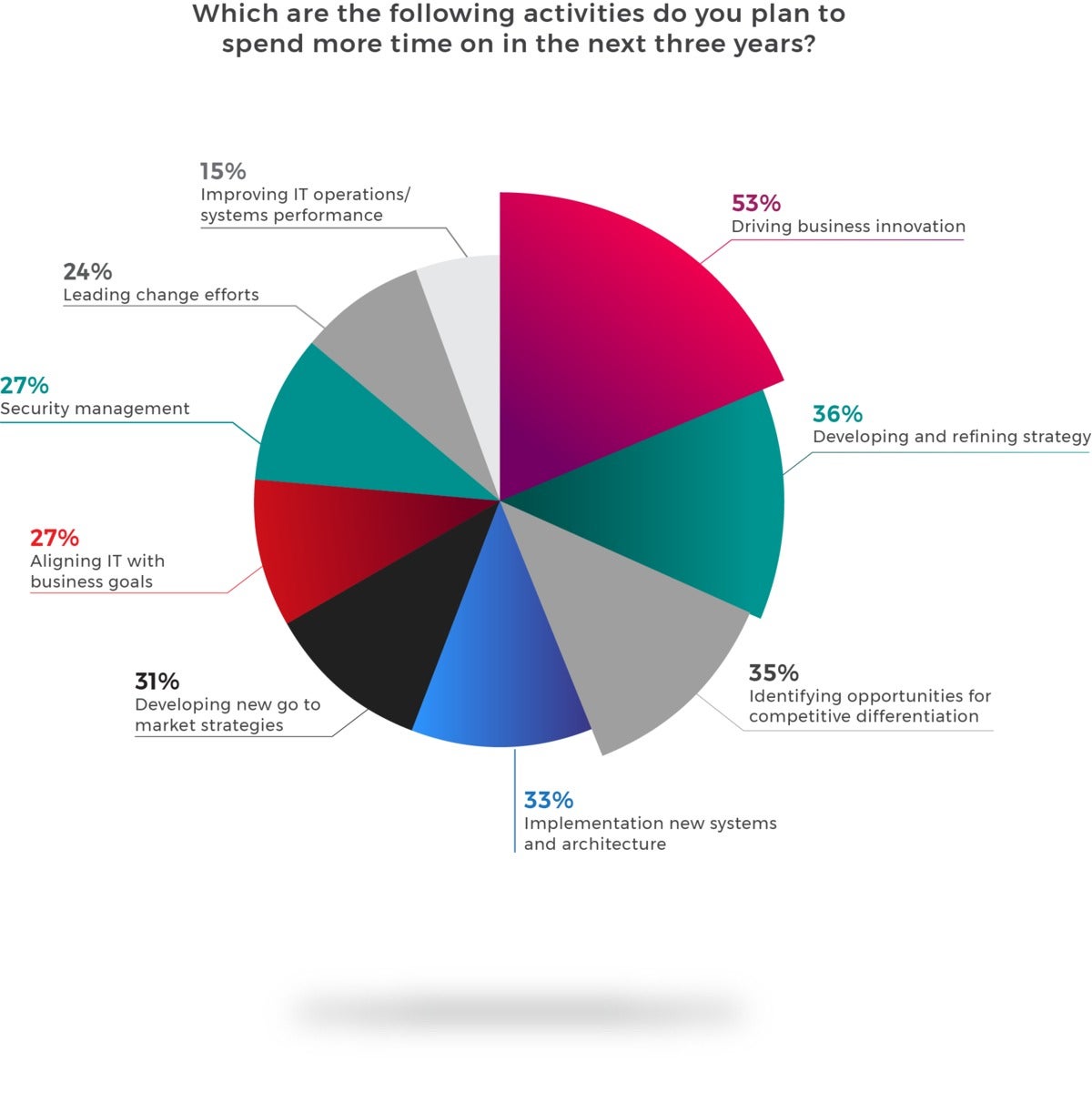 Simon Reiter, chief information officer at Defence Health, put the low innovation figure down to the fact that many organisations still have technical debt. This limits their ability to undertake transformative activities, he says.
Reiter says he spends 10 per cent of his time focused on revenue generating activities now that Defence Health's core system is in place.
"We are now looking at how we can capitalise on what we have built and how we can use that to generate revenue through a BPO – doing some outsourcing for other health insurers or smaller funds," Reiter says.
"I've got a skillset that I have built up with my transformation [activities] in the last two years and using those staff to consult to other funds. But a lot of my time is still spend on BAU."
So what's driving technology investments?
Improving customer experience (55 per cent of respondents) and increasing operational efficiency (53 per cent) are the top initiatives driving IT investments at organisations in Australia and New Zealand.
This was followed by increasing cyber security protections (31 per cent), transforming existing business processes (33 per cent), improving employee productivity (24 per cent), improving profitability (22 per cent), and increasing top line revenue for the business (11 per cent).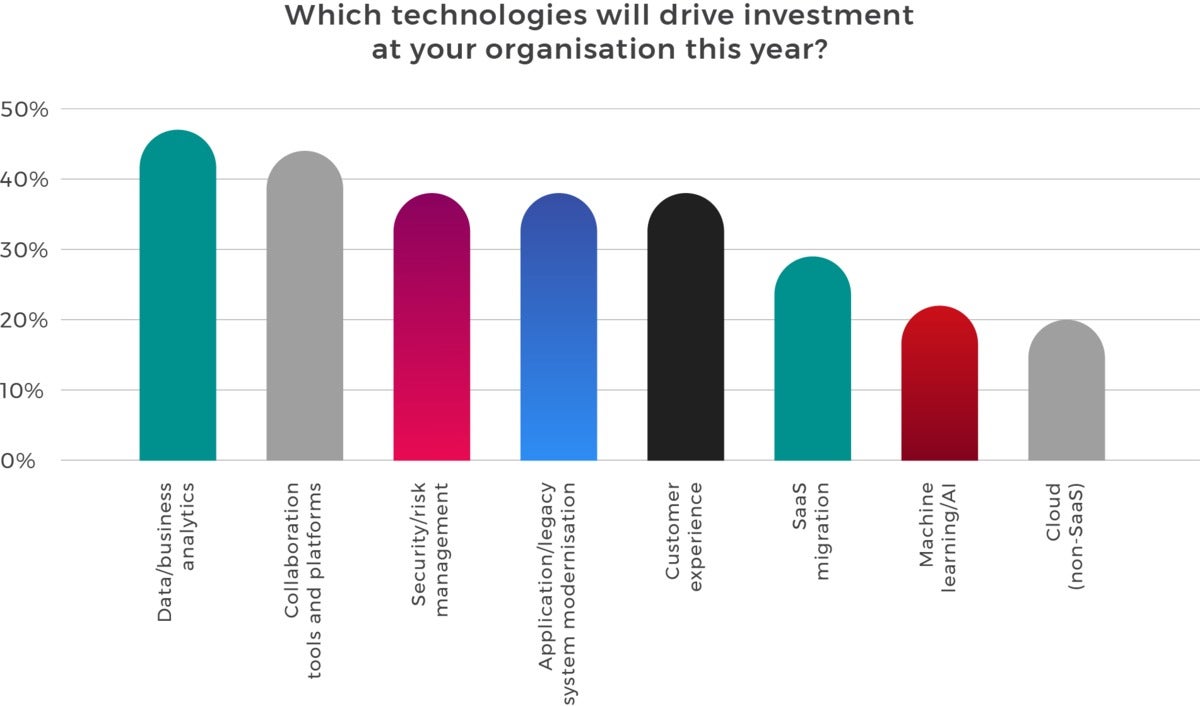 Everything is about the experience of internal and external customers, says Dollar.
"It's about understanding what they [customers] do and how they do it. That's how you can improve their experience, it's about figuratively walking a mile in their shoes.
"For example, we have a connectivity project going on at the moment for social workers; giving them access to [systems] when they are sitting in someone's loungeroom talking to them. It's about the social worker knowing, for instance, if the SA Police were at the premises last night or the patient missed an appointment at a hospital.
"It's critical information that allows [workers] to change their approach when they walk in the front door. It's about understanding what their experience needs to be and how technology can fix that."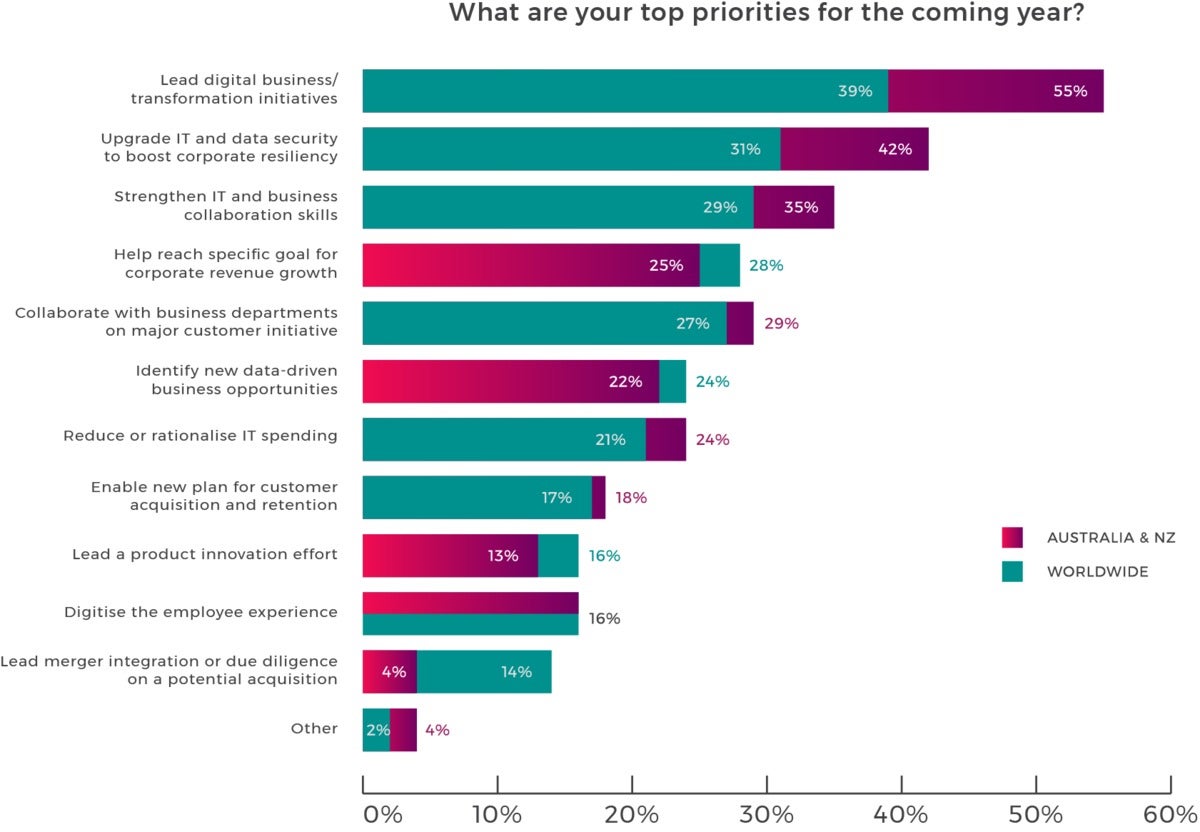 Meanwhile, Defence Health's Reiter, says that IT budgets aren't really growing by much which means that organisations are having to stretch their dollars further when it comes to investing in technology.
"We can look at how we use technology to drive internal efficiencies," he says. "It's about how we automate things; it's easy but I think robotic process automation has potential to be something that provides a good return. But if you don't have your business processes documented, you can't automate them."
Reiter agrees that improving customer experience is key, adding that brand loyalty is important in an environment where buyers are fickle.
He says that Defence Health has looked closer at its communications with customers, providing clarity around exactly where payments are made when members make claims.
Which departments have budgets for tech?
Several groups or functions outside of the IT organisation currently have budgets specifically earmarked for technology spending. Marketing leads the way with 38 per cent of respondents indicating that this group has a tech budget, followed by finance/accounting at 36 per cent, operations (33 per cent), supply chain (16 per cent), human resources (15 per cent), risk management (20 per cent), and sales (18 per cent).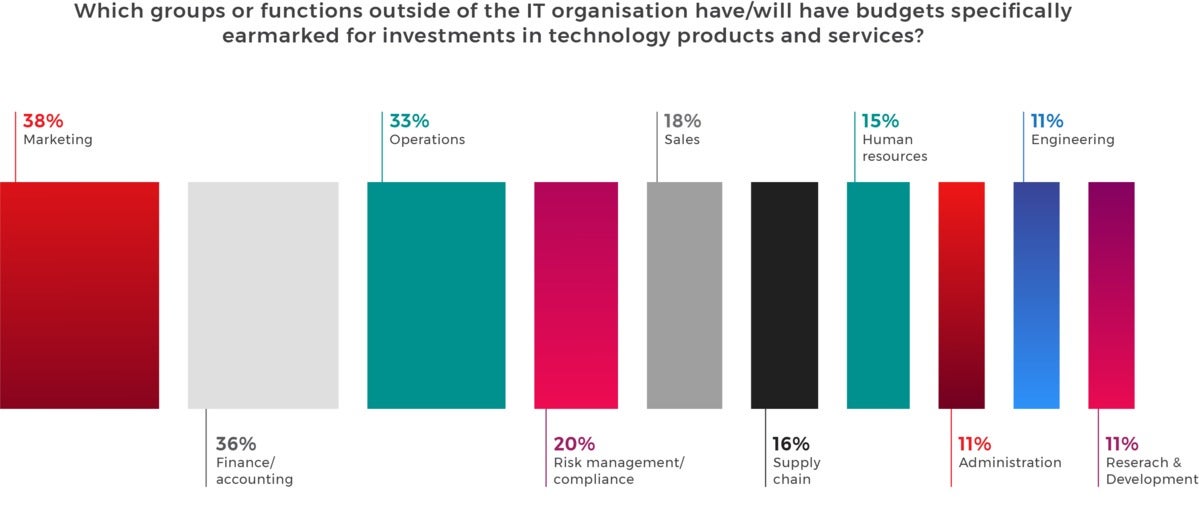 Defence Health's Reiter says that in his organisation, marketing has the biggest share of tech spend outside the IT group.
"The CMO and the marketing group are always looking at how they can do things or how they can leverage technologies coming out to target different markets."
Defence Health's operations group is also spending more on technology, he says.
Reiter believes that other departments are getting a larger slice of the technology dollar because technologists are not being proactive enough about approaching the business about funds for new projects.
"IT is slow, we go through this whole process around reviews, looking at security…it ends up being four or five months whereas marketing will go to Google and sign up to get [a service] straight away.
Finding the right skills
State of the CIO respondents were asked to indicate the areas where they are having difficulty finding people with the right skills. Not surprsingly, 47 per cent are having issues finding staff in the areas of data science/analytics, followed by 42 per cent in cyber security, and 31 per cent in artificial intelligence/machine learning and robotic process automation.
The Department of Human Services in South Australia has a data analytics team, staffed by around 12 people, says Dollar.
"We've got some good data sets, which is a carrot for people to come into this space, and we've got data you're not going to get to otherwise."
Dollar is adamant that "people tend to follow the headlines" around skills shortages in the marketplace.
"If the headlines are saying that cyber security people are difficult to find, then they are going to say that…maybe that's a good thing if you are a cyber person because your [pay] rate goes up."
Dollar says he is more worried about 'cognitive diversity' across his team than technical skills, which can be taught.
"That's not just a gender conversation. I am looking for two things when I am hiring staff: the ability to be a critical thinker and showing initiative because you need to question. The 'questioners' are not here anymore. One of the things that I teach my teams is to ask 'why' we are doing something and ask it a lot.
He adds that in the race for people with cyber security and data analytics skills, other areas of IT are being forgotten about – all of the other skills that are needed to run an IT shop.
"The other most critical I think are business analysts (BA) and project managers (PM) because you've got to understand what the business is doing yet people are not hiring BAs. So how do you understand what the business is doing if you don't have the BA to do the work?
"The way to get runs on the board as a CIO is that you need good BAs and good PMs because that's what the business recognises."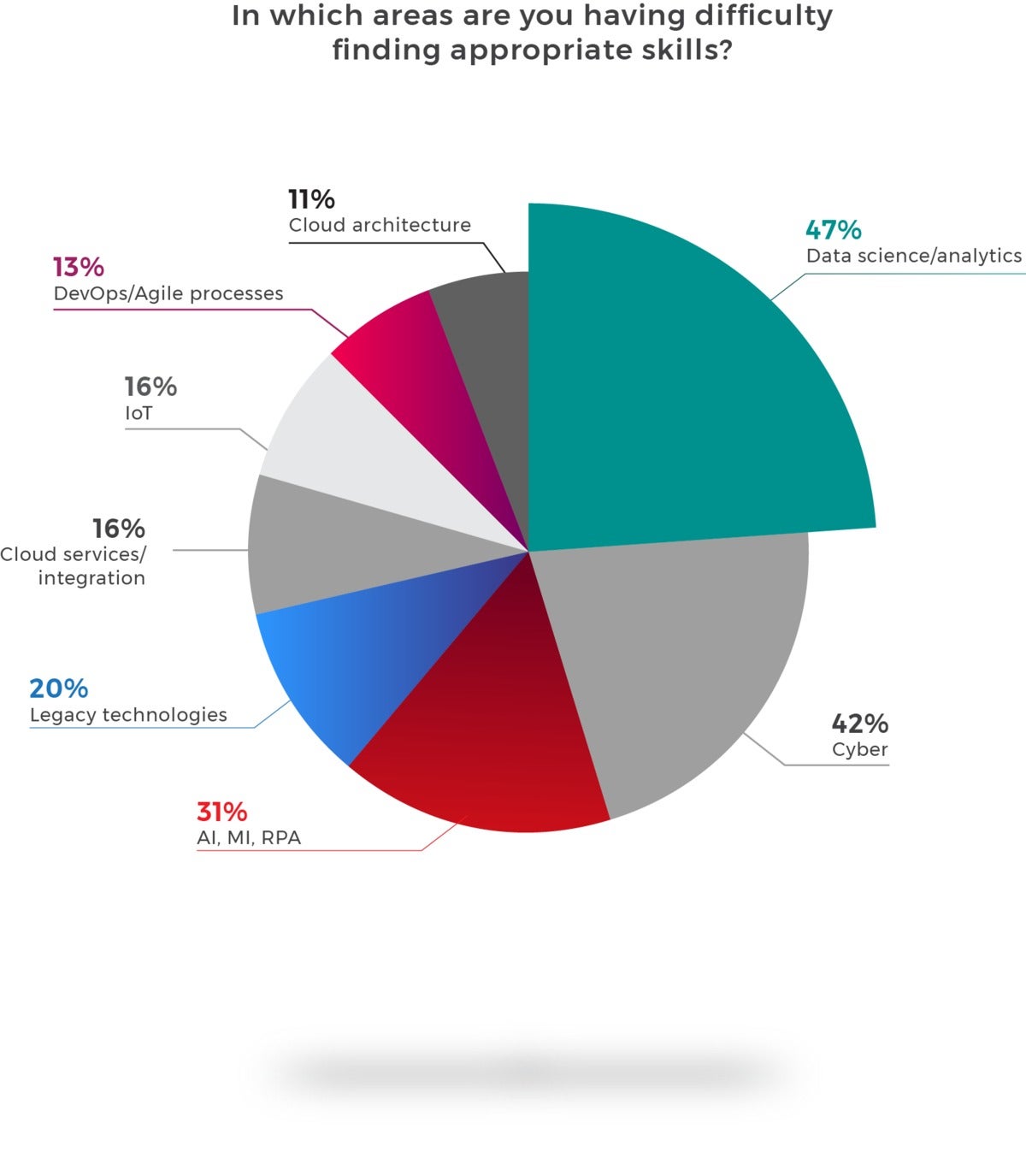 Defence Health is in Melbourne, a city that Simon Reiter says has no real shortage of cyber security specialists but the issue is attracting them to his organisation.
"There are a lot of big companies in Melbourne that pay well above market rates. It's about attracting them a company like Defence Health. Insurance isn't sexy…we've outsourced all our cyber security roles apart from the CISO because we need that link to the business."
Defence Health also has a data science team of 12 full time staff and takes advantage of a few artificial intelligence platforms to automate the data analysis process.
Meanwhile, CIOs responding to the survey were also asked which skills they needed most to support their ongoing business activities. Change management was top of the list with 56 per cent indicating they need these skills, followed by technology integration/implementation (47 per cent), project management (38 per cent), and risk/security management (33 per cent).
Tenures still fairly short
In Australia and New Zealand, CIOs are spending on average of 3.52 years in their roles. Almost one-third (29 per cent) had been in their roles between one and two years (26 per cent in 2018); 22 per cent less than one year; seven per cent between two and three years; and 18 per cent between three and four years.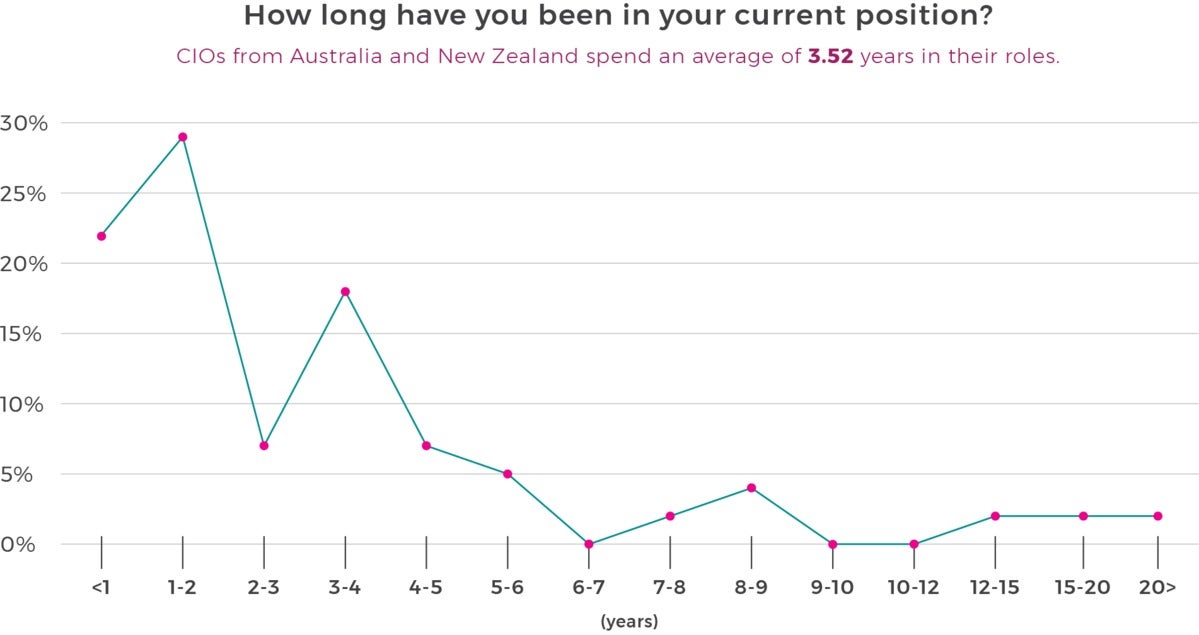 "I think that CIO tenures should be getting shorter," says Dollar. "I read a stat that said IT tenure generally is about six years and that 50 per cent of staff move within the first two years of being in a role.
"The challenge that I am finding is that you get brought into a company that says, 'yes, we want to be disrupted, we want to be innovative and we want all of the things that you are bringing to the table' but when you actually turn up, they don't want it.
"So for disruptive, innovative CIOs…tenure is a challenge because organisations actually don't want what you bring to the table. They actually want someone to keep the lights on and make sure the laptops turn up. That's why I am not surprised that tenures are getting shorter and shorter and I think that the recruitment process is a problem.
"You've got innovative CIOs who turn up into old 'fuddy duddy' organisations that don't want change and then you've got to the other way around, you've got innovative companies that want innovators but they don't find them. There's an argument on both sides and I think this is why tenures are getting shorter because people are either moved on or they move on," Dollar says.