South-Africa-based startup PayJustNow is using AI, a progressive web app (PWA) and cloud technology to bring the time-tested "Buy Now, Pay Later" proposition for shoppers into the digital age, aiming to shake up credit-scoring and consumer payment systems while doing so.
The company provides online shoppers with a speedy way to sign up for installment-plan purchasing while gathering valuable data that can be used to drive more purchases, help retailers improve their customers' experience, and build what they call a decision-scoring engine that can make recommendations to minimize risk and maximize returns. Long-term, the plan is to monetize this engine as an alternative to credit bureaus.
PayJustNow uses the PWA framework along with Google Cloud and TensorFlow to solve a pain point for consumers who are averse to debt and interest-bearing credit, by letting them shop online and pay for their purchases in interest- and fee-free installments, provided they pay on time. Goods are shipped straight away, as if shoppers had checked out and paid in full with their credit card. Payments are spread over three interest-free installments.
At the time of writing, PayJustNow.com was operating with 38 online retailers offering high-quality goods and services such as sportswear, bespoke leather goods, original artworks, surfboards and more coming online all the time.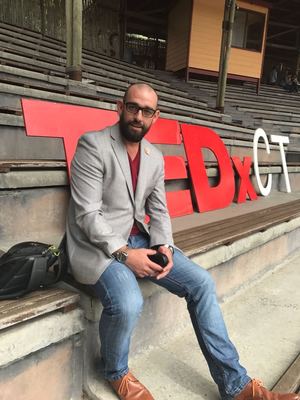 "It's still early days for ecommerce in Africa, but there is a burgeoning concentration of millennial and Gen Z consumers, adept with technology, sensitive to lifestyle trends and favouring value, quality and brand over simply the price," says Mark McChlery, the chief data and analytics officer of PayJustNow, from his rooftop office in the Claremont business district in Cape Town.
McChlery has been integral in setting up the service so that it can uncover value, in high-quality data, about its consumers and the brands that they use, and then integrate that data with PayJustNow's rules engine. One of the incentives for retailers to partner with them is that they can share information about what PayJustNow consumers are purchasing. Retailers can use that data for marketing purposes and product decisions.
At its core, a PWA is a web application designed to deliver a native app-like experience to mobile users and traditional desktop browser users alike.
Understanding the retail market and developing insights about consumers that help to develop PayJustNow's decision-scoring engine are vital to the company's long-term growth and utility to the South African retail market.
Analytics use different types of data
PayJustNow uses a combination of implicit and explicit data to determine the risk of approving a consumer spend limit on its platform. Eliciting implicit data is something of an art, while using explicit data is more of a science.
PayJustNow measures a variety of core markers:
Online behaviour, frequency of views, time of day, day of month;
Social profile and consistency of online presence;
Aspirational and lifestyle attributes of the product being purchased versus the item's availability and popularity.
The implicit data is a mixed bag of what can be determined by a consumer's unique set of traceable digital activities, known as the digital footprint.
"We use a regression model to predict medium- to long-term risk and behaviour with the implicit data," McChlery says. "We want to understand things like … if you could have bought it cheaper elsewhere with less convenience and would you buy it cheaper and wait longer for the delivery and so on."
This type of data will shape the company's growth and diversification plans as the markets they serve evolve. The first priority is to begin offering an in-store presence, for example with point-of-sales systems, to go along with online services, then later to partner with the school-oriented mobile payment app, Karri, to offer staggered payment solutions for parents. Long-term, they envision entering the healthcare market as well, to help people manage and pay for unexpected costs.
The company predicts baseline risk using the explicit data, which is more straightforward; that's the information from your registration that confirms your identity, location and contact information, all of which are validated through third-party integrations with the Department of Home Affairs and with the banking system when they validate shoppers' financial profiles.
PWA advantages include efficiency
There are a number of advantages to developing a PWA instead of a straight app. Simplicity and efficiency is key. "When you build a website and want an app, you have to build in IOS language for Apple and Android language for all other device types on the Android OS," McChlery explains. "They have to be synchronously maintained and regularly updated. With a PWA – it's one to many. Change at the core, (and it) delivers the latest version wherever it is served."
It's also easy to install or add to a home screen, where it looks like, and works identically to, any other app from the App Store or Play Store, McChlery adds.
The primary challenge that the company faces, says McChlery, is to "educate the consumer base that a PWA is really 'a thing' and to handle concerns around trust when they ask why we are not available in the App or Play stores respectively."
Neither of those hurdles is insurmountable and should be erased as the company gains more traction in the market and builds out its networks.
Bringing data into cloud-based AI
While the PWA acts as the UX/UI platform, all the data the company collects from each engagement is delivered through their transaction API to cloud-based algorithms running on the Google Kubernetes Engine, a management and orchestration system for Docker container and container clusters that run within Google's public cloud services, McChlery explains. McChlery says that this is where "we collate and score the curated data – served by the API service worker algorithms on the data model."
PayJustNow's sign-up process takes about two minutes, but during that short time, the company is able to assess 48 markers of explicit and implicit data sources, which are then rolled up into the machine learning engine, created with TensorFlow, and then encrypted and stored.
It's still early days, but this data is being used to develop predictions around consumers, their spending habits, reliability and brand preferences. At the same time, the company learns retail data about their partners and which products are the most successful.
As the risk assessment model develops and new layers of data are added, they activate autonomous cloud microservices that allow PayJustNow to scale processing capacity, elastically. So for instance, when a client signs up, the microservices automatically reach out to sites like LinkedIn, Facebook and Google to build the new client's profile and develop a more complete picture of their attributes. Where the risk markers are high, they validate the self-declared data for an objective truth. In real terms, the more distinguishable you are thanks to the information you share freely, the lower the risk of default.
A frictionless experience is the core objective.
"Complexity is the biggest challenge," as the company seeks to grow its online footprint, McChlery says. "There is no one-size-fits-all tech stack for every retailer we want to do business with. Integration is critical, but the depth of integration is the game changer."
PayJustNow is attempting to build a compelling and transparent service that delivers maximum efficiency and allows the company to innovate rapidly as it grows. As they gain a foothold in the online retail market, they are also building up a potentially valuable database of consumers, products and transactions that they can use to predict retail trends and online behaviour that will feed into their system. Their ultimate success depends on their ability to enhance the experience for all parties concerned.