In 2015, a tight-knit team of jeans-clad, tattooed software engineers worked feverishly inside Goldman Sachs, sequestered from the other technology teams. On November 17, they provisioned an account into the core billing system of Marcus by Goldman Sachs, the financial service firm's foray into consumer banking.
The code executed perfectly. The team, led by CTO Boe Hartman, who joined the company from Barclaycard only months earlier, celebrated with cake.
Less than a year later, on October 17, 2016, Marcus booked its first account. Since then, the business has originated more than $5 billion in consumer loans and more than $55 billion in deposits across the U.S. and U.K., according to a Marcus spokesman.
Here Hartman, who in August took on a leadership role in Goldman's digital strategy group, shares critical steps to inventing a new business within one of the world's biggest banks. He also reflects on some of the most important lessons he learned, which are instructive for any technology leader driving a digital transformation.
1. Define the culture
There is a strong relationship between successful transformation initiatives and companies who approached these initiatives with an aggressive focus on driving cultural change, according to an April 2018 study by the Boston Consulting Group.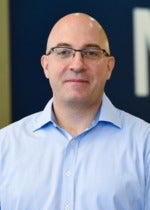 At Goldman Sachs, Hartman knew that building Marcus would redefine the firm's comfort zones and what it looked like to deliver digital solutions at a 150-year-old institution. When he sat down to discuss the strategy with Harit Talwar, the partner in charge of the consumer push, Hartman asked one question: "What kind of culture do you want?"
Th ensuing dialogue was not about what it took to build a great product. "We spent that time discussing the facets of the culture that we wanted to be part of," Hartman says. "Not what we wanted to create, but what did we want to be part of? We wanted to be part of something bigger than ourselves."
Key lesson: Too often, companies fail to envision what the future state will look like in terms of structure and roles, but also the culture of a truly digital organization. Start by laying out key cultural principles and an ethos for how the team will gel and operate through the transformation.
2. Focus on customer experience
The team behind Marcus began with a strategy: The new product — the first in a broader consumer-facing vision — would be an installment loan. To ensure they were pursuing the right path, the team conducted 10,000 interviews with consumers. As it turned out, potential customers felt more strongly about "removing the shame of debt," Hartman says.
By learning consumers' pain points they were able to build a better product. "We walked in thinking one way," Hartman says. "We walked out of that completely thinking differently."
That's a trap Hartman says many organizations run into early in digital transformations: Assuming what the end result will be without enough thinking about what the customer actually wants and why.
Key lesson: It's good to have a theory or concept, but in an era where the customer reigns supreme, you need validation. And to accept that your assumptions may have been wrong.
3. Use what you can and build the rest
In the past, Goldman Sachs had built much of its technology in-house. Building Marcus would require more of that, but for the sake of speed Hartman looked at existing resources. When he approached some senior leaders about leveraging those resources — including a cloud solution and various software development lifecycle tools — he expected they'd shoot down the idea.
Instead, they rallied behind Hartman's vision of a zero-latency organization, meaning that the team would make quick decisions and turn around objectives in 24 hours.
"We very quickly became the lab rats to bring in new ideas and concepts," Hartman says. "There was technology already existing in the firm. I was like a kid in a toy shop, where I'd go, 'We already have this?!'" The tech resources cut months off delivery times, he adds.
Key lesson: New is not always better. It's not a popular thing to admit, but a lot of legacy technologies can and do serve a purpose. And when you're sprinting fast in pursuit of a result, sometimes good enough will do.
4. Mix new staffers with experienced hands
Goldman Sachs had always been a buttoned-down environment, so it caused something of a stir when new tech hires showed up wearing jeans and sporting visible tattoos or nose rings. Change was coming to Goldman – partially in the form of external talent, which was another exception to the rule.
"Pretty soon, I was being asked, 'Hey, who are these people?'" Hartman says, referring to the external hires. "And I started getting a bunch of folks coming to me about enabling folks to go do new things — it was huge."
Hartman got access to high performers from within Goldman, who were steeped in the company's usual processes and, yes, culture.
Initially, the Marcus talent mix included one-third from within the company, one-third consumer finance technologists from other companies and one-third from other industries. The internal/external mix got closer to 50-50 as the rollout moved forward, with Hartman hiring 350 full-time employees in the three years since it kicked off.
Key lesson: Many leaders think they need all new talent to drive change, while others think internal resources are best positioned to help their company evolve. Sometimes it's best to meet somewhere in the middle. Hiring top talent from outside the company and pairing them with internal talent who best understood the company was a critical move.
5. Remember who you're working for
No company launches a digital transformation without profits in mind. Goldman Sachs was no different. What was different, though, was the focus on mission that Hartman and other leaders imbued in Marcus.
Remember those 10,000 consumer calls that changed their perceptions about what consumers wanted? From those and corresponding research, the team learned that too many Americans are one cancer diagnosis or one car wreck away from financial ruin, Hartman says. So they created customer personas and embraced the mission of helping them, whether it was Tanya, who lost everything in a hurricane, or Sean, who needed help with his medical bills.
This effort endures. Each week, members of Hartman's leadership team listen to customer calls about different products. Those leaders build long-term solutions to the issues and conduct postmortem discussions about how they did it. This fall, Hartman and his leadership team will train alongside incoming call-center agents.
"They can experience the angst of taking that first live phone call so that they know what the experience is for both the customer and the agent," Hartman says.
Key lesson: Every business and IT leader must focus on business goals. But from Hartman's experience, tying the mission to something bigger, such as deeply understanding their customers' needs, helps an organization reach new heights. "It's been a game changer," he said.