Women make up less than twenty percent of the technology workforce. We need not discuss the many downsides to this low number; our time is better spent working to improve it.
Rahul Merchant is doing just that. He is executive sponsor of TIAA's IT Women's Council, a multi-faceted employee resource program at the $6B financial services company.
"In the 1970s, women were about 13 percent of computer science graduates," says Merchant. "In the 1980s, that number jumped to almost 35 percent. But recently, it dropped to 17 percent. At TIAA, we are making a very conscious effort to bring more women into IT and to give them support to grow their careers."
TIAA's IT Women's Council is open to all IT employees – including men – and operates at the global and national level through a series of meetings and conferences.
Group mentoring
One of the Council's greatest successes is the group mentoring program, which over the last three years has grown from 50 participants in two locations to 450 participants in seven locations. According to Jennifer Tsahalis, chief administrative officer for client services & technology and the director for TIAA's group mentoring program, "Our program is unique because it is not one-on-one mentoring. Two mentors are paired with a group of five to seven mentees, so that in addition to mentees learning from their mentors, the mentors also learn from each other and from their mentees."
In the group mentoring program, mentors advise on career development, self-branding, and ways to pursue opportunities within the organization. The program has both senior and junior mentors paired within a group, which helps accommodate the wide range of employee experience in the organization. "When you pair a managing director mentor with an associate just out of college, the distance between their experiences might be too great for an effective relationship." says Tsahalis. "Having multiple levels of mentors helps bridge the experience gap between mentees and more senior mentors and provides a leadership development opportunity for these junior mentors, by asking them to practice leadership skills in a different way than in their day to day jobs."
Tsahalis's advice on running an effective mentoring program: "It's important to ensure, up front, that both the mentors and mentees are engaged and feel accountability for getting value from the relationship," she says. "We do that by putting responsibility on the mentees to drive the mentoring sessions and define what they want to learn. Putting the meeting facilitation responsibility on the mentee also provides an opportunity for them to present to more senior leaders on topics they have a passion around."
Tsahalis has seen great results from the program. "We survey our participants regularly and they are reporting benefits in the areas of personal growth, professional growth and leadership skill development."
Networking events
In addition to the mentoring program, the IT Women's Council runs a series of local, informal discussions, as well as large global conferences with agendas and guest speakers. "Roger Ferguson, our CEO, and I have both presented at the events," says Merchant. "Council members really put us on the spot and ask candid questions. The Council gives senior management a chance to provide transparency into our business and allows our global team to network with one another."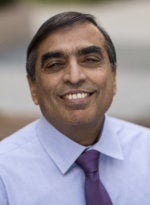 The IT Women's Council's largest annual event has been International Women's Day. "We have about 600 men and women in attendance, which features guest speakers and booths with activities that align with that year's theme," says Merchant. "We host a panel discussion of female senior executives from across the company, and we run a speed networking event, which gets people out of their silos."
This year's theme, #BalanceForBetter, began with general networking and featured a photo booth where attendees could choose an action they would promote that year, then document their pledge with a photo. Example pledges include: "I pledge to help a woman on my team identify and secure her next promotion" and "I pledge to identify opportunities for women on my team to lead."
Return on investment
The program is run by senior women in the IT organization who volunteer to serve on the steering committee, and Merchant funds activities through the IT budget. "This type of program can be run on a modest budget," says Merchant. "We have access to a number of facilities with conference rooms and dining facilities where we regularly hold events. The IT Women's Council is a small investment with a huge return."
For Merchant, senior level commitment is much more critical than funding. "Programs fail when senior leaders talk about a commitment to diversity but their actions don't match. It's important to have senior level involvement."
How does Merchant know that the program is successful in its goal to provide networking opportunities and career advancement for women? "I look at how rapidly membership in the Council is growing," he says, "and I see how more women are speaking up in meetings and raising their hands for new opportunities."
For Jennifer Tsahalis, the value of the program is also very apparent: "I have gotten so much out of being on the IT Women's Council steering committee and in running the group mentoring program," she says. "I have been exposed to members of Rahul's team that I might not have otherwise, and I've expanded my networks and horizons. I recently also met a woman through the group mentoring program, who I hired into my organization."
Martha Heller is CEO of Heller Search Associates, an
IT executive recruiting firm
specializing in CIO, CTO, CISO and senior technology roles in all industries. She is the author
The CIO Paradox: Battling the Contradictions of IT Leadership
and
Be the Business: CIOs in the New Era of IT
. To join the IT career conversation, subscribe to
The Heller Report
.