Pijush Kanti Gupta is the chief information officer at Cairn Oil & Gas, vertical of Vedanta. With 25 years of leadership experience, Gupta has successfully led the development and implementation of IT and digital solutions across the entire value chain of core industrial sectors such as oil and gas, petrochemical and manufacturing.
In an interaction with IDG Media, he shared his future vision of the oil and gas sector and described how emerging technologies are making the upstream oil and gas business more efficient with time.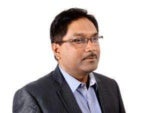 Edited excerpts
How do you see the future in terms of technology advancements in the oil and gas sector?
In the upstream oil business, there are a few KPIs which are normally tracked. First is health, safety and environment (HSE), second is operational excellence, and third is volume growth. The internet of things (IoT) technology is going to change the oil and gas industry as far as workers' safety is concerned. Oil companies face difficult climatic conditions as oil wells are located either offshore (deep sea) or in remote deserts. Considering these aspects, every health parameter will be controlled and monitored through IoT.
Also read: Reimagineering Utilities: The evolution of the smart systems
Apart from IoT, using predictive analytics through AI/ML will play a big role in preventing downtime and monitoring real-time performance.
What role will artificial intelligence and machine learning play going forward in the sector?
In terms of volume growth in production of oil, when you dig holes you don't know where to drill exactly. If you drill ten holes, you will get oil in just one of them, so just a ten percent probability in getting oil. In coming years, AI will play an important role in identifying the right sweet spots where the probability of getting oil is much higher.
Lot of people are working on different technologies to analyze data to predict how you increase production for a particular oil well using AI/ML on top of data collected through sensors.
In the future, with the help of artificial intelligence, you will be able to predict the right geological spot where you drill and get oil. AI/ML technologies are still evolving. In my opinion, AI/ML and big data will change the whole oil and gas operations. Which other technologies according to you will make the oil and gas sector more efficient?
Robotic process automation (RPA) will also play a big role in oil and gas. The enterprise operations are quite fragmented today. So, this is where RPA will help to automate and integrate processes.
In upstream oil and gas today, it's mostly manual processes for communication channels across different systems. To establish seamless communication, trust-based protocols based on blockchain will be helpful to bring visibility and trust among the different parties.
In oil shipping, documentation takes a lot of time, workflows and approvals at every port. Blockchain can add tremendous value to these processes and in managing the documentation related to logistics.
How can transportation of oil and gas be made more innovative and safe?
In road transport, there is always pilferage. Technologies have come up to automate systems and take care of pilferage using sensors. Vehicle tracking systems (VTS) and geo-fencing nowadays track most of the vehicles whereas earlier it was all fragmented systems. Oil level in the tankers can also be tracked through sensors. Quality of the IoT sensors is getting improved to avoid pilferage en route.
In terms of transporting oil and gas through pipelines, SCADA systems are currently available to track every parameter of the pipeline and it's all automated. Drone technology is also helping to monitor the pipeline. In the future, drones are going to be a game-changer for inspection, which is currently being done manually.
Do you see the use of AR/VR in oil and gas sector in coming times?
Oil and gas wells are located in remote areas, so you can't get experts everywhere. AR/VR is going to be helpful in the maintenance of critical equipment with the help of experts sitting at other locations, particularly in emergency situations. Using VR technology, you can simulate the entire plant and showcase the important zones to help train employees.