India is expected to become the third largest aviation market in terms of passenger volume by 2024, drawing Rs 1 lakh crore worth of investments over the next five years.
While robotics and mobility are propelling the industry towards newer heights, futuristic UAVs and commercial space flight are no longer confined to the realms of science fiction.
In an exclusive interaction with CIO India, Ravinder Pal Singh, chief information and innovation officer at Tata Singapore Airlines (Air Vistara), gives us a dekko at technologies that will mould the industry in the years to come.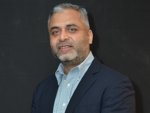 With over two decades of experience in spearheading global assignments in the US, Europe and Asia, Singh's skillset encompasses engineering and technology, architecture, design, management and leadership across sectors like aviation, ITeS, manufacturing, and mining.
Here's what the aviation tech whiz had to say around emerging technologies that are all set to disrupt the industry as we know it:
Robots at check-in counters and for security/luggage handling
Globally, robots are placed at few airports, but there is no specific information which justifies that robot are fully operational. All of these robots are placed in single units for experimentation. Hence it clearly depicts that even though robotics is reasonably old engineering discipline but its use cases in airline and airport ecosystem are in early stages. In my independent view, robots can improve the overall customer experience including check-in process, retailing experience, lounge experience, on-boarding and even security. Singular design, single type or kind of robotics will not solve or improve it. It requires a family and swarm of robots.
Electric-powered aircrafts in the future.
Airlines contribute to world's CO2 emission; therefore, electric aircrafts can be a sustainable innovation in airline industry. An aircraft requires double the power during take-off than it requires in cruise. If electric power can be used in cruise phase of flight, it could dramatically reduce fuel consumption and noise and also help in the planning of airports. In my personal opinion as an engineer and pilot, we should aim for improvements in power to weight ratio of batteries as well as new propulsion systems.
On commercial space flights
Nanotechnology is the key in making spaceflight practical. Advancements in material science to make lightweight solar sails and the cable for the space elevator could significantly cut down the cost of reaching orbit and traveling in space, as well as dramatically reducing the amount of rocket fuel used. Concept of commercial space flights is revolutionizing and opening access to space, fostering new space economy in low-Earth orbit. With commercial space flights, it will become easier to put more capabilities into smaller packages.
Constellations of small satellites will allow for both new capabilities as well as existing capabilities at much lower costs. The exploration of space will become global. More nations will be within reach of space than ever before, while the influx of entrepreneurial capital will be driving innovation and new technologies in the private sector. Space technologies will help us understand our mother-ship. The climate, peace, and security and energy issues: these are all things space technologies can play a key role in.
In-flight apps that lets customers adjust lighting, order meals, check restroom availability
Every passenger as well as crew carries mobile devices, which provides airlines with much more control how to move beyond providing just entertainment to new opportunities. It can generate the ancillary revenues in-flight. The future of the passenger/cabin interaction is beyond one of mere entertainment and can be more accurately described as in-flight passenger engagement. At first stage with connectivity within the crews and passengers calling assistance, social chat will be uncovered. Then most of these apps or in-flight systems will be synced with the central datasets then food orders, sale of ancillary.
Most of the airlines are currently working on it. In the next stage aircraft indicators will be integrated with the app on board. So the lavatory indicators, aircraft position and other aircraft related data will be shared on board. Further, aircraft manufacture should allow airline apps to communicate with aircraft resources like ambiance lights. Needless to state new models of social engagement will appear as digital disrupts the society and its norms.