The Indian enterprise has seen its fair share of CIOs taking up new leadership roles in the C-Suite. A recent example of this trend is the former CIO at Volkswagen AG, Prosenjit Sengupta, being appointed as the Chief Digital Officer and Member of the Executive Council at Thermax.
In an exclusive interaction with CIO India, Sengupta talks about how he sees the role of a CDO differing from that of a CIO and what his prime focus areas are going to be.
An out-an-out digital leader
Following an illustrious stint at Tata Motors, where he was DGM and Head IT for Programs and Commercials, Sengupta joined the Volkswagen group of companies in India as CIO. At Volkswagen, he was responsible for managing business and technology challenges and helped create an agile organization with a 'lean enterprise' architecture.
In October 2015, he took over as the Head of Steering and Governance for Asia Pacific – his main focus being the alignment of the VW Group and implementation of strategic projects and initiatives.
A winner of the prestigious CIO 100 Award, he has made a mark as a thought leader in the CRM and DMS space in the automotive industry and has enabled revenue and profit generation through the use of collaborative IT between OEMs and channel partners.
Sengupta has established himself as a front-runner in digital technologies – he was nominated as a committee member of digital technology at the Indian Merchants' Chamber to work and consult on the Digital India initiative of the Govt. of Maharashtra.
From a CIO to a CDO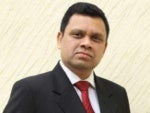 Although it may appear similar and certain responsibilities might overlap, the role of a Chief Digital Officer is quite different from that of a Chief Information Officer.
An increasing number of firms are appointing a CDO in their ranks. In fact, a Harvey Nash survey reveals that a quarter of all organizations have appointed a CDO, and the number of CDOs has increased three-fold in the last three years.
Simply put, a CIO primarily drives the IT in an organization, but a CDO is much more of a business function.
Sengupta illustrates the difference quite succinctly when he says: "A CIO's primary responsibility is to ensure upkeep of modern infrastructure, focus on system uptimes, and enabling operational efficiencies of the business processes; whereas the CDO's role has more to do with enabling business functions achieve higher revenues, derive higher profitability, venture into new business models, and achieve differentiation in the marketplace."
The CDO's role is right up his alley, as Sengupta comes with extensive experience in strategic business alignment and multi-million dollar budget management.
Prime focus areas at Thermax
Thermax is perhaps best remembered for driving India's energy shift – from oil to coal and biomass. When asked about his objective as CDO, Sengupta says that as Thermax is known for its superior products and designs, his focus will be to make the company smarter, more efficient, flexible, and adaptable to new business scenarios.
"Ultimately it will help Thermax's business teams to venture into newer business models – this will sustain its leadership position in the current markets, in addition to expanding its global footprint in a significant way," he concludes.