Life in a refugee camp, or an area devastated by a natural disaster, can be unbearably difficult. Most of us will never experience that kind of hardship and deprivation but for approximately 10 million people in 2019, around 1% of the global population, this is the day-to-day reality of lives.
The smart, effective use of technology that recognizes their circumstances can have a profound effect on the lives of people who are living on almost nothing.
AgriLED is a South African startup with a mission to supply small, hydroponic farms, built inside shipping containers, to refugee camps and disaster agencies around the world. An extremely stable environment is the key to good, regular growth in Controlled Environment Agriculture (CEA). The system they have developed makes use of AWS cloud services, customized third-party software and an API to display climate, water and mechanical data on a customised dashboard.
Harvesting technology to grow food
Adopting a technology-driven approach to food production is a fast-growing sector of some of the continent's most-developed economies.
AgriLED's vision caught the eye of international investors and they were able to raise foreign investment worth €500 thousand in a closed investment round with the Hivos Food and Lifestyle Fund, based in the Hague, the Netherlands, whose goal is to "invest to make a financial return and to create a sustainable food system from farm-to-fork" in Southern Africa.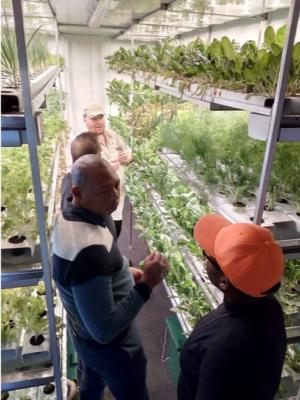 The project began in 2015 when Theo Pistorius, the CEO of AgriLED, met his partner Richard Lomax, and they combined their expertise in microbiology, remote sensing and electronic engineering to create something new and meet a glaring need.
The ready-to-ship instant farms will arrive in a location with harvest-ready plants, with growing that happens in transit, and crops which can be harvested from the moment the container is deposited and set up.
The results from the prototypes have been stunning. AgriLED has developed their systems and technology to the point where each container can feed 50 people per day on a diet of leafy greens vegetables such as spinach, as well as lentils and strawberries.
To deliver that kind of yield on a regular basis requires a sophisticated suite of technology tools that deliver detailed analytics on every single plant that is growing.
The company uses a 3rd party service called Cape Sea Observa to collect, display and react to the data
In CEA, these are most important parameters to measure:
Climate: Temperature, Airflow, etc.
Water: pH, O2 concentration etc.
Mechanical: Pump control, Light control, etc.
Other: Plant growth stages, access control, etc.
By setting dynamic notification ranges on the dashboards and widgets, the organization is able to map the parameters on the charts for each crop, so they can pick up quickly when a crop has gone out of bounds.
The full-spectrum grow lamps are installed to ensure the even distribution of light, allow for leafy greens to be grown all year round, and are "designed to trigger specific parts of the plant DNA in order to express the nutrients and flavors."
"We looked at the problem holistically, tried to figure out what refugeees will really need and build with the solution in mind. At the end of the day, we think we have come up with an affordable, solution to provide fresh fruit and vegetables that can scale easily and be deployed at a moment's notice," Pistorius says.
Real-time monitoring empowers the small-scale farmers to proactively measure their crop's current status and history, to respond in time to threats such as rot and disease, and nurture the particular lines of crops that are proving the highest yield and nutrition.
Sensors, analytics manage plant health
Sensors in the containers are used to gather data and send it back to headquarters, where it is analyzed and monitored. All aspects of the process from the amount of dissolved oxygen, plant health and weight, to temperature and electro-conductivity of the water are all managed via the cloud. When an intervention is required, it's either triggered automatically or a message is sent out to somebody on-site who can take the necessary action.
AgriLED makes use of a variety of sensors, from vented temperature humidity sensors to CO2 monitoring and substrate moisture sensors that send out alerts when a particular section of the container farm is in need of irrigation or drainage. The data feeds into the analytics dashboard which is hosted with AWS and displays the incoming data on a dashboard that is there to ensure stability and optimal growth.
Pistorius understood the need to build all aspects of the project in order to let them scale easily and that takes into account the technology issues as well as the operational. "The systems we use are cloud-based but they drive real world nuts and bolts problems," he explains. "It's no use taking a pure digital approach in a hardware environment. That's not what is needed rather go for a blended approach."
Partnering up to broaden project scope
The collaborative approach that the company took illustrated by the various strands of innovation that have grown out of the farm containers. For example, the fact that they were Wi-Fi enabled meant that it was easy enough to build in extra capacity and to set up a few computers to create an online classroom that also acts as an internet cafe for the community. AgriLED partnered up with the Open University and the University of Stellenbosch to offer high quality education, from primary to tertiary level, to both adults and children.
When you're deploying technology in areas of real desperation, there is a tendency to be pulled to early decision-making. Pistorius recognizes the need for tech leaders in distressed communities to ask tough questions, and find areas where their expertise can provide further solutions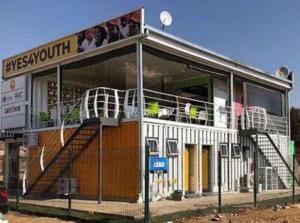 One example of this was the decision to add waterless sanitation as another feature of the containers. Alongside Pennine Energy AgriLED has begun to include sets of seven SavvyLoo Toilets to ship alongside the containers. The SavvyLoo toilets are desiccating toilets, and do not require water or pipes. Condensed sunlight dries the waste and kills pathogens that cause disease and odour.
These technologies are turning the shipping containers into smart hubs which will serve a variety of needs for a community, and will have even greater impact when they include the option of solar panels and water tanks as well.
Tech integration leads to innovation
The real innovation that AgriLED has achieved is to answer pressing, real-world problems using sensors, integrated with data analytics alongside , lo-fi practicality. While there are many issues in refugee camps, there are three fundamental problems which must be solved first The first is nutritional, which the farming containers solve through growing fresh food. The second is sanitational, and once again they have solved that problem with waterless toilets. But the biggest killer, according to Pistorius is the despair and hopelessness that comes from having nothing to do and no agency over your situation.
"We also want to create a space for people to have something to do while in the camps or communities, as lack of activity was a mental killer. So we developed a hybrid-high-and-low-tech solution to grow the food even while in transit to the site, and provide sustainable employment in the communities where we deploy," Pistorius says.
Future plans include shipping a small, retail structure that can accompany the farm container and provide a space for people to sell their produce to the community. For many people today, the refugee camp is not a transition point to somewhere else. Many of them will spend decades living in a camp and raising their children there, so it's no exaggeration to call this technology life-changing.