Accelerating cloud adoption is the new normal for businesses as they modernise IT infrastructure and enhance tech collaboration. Comprehensively trained organizations are quick to adopt cloud, more likely to realize that cloud can help jump-start innovation, and also more likely to meet cloud ROI requirements. However, for CIOs, it's often a challenge to train teams on emerging technologies like cloud and ancillary aspects.
Digital Accelerator, an event hosted by AWS in collaboration with IDG Media on 17 July, 2019 in Mumbai, centered on the theme Staying Competitive: Why investing in cloud skills matters. Here are the highlights of the speaker sessions and event discussions:

Catalyze Cloud Strategy, Build Cloud Skills
Yogesh Gupta, Executive Editor, IDG
Related: 2019 IDG State of the CIO Survey
"Cloud computing has gone beyond its hype cycle as more organizations leverage digital technologies for flexibility, scalability, innovation and lower cost. Gupta highlighted the IDG State of Cloud Computing, 2018 survey, wherein 31% of ITDMs admitted to the challenge in adopting cloud. The organizations need to train people in key roles such as cloud architect, cloud system admin, security architect, cloud systems engineer, and cloud network engineer," said Gupta.
Accelerated Cloud Transformation through Training
Ashish Dhawan, Managing Director, Enterprise – India & South Asia, AWS
Cloud migration has accelerated at a rapid rate and cloud skills are in demand. As a result of this shift toward the cloud and the rapid innovation in the industry, several organizations are now facing a new challenge.
The pace of change in technologies and rapid adoption of cloud infrastructure has resulted in a skills gap between the expertise of IT professionals and rapidly evolving business requirements. Hence, an education strategy is crucial in order to get the most out of cloud. Ashish Dhawan
Dhawan elaborated that if enterprises want to move to, and use, the cloud, they need employees with cloud expertise on their team. And bringing new skills in-house could become more time-consuming and costly as competition increases.
"It is difficult to develop cloud skills in-house for organizations, and high demand means they have to pay a premium for those skills. IT transformation and the rapid adoption of cloud technology means IT professionals need to constantly acquire new skills," said Dhawan. He further added that comprehensive training allows IT pros to push new technologies to their limits and maximize return on investment. IT decision-makers often cite lack of training budgets as one of the driving factors behind IT skills gap.
Digital Accelerator: Enterprise Cloud Adoption
Nitin Agarwal, Group CIO & CDO, Edelweiss Group
Nitin highlighted the cloud readiness journey of Edelweiss Group, including the creation of organization tailwind, reorganization of IT service delivery, and close association with AWS.
Demystifying cloud technology with senior management at Edelweiss, including chairman and founder, was the first step. Town halls showcasing future of technology and best global practices were arranged, including multiple training sessions for up skilling resources.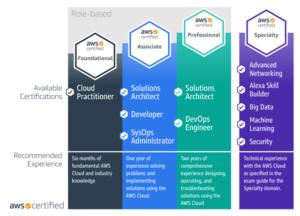 AWS classroom training for creating awareness amongst the Edelweiss group was key. Solutions presentation by AWS SMEs covering specific topics like enterprise API, gateway, security, database warehousing, migration assessment in close coordination with AWS was an important part of the cloud readiness journey.
"Close interactions with AWS legal team to ensure compliance with all the local regulations, and preparing the annual training curriculum leveraging AWS's Skills Guild Program was extremely vital for the company's cloud journey," explained Agarwal.
AWS: Key Steps to Create an Enterprise Training Strategy

Identify a leader to spearhead your training efforts
Create excitement about cloud education in the team
Decide roles within the tea that need foundational and deeper training
Start learning with free digital training at aws.training
Work with AWS on customized training and delivery plan for your team
Edelweiss is now cloud ready as the conglomerate has signed the enterprise agreement with AWS. All the new applications will be cloud first at the company.
The Value of AWS Training and Certification
AWS training directly and measurably contributes to customer success that includes faster time to market, increased profitability, lower business risk and increased employee engagement.
Close interactions with AWS legal team to ensure compliance with all the local regulations, and preparing the annual training curriculum leveraging AWS's Skills Guild Program was extremely vital for the company's cloud journey. Nitin Agarwal
Dhawan explained that training can help IT staff leverage fundamental skills and institutional knowledge they already have to transition to cloud roles. Working with AWS on a customized learning path provides a clear roadmap based on the company's unique requirements. The training and certification developed by AWS experts includes comprehensive training programs that includes Digital Training Library, classroom training, and certification.
Organizations need to identify skilled professionals to lead AWS Cloud initiatives. AWS Certified professionals are productive and agile troubleshooters in the industry. These globally recognized and industry-leading cloud certifications are an important asset for companies on their digital and IT transformation path.