Following 5G and HarmonyOS, AI computing has become Huawei's latest venture.
At HUAWEI CONNECT 2019, Huawei launched Atlas 900, another superstar AI product.
At an interview with foreign media, Mr. Ren Zhengfei, founder of Huawei, announced that Atlas 900 is the world's fastest AI platform.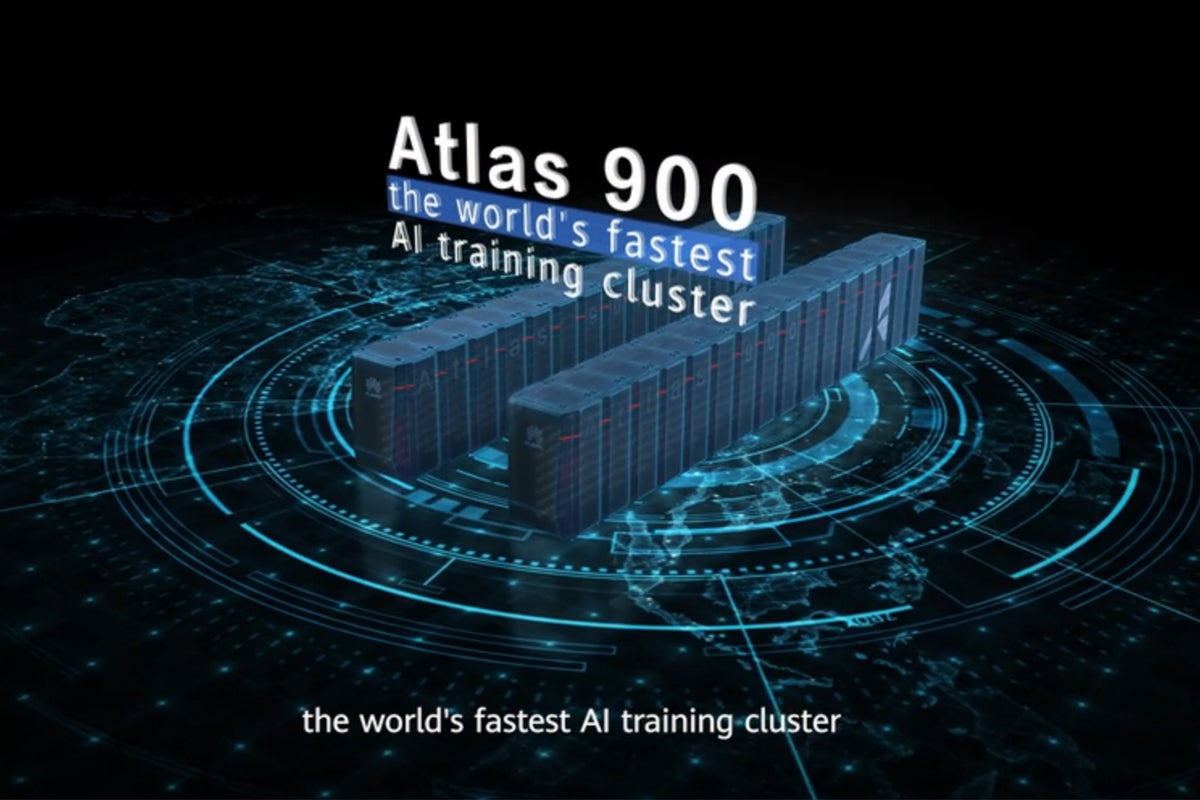 It takes Atlas 900 only 59.8 seconds to train a ResNet-50 model.
With the same precision, it is 15% faster than the second fastest product.
Ken Hu, Huawei's Deputy Chairman, said that the powerful computing is perfect for scientific research and business innovation fields, including astronomical exploration, weather forecasting, autonomous driving, and oil exploration.
Huawei also announced that the Atlas 900 cluster services would be available to scientific research institutions and universities worldwide at a customer-friendly price.
The release of Atlas 900 is accompanied by Huawei's first glimpse at the computing strategy that has turned Huawei into a tech giant.
Integration of Thousands of AI Chips with Industry's Best Computing Power
Atlas 900 integrates thousands of in-house developed Ascend 910 processors, another premium product by Huawei, helping to deliver 256–1024 PFLOPS at FP16.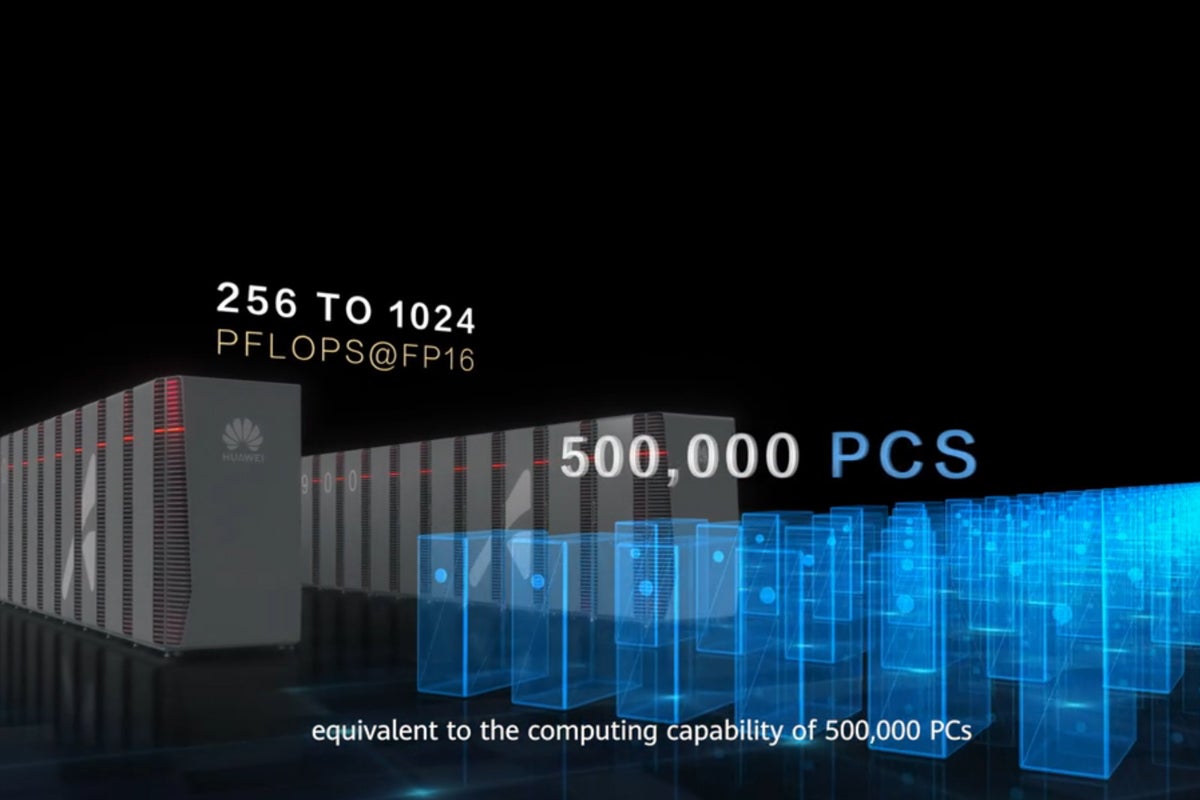 Atlas 900 is taking the computing world by storm, and not just in test settings. For instance, for customers who used to complete an astronomical exploration task in 169 days, with Atlas 900 it takes just 10.02 seconds.
Debuting at HUAWEI CONNECT 2018, the Ascend 910 processor was officially put into commercial use in August this year. It is the third AI training processor in the world, and the first in China.
Ascend 910 leverages the Huawei-developed Da Vinci architecture, features 7nm manufacturing process, and consumes up to 350 W of power (310 W actually tested). It is the AI processor that represents the pinnacle of computing power.
Benchmarked against the NVIDIA Tesla V100 GPU, Ascend 910 aims to meet deep learning training scenario requirements and serve users such as AI data scientists and engineers.
| | | | |
| --- | --- | --- | --- |
| Item | NVIDIA Tesla V100 | Google TPU V3 | Huawei Ascend 910 |
| Performance | Double-precision: 7 TFLOPS; single-precision: 14 TFLOPS; half-precision: 125 TFLOPS | Half-precision: 105 TFLOPS (4-processor module) | Half-precision: 256 TFLOPS; integer precision: 512 TFLOPS |
| Power consumption | 250–300 W | 200 W | 350 W |
| Transmission bandwidth | 32 Gbits/s | 128 Gbits/s | 240 Gbits/s |
| Storage | 16, 32 GB HBM2 | 32 GB HBM | 16, 32 GB HBM2E |
| Manufacturing process | 12nm | 16/12nm | 7nm |
| Interfaces | PCIe 3.0, NVLink | PCIe 3.0 | PCIe 4.0, HCCS, RoCE |
| Date of release | June 2017 | May 2018 | Mass production in 2019 |
| Supported frameworks | TensorFlow, PyTorch, Caffe2, and MXNet | TensorFlow, PyTorch | TensorFlow, PyTorch, PaddlePaddle, Keras, ONNX, Caffe, Caffe2, and MXNet |
| Price | USD10,000 | On the cloud: USD8/hr | N/A |
The preceding statistics showcases how Ascend 910 far outperforms industry counterparts.
With the same power consumption, Ascend 910 provides computing power twice that of V100. With faster training speed, the required training period is shorter. In typical cases, Ascend 910 doubles and even triples the computing speed of V100.
The release of Atlas 900 signals the completion of Huawei's computing layout, and the beginning of the complete computing strategy.
How will Huawei implement the solution? Now Huawei is ready to reveal the answer.
First Disclosure of Huawei's Computing Strategy
Centered on processors, Huawei's computing strategy will focus on four key areas: architecture innovation, investment in all-scenario processors, clear business boundaries, and open ecosystem.
Architecture innovation:
Huawei will intensively invest in basic research, such as the Da Vinci architecture, to enable an intelligent architecture that covers all scenarios.
Investment in all-scenario processors:
Currently, Huawei has a full lineup of processors: Kunpeng (general-purpose computing), Ascend (AI), Kirin (smart devices), and Honghu (smart screens).
This was a conscious decision for Ken Hu and Huawei, who plan to invest more in processors because it allows Huawei to accommodate a broader range of scenarios in the future.
Clear business boundaries:
Huawei has reaffirmed its processor business model that is designed for hardware openness, open-source software, and application development and migration.
However, Huawei will not sell its processors directly. Instead, it will provide them to its customers in the form of cloud services, and to its partners in the form of components, prioritizing support for integrated solutions.
Building an open ecosystem:
Over the next 5 years, Huawei will invest another USD1.5 billion in Huawei Developer Program 2.0. The goal of this program is to support and harness the skills of 5 million developers across the globe, and enable Huawei's worldwide partners to develop intelligent applications and solutions.
The new strategy aims to seize new business opportunities and unleash greater potential, displaying the evolution of Huawei from a communications equipment provider to a tech giant.
At the beginning of his keynote speech, Hu noted that Huawei used to be known for being simply good at "connectivity" before. However, to grab the new opportunities in the intelligent era, Huawei is committed to developing intelligent industry and extending the focus from connection to computing.
Insights into the Future
When launching the strategy, Hu also explained the logic and expressed his insights into the future.
He commented that computing oriented to machine learning has become the mainstream, as the computing model continues to evolve.
Intelligent computing has three features: brute force computing, pervasive computing from data centers to devices, and efficient device-edge-cloud collaborative computing.
The ideal solution would be doing brute force computing at the central node, training general-purpose models, and enabling personalized deployment at the edge side.
However, before this plan can be implemented, Huawei has to tackle many issues, including developing a new architecture that supports intelligent computing in all scenarios. This is a huge challenge to the current computing industry, and also a great opportunity.
According to Gartner's report, the future computing industry is a massive market worth over USD2 trillion.
Hu regards this market as an ocean of boundless potential. To fully tap into such potential, Huawei will continue to invest intensively in computing and implement computing solutions.
Huawei Delivers on Its Promise of Breakthrough AI Progress
At HUAWEI CONNECT 2019, Huawei reflected on the promises made last year.
At HUAWEI CONNECT 2018, Huawei launched the full-stack, all-scenario AI strategy, which has become the cornerstone of mainstream computing. However, as Hu noted then, "this is just the first step for Huawei".
And that proved to be true. Since then Huawei has gone from strength to strength. Today, Hu demonstrates Huawei's achievements over the past year. The release of Ascend 910 and MindSpore this August signed the completion of Huawei's AI solution.
To provide a full-stack solution, Huawei has released the Ascend series IPs and processors, compute architecture for neural networks (CANN, a chip operators library and highly automated operators development toolkit) that enables processors, ModelArts that enables applications, and AI computing framework MindSpore.
Huawei's cutting-edge products and solutions run on Ascend processors and cover all scenarios, supporting devices, edge, and cloud applications. Inference and training services are also available on HUAWEI CLOUD.
The Atlas series accelerator cards, modules, and servers have been a huge hit in multiple markets. Processors powered by Ascend IP cores have been applied extensively in Huawei smartphones, and have allowed customers to supercharge their business.
At the event, Huawei also introduces its four-step plan for general-purpose computing implementation:
First, Huawei will develop competitive general-purpose computing processors.
Second, Huawei will continue to invest in key technologies and products, such as accelerator cards, servers, operating systems, databases, and compilers. By connecting the whole ecosystem value chain and completing system-level verification, Huawei aims to help partners better sell their integrated solutions.
Hu promised that Huawei will not cease to be the first choice for customers looking to turn digital. Huawei is a brand you can trust, and is a reliable partner with its solid progress in AI and solutions.
How do you like Huawei's superstar product that takes the intelligent world by storm this year?