Evaluating the cost efficiency and quality of care is a running challenge for health insurance companies — a challenge that is exacerbated by the myriad physicians, specialists, hospitals, and other providers a patient might visit regarding an issue. Health Care Service Corp. (HCSC), a not-for-profit health insurance company that serves nearly 15 million members in the U.S., is meeting that challenge with a combination of data analytics and machine learning.
"We want to help our providers improve their quality of care and cost of care by giving them access to the right levels of information, so they can compare their outcomes, their treatments, with other providers," explains Marv Richardson, senior vice president of application development at HCSC.
HCSC, with more than 22,000 employees, is the licensee of the Blue Cross and Blue Shield Association for five states: Illinois, Montana, New Mexico, Oklahoma, and Texas. To serve its members, it bundles together sets of providers in a geographic area. A given bundle might include hospital systems, physicians' groups, chiropractic and physical therapy providers, and so on.
"We wanted to be able to understand how well treatments were going in those groups, so we could assemble those networks in the best way for our customers," Richardson says.
To do that, beginning in July 2017, Richardson's team developed two platforms: Provider and Network Decision Analytics (PANDA) and Electronic Quality Intelligence for Providers (EQUIP). The platforms are delivered to providers through HCSC's Provider Performance and Analytics Reporting (PAR) tool. The combination of PANDA, EQUIP, and PAR earned HCSC a Digital Edge 50 Award for digital innovation.
Benchmarking provider care
PANDA helps compare provider performance with peers that treat members with similar conditions in similar markets. EQUIP, meanwhile, compares provider quality to national standards established by accrediting organizations and government program sponsors. The platforms leverage two years of claims data about provider performance, refreshed every six months. PAR then delivers the data in a provider-centric view, allowing providers to compare quality performance, efficiency, risk adjustment, medical use, and pharmacy costs.
"We're giving them information about how well they're doing with a specific treatment," Richardson says. "Are they making their patients healthier for the same cost that another provider group is? Or are they lagging another provider group?"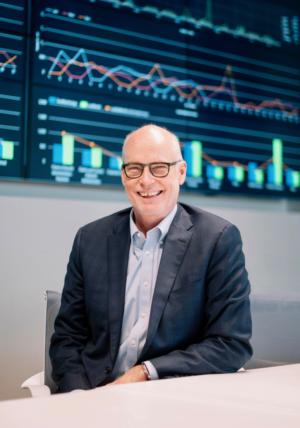 The comparison is rarely simple. One provider group may have worse outcomes than another, but it may also be dealing with a more health challenged population to begin with.
"We use machine learning algorithms to look at the risk of a population and feed that back into what health outcomes we're getting, then normalize using some expertise from our actuarial teams," Richardson explains.
The model uses machine learning to drive an enhanced predictive analytics model that learns from data and identifies patterns to better detect potential drivers of provider performance. It evaluates claims by type of care and compares the cost of managing the condition for each provider to similar treatments by peer providers. HCSC uses the results from the platforms to build better-performing provider networks and improve existing networks.
HCSC's providers have deep information about patient interactions with members. The information includes all the meetings those members have and clinical data, such as tests they've undergone and the results of those tests.
"That's a very deep data set — deeper than we've had in the past," Richardson says.
Partnering for analytics success
While providers see only their slice, HCSC has a complete view of what happens with all its members across all providers. For instance, if a member is getting a knee replacement surgery, a provider will have access to all the information about that surgery. But HCSC has other valuable information about that patient like prescriptions they may take, treatments they have had prior to the knee replacement surgery, and treatments that might be scheduled.
"Our complete breadth of information about a member and a provider's complete depth of information about a patient, about a particular course of treatment, when you combine those two things you get a very, very powerful set of information that can provide a foundation for the kinds of analytics and machine learning that we've got going here," Richardson says.
Richardson's application team had a strong partnership with the business. He notes that the business took point on selling the projects with his team supporting it.
"If we're helping our providers provide better care and we're constructing our networks in a better way, it's a pretty easy sale for us internally because this is squarely in our mission," he says. "This kind of thing that makes care more effective from a cost point of view and an outcome point of view is the kind of thing that gets a very high priority at HCSC."
To identify requirements, Richardson and his team worked with external focus groups of providers to understand the kinds of information that would be useful to them. Internally, the application team worked with HCSC's Health Analytics team, which helped to identify data so that it could be added to HCSC's data lake and cleansed. HCSC's business teams have their own data analytics teams and data scientists, so Richardson's team also worked closely with them.
"We provide the foundation and the data and then we partner with the data scientists in our business areas so that they, with their deeper knowledge of specific business needs, can apply data science algorithms, machine learning algorithms, etc., to get the right answer," Richardson says.
The biggest challenging, he notes, was pulling all the various data elements together in a way that made sense to providers.
"What's important to providers is not to look at a single claim," he says. "A single claim is not that meaningful to them."
Take, for instance, the example of a knee surgery. It might seem like a single claim, but it's not. There's the diagnosis before the surgery, the surgery itself, potential complications as the result of the surgery, physiotherapy, follow-up visits, prescriptions, and more. All are separate claims but are grouped together in what HCSC refers to as an 'episode of care.' To properly evaluate the data, HCSC needed to compare equivalent episodes of care.
"As you can imagine, there's a lot of complexity with regard to which things fit into an episode of care and which don't," Richardson explains. "Maybe you got strep throat while recovering from your knee surgery, but it wasn't related to your knee surgery. That doesn't go into the grouping. Getting clinical knowledge embedded into the analytics is a big challenge."
In the end, Richardson says, PANDA, EQUIP, and PAR are helping HCSC provide its members more effective care in the form of lower costs and better health outcomes.