Less than a year into his tenure as CIO of Procter & Gamble, Javier Polit walked the floor at the 2018 Consumer Electronics Show (CES) in Las Vegas.
Polit met with startups and innovation-focused companies that had partnered with P&G and he observed various competitors flaunting their competitive products. Then he asked his team to take him to P&G's booth. Polit didn't like their response.
"They shared with me that we didn't have one," Polit told CIO.com recently.
That would change the following year. What emerged at the 2019 CES reflected Polit's effort to jumpstart P&G's tradition of innovation.
But before any of that could happen, Polit — who joined P&G in April 2017 after serving four years as global CIO of The Coca-Cola Company's Bottling Investments Groups — needed to establish a new level of collaboration between IT and the business units at the 181-year-old consumer packaged goods company.
Business, IT strengthen ties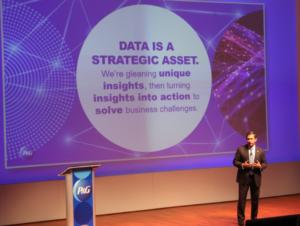 P&G had long been acclaimed for its innovative spirit, but after a tumultuous period the company required a stronger partnership between IT and the business, coupled with a leader possessing a fresh perspective.
P&G's hiring of Polit, the company's first ever at the level of business-line president, took some long-time staffers by surprise, as it marked a departure from the company's tradition of promoting from within. But Polit said his fellow executives quickly embraced him and assured him that he was on equal footing.
"They made certain that we were going to do things differently," Polit said. "They made the comment several times that I had the same amount of stripes on my shoulder as they have, and that I'm an equal at the table."
That level of commitment was unprecedented at the company, Polit added. P&G CEO David Taylor echoed the sentiment in a statement offered at the time of Polit's hiring: "Javier's appointment as CIO is an intentional commitment to accelerate the business application of IT capability, while strengthening our IT function."
Taylor also emphasized Polit's experience in leading innovation and developing top talent. All of those elements would be critical objectives for the new CIO, particularly as the company went through one of the toughest inflection points in its history. In 2017, activist investor Nelson Peltz called for the company to break up. In late 2018, P&G embarked on a major restructuring, reducing business units from ten to six.
When Polit joined P&G, he spent a considerable amount of time meeting with his fellow executives, "listening and learning" about their changing needs, he said.
A critical issue became abundantly clear to Polit: the dearth of digital fluency in the company. Previous P&G IT leaders had pioneered a number of data analytics capabilities, as well as new digital tools for visualizing products on display shelves. But the line between physical and digital products was further blurring and the speed of technology change was increasing. In recognition of these trends, Polit co-sponsored Hands-on Keyboard, a company-wide digital fluency initiative.
As part of the program, P&G embeds IT employees in business units to provide business peers training in analytics, data science and artificial intelligence (AI). The initiative also features a digital hub with blogs, webinars and other information from inside and outside the company. Now more than a year old, Hands-on Keyboard includes hundreds of employees, according to the company.
The initiative reflects Polit's emphasis on education — he boasts four graduate business degrees —as well as his support for P&G's mandate for change.
It also ties closely to what eventually became the five pillars of Polit's strategic agenda: investing in people; strategic simplification; driving down economics; ensuring partners are strategic and innovative; and investing in disruptive technologies and platforms.
Each of the pillars are interconnected in various ways, especially the latter two, which have yielded notable results in revitalizing P&G's IT and innovation machines.
Polit and his team swapped out some existing, homegrown platforms for more open-source platforms and SaaS (software-as-a-service) models. They cut their cloud partners from more than a dozen to four.
They also reduced their number outsourcing partners. For example, Polit said his team now operates two critical P&G centers: one for security and operations control and another for network operations control.
Polit and his organization also built IT centers in Boston, San Francisco and Israel, where the company works with startups to cultivate innovation in collaboration with business partners and the company's R&D unit, Polit said.
Polit arrived at most of his critical decisions based on the regular conversations he has with his fellow C-suite executives. "Today, more than ever, I would argue that there's an incredible closeness to the business between the CIO office and the offices of all the other presidents in the company," Polit said. "I've heard my colleagues say that: more closeness than ever before."
P&G talks tech at CES
After Polit returned from CES in 2018, he engaged Marc Pritchard, P&G's chief brand officer and Kathy Fish, chief research, development and innovation officer, in conversation. His goal: work with them to ensure that P&G would make a big splash at CES the following year.
Polit told them, "We have incredibly innovative products, we've been an innovative company from day one, and we need to be [at CES]. We need to share more about some of the products we're coming out with and some of the technologies that we have in our products."
Initially, Polit faced some reluctance, but he said the time spent building relationships, coupled with the commitment the executive team made to elevate IT, made the difference.
At CES 2019, Polit displayed the fruits of his labor in LifeLab, a 4,000-square-foot exhibit space featuring new products, including an application that uses AI to customize treatment recommendations from selfie pictures, a connected home fragrance system that consumers can regulate and adjust from their phones and an AI-driven toothbrush that advise users on how to brush better, based on an analysis of thousands of dental-cleaning behaviors.
As conference-goers visited P&G's space, they conversed with Polit and engineers from his organization, as well as brand ambassadors, executives and R&D team members.
"If you came into our booth, our data scientists were there, the people who built the algorithm and the technologies were there," Polit said. "It was a very deep response to anything you wanted."
He added that consumers saw only a "tiny bit" of P&G's innovation pipeline at CES, but that more digital products would be coming soon. Ultimately, Polit's CES experience marked the culmination of his efforts: building necessary relationships with the C-suite to gain support for technological innovations.