The pushback against automation technologies in the workplace hinges on the use of robots to do humans' jobs. But enlisting robots to help humans perform their work is another matter — one that enterprises are pursuing in myriad ways.
Grocery store conglomerate Ahold Delhaize USA is deploying 500 robots to alert humans to food and beverage spills, the latest example of automation technology intended to augment, rather than replace, human jobs.
Following a successful pilot phase, Ahold's services arm, Retail Business Services (RBS), is rolling out the "Marty" systems across its Giant/Martin's and Stop & Shop grocery chains, RBS CIO Paul Scorza tells CIO.com. The nearly five-foot-tall robots are manufactured by retail automation company Badger Technologies.
Many CIOs streamline business processes using robotic process automation (RPA) to eliminate manual data entry, allowing them to reallocate employees to other tasks that drive business value. AI augmentation, a combination of human and artificial intelligence, will generate $2.9 trillion in business value and recover 6.2 billion hours of worker productivity by 2021, according to Gartner.
At the center of strategies such as these is the pursuit of productive human-machine collaboration, rather than the more dystopic vision of physical robots, AI and other technologies eliminating jobs.
Rise of the retail robots
Marty bots aren't usurping any human roles at Ahold stores, Scorza says. Every morning the bots, which are five-foot tall, gray and feature googly eyes to appear more friendly, back out of their battery charge stations and roam store floors, using an array of sensors to navigate around people and obstacles as they slowly search for spills of liquid, powder and bulk food items, says Scorza.
When they detect something on the floor, they trigger an announcement over the store speaker to send a store employee to clean up the mess, ideally reducing the risk of human injuries. Social media is flooded with images, video and selfies consumers have shot of Marty at work.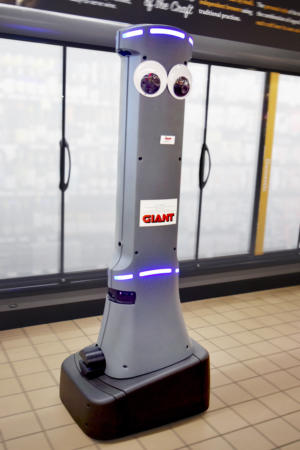 While Marty is merely a spill watchdog at Ahold, robots have the capacity to automate many other capabilities in retail stores.
Badger Technologies is testing versions of Marty that can scan shelves and detect when they require restocking. Walmart, working with AI startup Brain Corp., has rolled out more than 360 autonomous floor-scrubbing machines that scan their surroundings for people and obstacles as they clean. Walmart said the bots free up store associates to help customers.
And Ahold Delhaize is working with Takeoff, a startup that builds small warehouses that use robot arms to assemble shoppers' orders, according to Reuters.
Such functions aren't replacing humans in stores so much as enabling them to focus on other tasks, experts say.
Indeed, the curtain-is-closing-on-our-jobs mentality appears far-fetched in the emerging era of intelligent automation, according to Deloitte's 2018 Tech Trends report. Deloitte's research suggests that intelligent automation solutions will augment human performance by automating certain parts of a task, freeing individuals to use social skills and empathy to solve problems.
When Deloitte asked more than 10,000 HR and business leaders about the potential impact of automation on the future of work, only 20 percent said they would reduce the number of jobs at their companies. And 77 percent said they will either retrain people to use new technology or will redesign jobs to better take advantage of human skills.
From robots to revenue generation
The Marty bot deployment is part of a broader digital transformation RBS is undertaking for Ahold properties, which includes the ScanIt mobile payment system.
ScanIt enables Stop & Shop and Giant shoppers to scan products using a mobile app on their phones, pay in a special checkout line by entering a four-digit pin code and collect loyalty points, Scorza says. The idea is to provide a frictionless checkout experience akin to what consumers enjoy from Starbucks and other retailers who provide mobile order and payment services.
While RBS is building ScanIt for Ahold properties today, Scorza says he'd like to commercialize the app and service to generate revenue. "I don't see why we wouldn't," says Scorza, who helped commercialize applications working in various product management roles at IBM. "I know what it takes to build software, sell it and support it."
In doing so, RBS would follow a model established by Kroger's Sunrise Technologies unit, which operates like an independent software vendor in selling its proprietary technologies. Scorza, who toured Sunrise's property in 2018, came away impressed with the unit's progress.
For now Scorza is focused on ensuring the Marty bots and ScanIt service are running optimally, which required a significant foundational investment in the company's data and network connectivity for Ahold's nearly 2,000 East Coast properties.
To help on this front, Scorza in 2016 beefed up the stores' WiFi networks and network bandwidth with more than 14,000 wireless access points, 1,500 network routers and 850 network switches from Verizon Enterprise Solutions. The software supports everything from inventory needs to medical prescriptions and point of sale transactions.