Innovation is not enough: the speed in which businesses innovate is today's key to success. That's according to several IT leaders from the ASEAN region who are gathering for two days (26 and 27 March) at the Oracle OpenWorld Asia in Singapore's Marina Sands Convention Centre.
During the morning keynote, Steve Miranda, Executive Vice President at Oracle applications product development, said that the current business environment is experiencing the convergence of two areas: first of these is an increasing speed beyond linear in terms of technology advancements; and second, business innovation.
"Business systems need to act and react at the speed in which business environment and technology environment exist today," Miranda told his audience. "It's all about speed: amount of speed to adopt technology change, amount of speed to have business change."
Reaffirming the importance of agility in digital journeys was Colin Dinn, Senior Executive Vice President and Chief Technology Officer (CTO) at Siam Commercial Bank (SCB), one of Thailand's most notable financial institutions.
Dinn exposed during the session how he and his team at SCB are using Oracle enterprise cloud products to accelerate the bank's business transformation. For him, cloud is not just the implementation of a system but of a whole business capability.
"Two and a half years we decided that we needed to move very rapidly, speed was the key, speed in which our customers were driving what were we doing, so we had to actually do a very dramatic transformation in a very compressed timescale."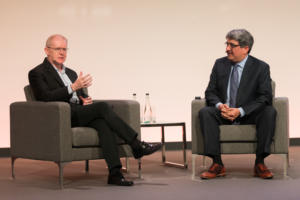 "Why did we do it? Because we see where the world is going, the customers are going to be driving the nature of how we interact with the banks. So our goal is to keep as relevant with our customers, to make sure we understand our customers, not just the products they want but what they want to do, and therefore how we can support their lifestyle," Dinn added.
Humancentric technology
The importance of placing customers and people at the centre of any business innovation strategy was also emphasised by Singapore's Senior Minister of State, Chee Hong Tat (pictured above), who during a surprise intervention stressed the Singaporean government commitment towards small and medium enterprises (SMEs).
He also spoke about the need to put people first in the technology scene in order to have a sustainable and impactful technology. The implementation of technology is not enough, he said, it also requires changes within back-end processes and within an organisation's culture. In his view, strong relationships between company-employees and company-customers are essential for a meaningful technology impact.
"An advancement of technology needs to be accompanied by changes in social norms," said the Senior Minister. "High tech also requires high trust and high touch. If you keep the focus on people, changes will be more well received, sustainable and impactful."
The need to be proactive
One of the main challenges within this demanding fast environment is integration, explained David Tay, Chief Information Officer (CIO) of Singaporean precision manufacturing company Beyonics.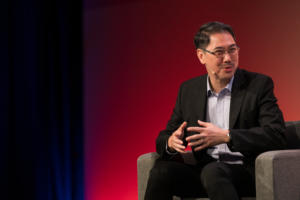 Tay's team recently completed the integration of multiple mergers and acquisitions (M&A) business entities into a single enterprise resource planning (ERP) system. A significant difficulty lied in achieving a cohesive set of financial data and moving forward from there. However, Beyonics was able to overcome these obstacles thanks to the use of the cloud – and again, speed was the key.
"We have to be proactive. We even have to be predictive about the decisions we make if we want to increase revenue and reduce costs. Cloud allows us to simplify processes," said Tay. "It's always about being faster, cheaper and better."