An international sporting goods store with designs on conquering the U.S. market is playing a long game that could foreshadow the future of retail commerce. That France-based Decathlon, which operates more than 1,500 stores in 49 countries, launched its first U.S. store in Emeryville, Calif., in April isn't a big deal on its face. Hungry retail chains plant new flags daily.
But in the latest departure from brick-and-mortar trappings, Decathlon is eschewing checkout lines for mobile point-of-sale systems and cashless payments. Store associates roam the 47,000-square-foot store, checking customers out using mobile checkout stations and iPhones loaded with point-of-sale (POS) software, says Decathlon CIO Tony Leon, who has been quietly working on Decathlon's U.S. launch over the past four years. Store associates "help customers as opposed to being stuck behind a cash wrap waiting to process transactions with a clunky old POS," Leon says.
Retail has historically had little appetite for investing in digital technologies, but customer expectations have spurred the sector to invest heavily in business transformation, according to Gartner, which says that the global retail sector's spending on technology will grow 3.6 percent to top $203.6 billion in 2019. Some of these investments include cashless technology systems and "smart checkout" solutions, which bundle together various digital technologies to eliminate the need for consumers to go through the traditional check-out lane, Gartner says.
Erasing the lines
Several urban restaurants, including the prominent Shake Shack, offer credit-card-only options with mixed results. Amazon.com is pushing the envelope with its Go "grab-and-go" stores that use artificial intelligence, sensors and smartphones to enable mobile payments. Convenience store chain Wawa is equipping store associates with tablet computers to enable them to check out consumers from anywhere in its 800-plus stores.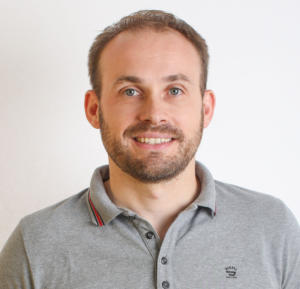 Decathlon is taking its own tack to busting cumbersome checkout lines. To make this frictionless bit of magic work, Leon implemented a cloud-based order management system and mobile POS system from NewStore, made exclusively for iOS. These apps are loaded onto approximately 40 Decathlon-issued iPhone 8s.
Today, shoppers can stroll Decathlon's aisles and fill a shopping cart with cycling gear, camping equipment and other goods and bring it to any of 20 mobile checkout stations to pay.
There associates place the customers' cart inside the station cabinet, which includes an RFID scanner that reads the RFID tags embedded in each product's packaging. The associate scans a QR code on the station and it instantly creates a shopping bag in the point-of-sale app on their iPhone.
Customers can elect to complete the transaction within the app using Apple Pay (via their own iPhone or Apple Watch), gift card, credit card or NewStore Checkout, a technology that allows shoppers to use their iPhone camera to scan a QR code on the associate's device and check out with Apple Pay. Because the NewStore system is connected to store security systems, items that have been paid for will not set off security alarms when a customer exits the store.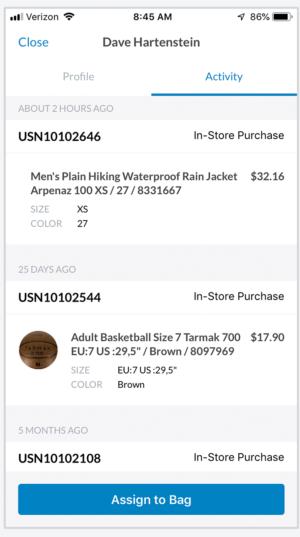 Another upshot of this process is that shoppers may ask store associates questions about products, make purchase decisions and quickly check out from virtually anywhere in the store. No more hunting down store staff to ask questions, then getting in line to pay, Leon says. Checkout times are often reduced to seconds from several minutes.
"We wanted to change how the employee is interacting with the customer from A to Z," Leon says.
Challenges for cashless tech
There are learning curves here, of which Decathlon and NewStore are acutely aware. Cashless restaurants encountered issues with customers trying to pay with cash, prompting awkward exchanges with staff. But NewStore founder and CEO Stephan Schambach believes Decathlon has the right formula. And, he reasons, paying with cash is often more trouble than it's worth.
"Specialty retail has average basket sizes of $90. … When was the last time you paid for something over $50 with cash?" says retail tech entrepreneur Schambach, who founded Intershop and Demandware before this latest venture. "I would also add that it's more expensive for many retailers to accept cash as a form of payment than it is for them to accept AMEX. This is because the low percentage of cash transactions and the high cost of cash handling no longer line up."
But for those that do prefer to pay with cash, Decathlon features machines that sells gift cards customers can buy with cash to pay for merchandise.
A handful of Decathlon personnel, including Leon and other staff from IT, the ecommerce group and other business lines, kicked off the company's U.S. foray into mobile, cashless payments a few years ago. The groundwork paid off in 2018, when Decathlon launched a store "lab" in San Francisco to test its tech and business process concepts with customers, and to collect feedback, iterate and refine its approach.
They also navigated potentially sticky issues, ensuring, for example, that the order management software interfaced properly with the company's supply chain systems, Leon says. But he says that starting from scratch with modern, mobile POS and order management systems was easier than trying to implement the legacy systems it used elsewhere around the world. Starting with a green field gave Decathlon the advantage of speedy deployment. "We wanted to start from scratch," Leon adds.
Leon will analyze transaction data and other data points Decathlon collects in the Emeryville store to further hone its approach and assist with staffing and stock allocation. What are people buying? And from where in the store? What is least popular? Should it reallocate employees, or mobile checkout stations at different points? Or move popular store stock to more prominent areas?
"In the near future, people will come to expect this type of experience," Leon says.