Housing more than 8,000 artworks, the National Gallery Singapore oversees the world's largest public collection of Singaporean and Southeast Asian art.
Blending heritage surroundings in the heart of the Civic District, two monumental buildings – the former Supreme Court and City Hall buildings – have been restored to create a modern art centre.
The National Gallery Singapore is a forward-looking museum with a progressive approach to technology.
"We see tremendous opportunity in harnessing new technology to improve work productivity and enhancing our visitor's experience," said Dr Victor Tong, Chief Digital and Information Officer at the cultural institution. "We are committed to bringing a best-in-class experience to all our visitors."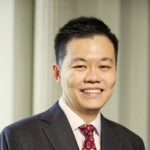 In spearheading digital strategy, Dr Tong is tasked with delivering "frictionless, hassle-free" navigation for visitors, both upon arrival and then around the gallery.
"This consists of two components, in terms of a personalised experience for our visitors, and a differentiated experience for our members," Dr Tong explained.
"In the context of technology, we are looking at redesigning our ticketing system to make it more seamless, and how best to augment this with way-finding solutions and recommender systems to enhance visitor experience."
How is smart tech enhancing the visitor experience and business operations?
Central to achieving such ambitions is artificial intelligence (AI), heralded by Dr Tong as housing "tremendous potential" to disrupt core business processes and enterprise operations.
"We are constantly exploring how to ride on this AI wave and transform ourselves into an AI-fuelled organisation in which machines could work together and complement our staff to enhance work productivity and deliver exceptional experiences for our visitors," he added. "We have adopted an AI sales assistant that can automate sales email for our venue rental team.
"The AI assistant can perform intelligent conversations with potential customers over email, before handing over the qualified leads to our venue rental team. This approach has helped to increase our sales conversion by over 40% in the past year."
In addition to increasing sales conversion rates, Dr Tong and his team are continually searching for new ways to bring visual arts to visitors beyond the physical confines of the gallery.
"Art is all around us," he said. "For instance, when you look at the back of Singapore's 50-dollar note, you will find a pair of gibbons swinging through the vines. This is a painting by the late Chen Wen Hsi, one of Singapore's pioneer artists.
"We have used augmented reality (AR) to bring this art to life so that the public can visualise the artwork with our GalleryExplorer app."
The non-for-profit has also introduced a hyper-real 360 experience of its first travelling exhibition, Latiff Mohidin: Pago Pago (1960 – 1969), at Centre Pompidou in Paris, to allow visitors in Singapore to visit the virtual exhibition before its homecoming in December 2019.
"We use a basket of metrics to measure success in technology," Dr Tong added. "This includes utilisation of systems, work productivity and efficiency enhancements, cost savings, revenue generation as well as staff and visitor satisfaction."
Cost-benefit analysis
Alongside innovation through AI and AR, National Gallery Singapore is also leveraging Internet of Things (IoT) analytics to better understand the flow of visitor traffic.
Such information, according to Dr Tong, is crucial in helping the business understand what kind of exhibitions and artworks visitors prefer to consume, alongside the paths they took through the gallery.
"We can then better customise contents to fit their needs," Dr Tong outlined. "AI could be adopted to enhance both front- and back-of-house operations.
"AR, virtual reality (VR) and mixed reality have the potential to bring new contents to our visitors, bring past exhibitions and lost art practices back to life, and augment new experience with our existing exhibitions.
"But we also need to assess the business case for technology implementation. This may be to augment new technologies with existing systems, or to replace an existing system with a new solution.
"In any case, we will need to assess the cost-benefit of adopting the technology, in terms of work productivity and efficiency enhancements, cost savings or revenue generation."
The new CIO challenges
In holding a combined role of Chief Digital and Information Officer, Dr Tong is responsible for creating IT and data strategies, in addition to overseeing customer systems from a business requirement perspective.
Dr Tong also spearheads the transformation of traditional operations using digital processes to improve work efficiency, customer services and generate new business opportunities.
"There are lots of new startups and established foreign companies entering the market every day, with highly diverse qualities," said Dr Tong, when referencing the biggest challenges facing IT leaders today. "For instance, AI can be intelligent, but it can be dumb.
"A big challenge as well as opportunity for CIOs today is to keep abreast of the latest technology and being able to discern the good from the bad out of the myriad of technology that is available to ensure quality investment for the organisation."
According to Dr Tong, CIOs will also need to learn how to best harness data to inform decision making and improve business processes.
"The role of the CIO is now more complex," he acknowledged. "Besides managing IT resources and strategy, CIOs will need to understand how to leverage on data to drive change and create impact. CIOs will also need to be strategic and contribute to the organisation's corporate strategy.
"The modern-day CIO will need a combination of hard and soft skills to be successful. In addition to technical knowledge, personal qualities such as leadership, communication skills, influencing skills, empowering staff and colleagues, and being able to partner with others are essential for success."