Middle East CIOs are adopting artificial intelligence to revamp customer service, marketing and sales, and more generally to improve overall efficiency and product quality, according to IDC.
Meanwhile, the top three industry segments contributing to AI spending are banking, retail and manufacturing, according to an IDC survey.
The findings reflect an overall growth pattern throughout the Middle East and Africa. Enterprises are fueling overall spending on AI throughout both the Middle East and Africa, with growth forecast to jump by 43 percent this year, hitting $290 million, according to a recent IDC report. The compound annual growth rate (CAGR) from now to 2022 is expected to be 22 percent, with spending reaching $530 million in 2022.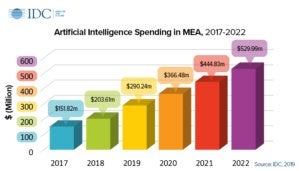 At the moment, most AI applications in the Middle East are custom-developed, said Jyoti Lalchandani, IDC managing director for the Middle East and Africa.
"Many of these implementations are carried out by first movers or technology leaders who experiment with tech on a particular use case through pilot projects and then full scale implementations," wrote Lalchandani in an email response to questions about the IDC data. "But as the market is maturing, we are seeing early adopters and more off-the-shelf, or partially customized implementations."
Tech vendors offering packaged software are just starting to appear in the Middle East to drive sales of off-the-shelf AI products. "We are also seeing the emergence of tech vendors (such as robotic process automation (RPA) vendors into mainstream and driving the packaged software adoption," Lalchandani said.
Even though retail, banking and manufacturing are forecast to remain the top-spending industries in the near future in terms of absolute dollar spend, the government sector is expected to experience the fastest growth rate, increasing at a CAGR of 22 percent through 2022.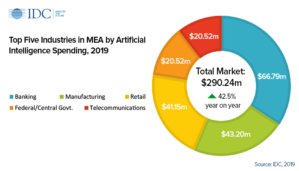 The UAE government leads the way in federal spending in both adoption as well as spending on AI, according to Lalchandani. In the Middle East, the other top-spending government are Turkey and Saudi Arabia, Lalchandani said.
In terms of specific software programs, the top three AI-driven applications implemented so far are threat intelligence and prevention programs, fraud analysis and investigation, and customer service agents, according to IDC.
Text and voice chatbots are the most common types of automated customer services agents, Lalchandani said. IDC has forecast that by 2022, 30 percent of businesses will deploy AI-based natural language speech technology for customer service, said Lalchandani.