As retail IT organizations go, Aaron's is punching above its weight. With an IT staff of 250, the Atlanta-based retailer, which makes furniture, consumer electronics and appliances available for sale or lease to own, doesn't have the thousands of technologists employed by retailers such as Walmart or Target.
But it does have what it hopes to be a recipe for business success: a digital strategy designed to bolster the user experience for both employees and customers. To bring the strategy to fruition, CIO John Trainor is embracing agile development, design thinking and other modern practices as he helps his staff evolve from delivering IT as a series of projects to building products that generate "value streams" with tangible business benefits.
The philosophy of managing IT as a product has taken hold in many enterprises, which are creating new digital products to disrupt competitors or stave off disruption. Projects tend to be siloed by business unit, where they compete with other company projects for IT resources, according to Gartner. Conversely, product-centric models leverage quick, agile iterations to achieve quicker business outcomes and better customer experiences. Such collaborations lend themselves well to tighter alignment between the business and IT.
Fifty-five percent of businesses said they were migrating from project to product delivery, according to Gartner's 2019 CIO Agenda report. Trainor has embraced the product model, but to do that he had to change the culture of the company's IT department, which supports more than 10,000 store associates working in 1,600 locations spanning 47 U.S. states and Canada.
Modernizing IT paves way for product management
Keeping the lights on is table stakes; Trainor says his remit is making the "clock speed of IT faster."
"Fundamentally, it starts with people and culture," Trainor tells CIO.com. "We had to change the way Aaron's viewed the role of technology." That entailed modernizing IT systems, which Trainor says empower staff to deliver IT that supports innovation.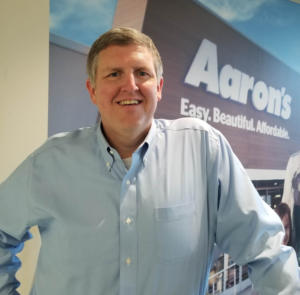 The IT staff started laying a digital foundation with an SD-WAN and cloud software intended to centralize IT. The SD-WAN, provided by CloudGenix, delivers real-time visibility into the company's inventory, supply chain and customer data. Moreover, the SD-WAN enables Aaron's to gain more visibility into how the network is performing, quickly troubleshoot performance problems and roll out new software.
For example, Aaron's installed a new point-of-sale system in 27 minutes, a process that would have taken hours with the company's previous network. "We need to have updates regularly to have that fast clock speed," Trainor says, adding that fixes and other tweaks are pushed out to all 1,600-plus locations.
Trainor also implemented Microsoft Office 365 and runs core applications in Azure IaaS (infrastructure-as-a-service), a move to the cloud that he says helps Aaron's become more nimble. These foundational moves, delivered in agile and DevOps modalities with a full complement of change management processes, set the stage for the business-facing digital tools Aaron's plans to launch, Trainor says. "If you don't start early, you can't have the cycle time you need."
Agile workspaces, wheels included
As he was modernizing Aaron's core IT operations, Trainor changed the way his IT team worked to reflect a more modern workspace. In a sign of solidarity, the team sits together; you can't tell who works in store operations, ecommerce or in other areas of the business. "I want them thinking they are part of the business, not a separate entity," Trainor explains. Moreover, there is a fluidity to the dynamic. The employees' desks and chairs are on wheels "because we need nimbleness as we reconfigure teams."
Recognizing that success depends a lot on what end users get out of IT, Trainor three years ago set up a user experience (UX) team staffed with five people who focus relentlessly on improving how technology works for store employees and customers. This staff looks at how staff consume the SD-WAN and cloud solutions, including Office 365, Azure and Salesforce.com Commerce Engine, as well as how these technologies impact customer service. And a good UX is part and parcel of the product management philosophy.
One key product Aaron's is developing using the product lens is machine learning software designed to approve customers for its lease transaction, which takes into account factors such as history with past leases to calculate a risk score. This customer onboarding process, which previously took 45 minutes and included several paper documents, has been reduced to 13 minutes and is all digital. Trainor declined to say how Aaron's built it or what technologies were used, but added that his team is improving the algorithms regularly to more safely approve more customers.
Another key product is Aaron's automated payments functionality, for which Trainor says his team is obsessed with making the tool as frictionless as possible to boost the number of customers that use it. The payments team has the authority to evolve the product in ways that help increase adoption. True to the product ethos, Trainor evaluates the team on business outcomes rather than feature outputs.
"We find that going from project to product allows us to focus on business outcomes rather than IT outputs," Trainor says. "A project that starts and stops on time and under budget with all required features specified, but that does not move the needle on the actual business metrics is a bad project. A product team that is empowered to identify and act on business opportunities is so much more valuable."
For Trainor, the product management mindset reflects a shift in how he approaches his role. In the digital-centric era, where speed and agility are paramount, tech leaders can no longer be "coal-shoveling CIOs" managing Exchange servers and other keep-the-lights-on tasks. "I don't think about that anymore," Trainor say. "I think, How do I create business value?"