"I say this every day that I'm here: Every day is opposite day for me," says Joseph Spagnoletti, vice president and CIO at U.S. LBM. "Every single thing I felt working in a large institutional corporation that held me back doesn't exist here."
U.S. LBM is one of the largest building products distributors in the United States. It is a relatively new entrant in a traditional industry. L.T. Gibson, president and CEO, founded the company in 2009.
Gibson believed in the power of a corporate name to provide context for its nascent culture. The "LBM" in the company's name is short for lumber and building-material distributors. The "U.S." that precedes it, however, refers not only to the company's geographic sweep — and its willingness to work far beyond Gibson's native Midwest — but also the "us" collaborations that combine "people, partnerships and continuous improvement."
According to CIO's 2018 State of the CIO research, increasing operational efficiency is the top priority driving enterprise technology investment, for IT heads and line-of-business managers alike. U.S. LBM's Spagnoletti maintains that his company's approach towards work — by his lights, dynamic, refreshing, perhaps iconoclastic — offers its own set of efficiencies while dispensing with corporate sacred cows.
A culture of 'do it yourself'
Spagnoletti assumed the mantle of IT chief in October 2017. He had three primary reasons for making the leap. First, the company was growing.
"[For] too long I was working in a company that was cutting, shrinking, reorganizing, changing and figuring out ways to use technology to grow when it wasn't growing," he says.
Second, Spagnoletti was drawn to the complexity of the environment. U.S. LBM is a holding company with divisions and operating companies under its banner. Its mission, Spagnoletti explains, is "to service operating companies, not change who they are, but help them do what they do with their customers and their partners better. So, it's a really interesting model for me."
Finally, Spagnoletti explains, U.S. LBM offered a "very contemporary culture. … The connectivity, accountability, communication — all the things that are necessary to win — are the things the company was built on. So, it was a very attractive place for me to come to."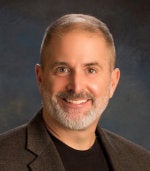 U.S. LBM maintains a corporate office in Illinois for outside inquiries, but it does not have a conventional central headquarters in any material respect. Instead, the company supports what CEO L.T. Gibson refers to as a "corporate campus without walls." Executive team members collaborate in operations from New Jersey to Georgia.
The company also eschews conventional top-down hierarchical structures. Spagnoletti and his fellow corporate executives are instead embedded directly into operations, focused on visiting customers and operations sites.
"One of the things that struck me was there are little to no administrative assistants in the company anywhere," Spagnoletti says. "We book our own flights. We don't have an office. There's this expectation that you can do it yourself. Because of that, you have a higher regard for people's time, for the work it takes to organize and plan things."
For the motivated and the entrepreneurially minded, U.S. LBM offers a welcome sanctuary from some of the most vexing bugbears of corporate life: micromanagers, peanut gallery critics, and command-and-control bureaucracy. It represents an antidote for some of the stifling rigidity that has plagued American offices from time immemorial. ("In corporate America, there's a sense of entitlement, control and ego that I have not experienced here," Spagnoletti reports.)
In a business environment, however, freedom never exists in a vacuum. U.S. LBM's lean operations are grounded in absolute accountability. ("You don't have to say you're accountable for [something]," Spagnoletti says. "It's not like you have 20 people to go to. It's one or two. So, you own it. You do it.")
At a time when Gallup reports that a mere one-third (33 percent) of U.S. employees are actively engaged at work, this dynamic combination — far-ranging freedom coupled with stringent accountability — is simultaneously compelling and polarizing. Spagnoletti readily grants that the environment is not for everyone, and he seeks colleagues who are energized by making empowering choices that get the company closer to divisions and customers alike.
"I've recently hired some folks from other companies who've joined our team and every one of them has the same expression, 'I feel like I've been let out of jail. I feel like I can finally do the things I want to do and need to do,'" Spagnoletti says.
The technological payoffs from a nimble approach
U.S. LBM's technological strategy is focused on reducing friction while increasing speed. According to Spagnoletti, this philosophy is reflected not only in its governance model, but its technology stack, as well.
"In large corporate environments, they may have an enterprise ERP that's on prem with lots of people, practices, policies that force a lot of other decisions to go through that lens or filter," Spagnoletti explains. "Here, because it's a largely cloud-based design designed with technology in mind, it's more of a connect-and-integrate, not build-and-support model."
The approach has been paying dividends. Spagnoletti hired a full-time customer technology and business intelligence expert to help direct an ongoing enterprise data warehouse initiative.
Within four months, he says, U.S. LBM had reviewed, negotiated and signed contracts with an internet database provider, as well as a web-based business intelligence provider. The company was able to move beyond the design and build stages to data collection and cleansing, with user acceptance testing across 30 operating companies.
"That decision just to select those two vendors would have taken more than six months alone, let alone [being] able to bring people in through the design work and physically build it," Spagnoletti says.
Communicating at speed and scale
Velocity and autonomy hinge on communication and feedback. At U.S. LBM, Spagnoletti and his colleagues depend on Slack to check in on any number of eventualities, from printer driver updates to a cut utility line.
The trust that pervades the organization, he explains, extends to internal communication methods, as it is assumed that communication will not devolve into distraction.
"I have the ability to convene the executive team very simply by just sending out a text message to any one of them, and they will help collect everyone to listen and to help," Spagnoletti says. "It's one of those things that we don't invoke unnecessarily, but if I really want to let them know something or share something, I have a way to connect to them and assemble them quickly."
In his role as vice president and CIO, Spagnoletti receives feedback "weekly or more" about the work he is doing — from the CEO and CFO, and from his colleagues across the company. He likens the transparency to a constantly running athletic video tape: always there, always accessible. He stresses, however, that such transparency has not been a conduit for undue scrutiny. He adds that he has been able to quickly execute unpopular — but necessary — actions with greater understanding from his peers because of the extant oversight.
"They say the path to freedom is results," Spagnoletti concludes. "If we want to have this freedom to make choices and make decisions, we have to deliver results. If we're not, I don't think that freedom would be as freely given or we would be able to continue working the way we are working."
Talent, autonomy and the future of work
U.S. LBM is focused on its local markets. At any given time, approximately nine out of 10 employees are in the field, working and interfacing with clients, delivering products, and assisting customers with projects.
The IT staff is lean by design, and its intent is to support the company's field operations. Spagnoletti underscores the role of servant leadership in IT operations. Management is not designed to control and command, but to plan, influence, and create effective service platforms.
There are only approximately 100 corporate associates in total at the company, he shares, from corporate finance to supply chain, serving approximately 7,500 total employees. The entrepreneurial underpinnings of the company, with immense freedom complementing immense responsibility, can be jarring for outside applicants,
"Having gone through [the hiring process] myself and hiring a few folks myself, first and foremost, there are not a lot of people that could actually work here," he says. "The vast majority of people who work in corporate America, I believe, would struggle in this environment because accountability is real."
There are "no powerless intermediaries" in the company, Spagnoletti explains, and so new employees are exclusively focused on "making the business run faster, cheaper, better." His vision for IT is as a cloud-centric "corporate chassis" that is, in his words, "IT light, server light, and network light."
"IT light" is a strategic choice to run lean. "Server light" is a focus on avoiding surplus infrastructure and overhead. And "network light" means avoiding bogging down the company in unnecessary network investments. He underscores the importance of being methodical while also being deliberate in making decisions that will increase efficiency and safety. Finally, he says that IT must run "quietly — not with any sort of showy disruption, but with an understated and reliable presence.
U.S. LBM's practices are a bellwether of change across the industry. The rise of co-working, the gig economy, and the expectations of millennials are morphing the concept of the traditional office. Underscoring all of these trends is a desire for greater autonomy and ownership, and less bureaucracy. (As Daniel H. Pink writes in Drive: The Surprising Truth About What Motivates Us, "control leads to compliance; autonomy leads to engagement.")
Ultimately, the company's approach speaks to some of the major drivers of employee engagement in the IT department and beyond. The company's principles provide a collaborative, independent grounding for technical achievement, but they also reflect trends that will continue to define the future of work.
"I think when you come from a large environment that has a lot of overhead, you tend to make things bigger and more complicated than they need to be," Spagnoletti concludes. "You don't need a big governance process. You need [something] like three rules. You don't need to publish an edict. You just need to get everyone on the phone and explain, let them ask questions, and then agree to go."