One of the most common reasons for project failure is the misalignment between project goals and business strategy. Organizations that establish an enterprise project management office (EPMO), with the goal of aligning projects and strategy, suffer 33 percent fewer project failures, according to the Project Management Institute's "Pulse of the Profession 2017: Success Rates Rise." Organizations are increasingly adopting the EPMO structure, whereby project, program and portfolio managers are involved in strategic planning sessions right from the start to increase project success rates. If your company is weighing setting up an EPMO, here's everything you need to know.
What is an EPMO?
An EPMO is a business function that operates at a strategic level in collaboration with an organization's executives. The goal of this centralized office is to provide company-wide guidance, governance, standardized processes, and project portfolio management best practices, tools and techniques.
Why transition from a PMO to an EPMO?
Typically, PMOs were set up to manage and meet program and project-specific deliverables and requirements and were not necessarily directly linked with high-level business objectives. Increasingly, effectiveness is being measured by how clearly the PMO can map a direct line back to the success of the business overall. This is where an EMPO can become necessary, as it is an EPMO that can address:
ambiguous PMO direction
underutilized PMO resources
low company performance at a high cost
lack of alignment with company-wide strategy
According to PMI's research, EPMOs are capable of improving portfolio reporting services by 20 percent, strategic alignment services by 23 percent, confirmation of strategic priorities by almost 10 percent and project alignment with strategic objectives by 10 percent.
The traditional PMO vs. EPMO
Successful organizations arrange project management efforts under an umbrella organization, either a PMO or an EPMO. A traditional PMO is an internal or external group that sets the direction, maintains and ensures standards, best practices, and the status of project management across an organization. PMOs traditionally do not assume a lead role in strategic goal alignment. An EPMO has the same responsibilities as a traditional PMO, but with an additional key high-level goal: to align all project, program and portfolio activities with company-wide strategic objectives.
EPMO structure and high-level reporting model
Although each organization's hierarchy will differ depending on factors such as company size, industry, complexity, culture, and so on, the general operating model should place the EPMO at the strategic planning level, with an EPMO chief reporting directly to the someone like the chief operating officer (COO). This allows the EPMO the ability to work closely with and influence the executive team at a strategic level, and vice versa. Here's an example of what an EPMO operating model might look like.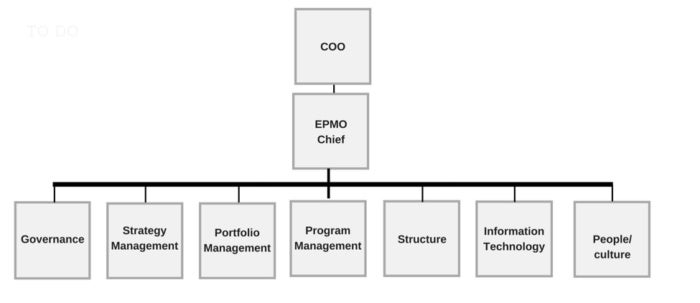 While the reporting structure and areas may differ from company to company, embedding the EPMO role at a strategic level is essential. When setting up your EPMO structure it is vital that sufficient analysis be undertaken. Mapping out your organization's current and future needs and goals will play an essential role in the successful implementation of an EPMO.
EPMO roles and responsibilities
Because EPMOs help organizations apply a standard approach to portfolio, program and project management at a strategic leadership level, oversight of all initiatives, deliverables and compliance should fall within the purview of the EPMO. The EPMO and its leaders should work with the C-suite to:
Set ground rules and expectations for the project teams
Formalize a common language for project managers, functional leaders and other stakeholders that smooths communication and ensures expectations are fully understood
Set appropriate levels of visibility and increase accountability across an entire organization
Champion business transformation
Increase agility when adapting to other initiatives or changes within an organization
Conduct resource and capacity planning
Establish and maintain key competencies and skills, and set standards
Determine and communicate key performance indicators for measuring project performance
Conduct regular reviews and ensure organizational compliance
Create buy-in throughout the business
EPMO standardization
Every organization has their own internal policies, practices, processes and influences that will, in turn, determine their PMO or EPMO standards to different degrees. Generally, standardization may not exist within a traditional PMO structure; in a PMO each of the policies, practices, processes, tools and culture may look completely different than it does within the rest of the company. Within an EPMO, standardization in these areas should be alignment with the overall higher-level strategic goals. This ensures all projects undertaken serve to directly further the company-wide mission, vision, goals and overall direction set by the executive team. This also reduces wasted resources and ambiguity, and increases success rates with all company initiatives.
EPMO best practices and framework
Best practices should be identified based on the mission-critical goals of an organization and should be aimed at achieving higher rates of project, program, portfolio, and strategic goal execution, and success. This requires the organization of the following elements into a working framework:
Corporate governance
Strategic management
Portfolio management
Program and project management
Corporate structure
Information technology
Human resources and culture
For more on establishing an effective EPMO, see "4 secrets of succcessful EPMOs" and "How to develop a strategic PMO plan."
EPMO oversight and governance
Strategic oversight and governance over the EPMO resides at the executive level since all the roles within the EPMO serve to support the entire organization and its strategies. Communication, reporting, collaboration, use of technology, compliance and all other activities within the EPMO are aimed to serve the entire company and its operational needs. Governance pertaining to each project, program and portfolio should be aimed at meeting company-wide opportunities and addressing operational issues and barriers. Executives and the EPMO should work seamlessly and in tandem to this end in order to move forward on all issues and opportunities when it comes to all initiatives and goals.
Moving to an EPMO structure comes with many benefits. Before making the transition from the traditional PMO to an EPMO it is important to spend time analyzing the structure, cultural barriers, internal operational factors and external influences that might impact the success of this move.