An NPR Marketplace story caught my eye a little while back. In the article, Aimee Drake, a manager at Portland's three-location Cup & Saucer Café, explained just how hard it is to hire cooks in a tight labor market.
"It is a very specialized skill, particularly for us, being a high-volume restaurant," she said. Without enough cooks at the grill, frustrated customers wait longer for their orders. Even worse, there are days when a location can't open at all. Having too few cooks puts Cup & Saucer Café at risk.
Aimee is not so different from CIOs who've been sharing their own versions of this story with me for 20 years. A reported 41 percent of organizations have problems retaining critical-skill employees, and that number has been trending upward for the last four years. Businesses are increasingly at risk of losing top talent, and it's not just because of an aging workforce. According to Deloitte 44 percent of millennials say if given the choice, they expect to leave their current employers in the next two years. That figure increases to 66 percent when the time frame is extended to 2020.
Having too few "cooks" in your kitchen can put multi-million dollar projects at risk. It can frustrate customers and even close company doors.
If these numbers have you worried, take a breath. I'm going to share some tried-and-tested techniques for keeping your expert, in-demand workers happy, productive and in place. We'll also see that levelling-up junior staff to "top chef" can be easier than you think. Here are a few ways the Fortune 500 CIOs I work with make sure their teams are cooking with gas.
Identify your 'cooks'
Wayne Shurts, executive vice president of Sysco Foods, calls the staff who keep the metaphorical food on the table, "pacers." Pacers are those uniquely skilled team members whose expertise is so valuable and their bandwidth so stretched that they hold up the rest of the team.
Identifying pacers is pretty straight forward. That's because everyone on a technical team already knows who they are. They're the experts that staff are always waiting for. Staff wait for their guidance, their feedback, and their approvals. Sometimes they even have to wait to schedule meetings until pacers are free. Pacers have become so indispensable that they seem to be the only ones who can help when anything really big happens. And when you pinpoint these critical experts and free them up, an amazing thing happens … bottlenecks magically disappear.
Know what's cooking
The big reason experts become pacers is because they don't know how to replicate their skills. But there is a way to discover and document what's in their "secret sauce." And if you have that recipe, then critical expertise and knowledge doesn't have to live with pacers — it can be shared across a team. Here's one way to do that.
When I work with technical teams, we use a simple matrix like the one shown below. The matrix identifies areas of work across the X axis and lists team members on the Y axis. In the boxes, you evaluate the level of expertise each person brings to their work. I use purple for the experts, which makes it clear who is bogged down, holding too much responsibility in multiple areas of work and potentially on the brink of burnout. In this example, poor Bobby Flay is very purple, and that's putting his team and project at risk!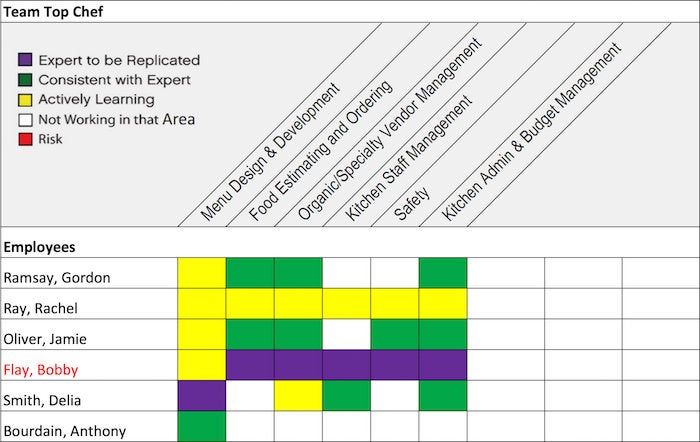 Now, of course, I'm just having a bit of fun with Team Top Chef here. But the implications of relying too heavily on one expert are very real. A CIO I worked with at a global manufacturing company wanted an expert repurposed to a pet project of his. He could see from the org chart that the team was fully staffed, so he figured he could help himself to one of the senior engineers. The team obviously had plenty to spare.
Unfortunately, he selected a "Bobby," and Bobby's former team called him back to his old job so often that he had one foot in two worlds and was failing at both. The CIO never expected to destabilize the entire technical team and put his own project at risk, but he didn't have the right data to see that without Bobby, the team would fail.
When you look at talent data through this lens, you can identify a "menu" of work areas and determine where to concentrate top talent, like on tasks that are critical to strategy and revenue generation. You can see what low-value tasks your pacers can stop doing today. An equally exciting way to view this data is to look across your matrix and identify underutilized staff who are ready and eager to move from "sous chef" to "top chef" in a particular work area.
In my experience, technical workers actually like this clarifying process because it answers some basic questions most employees want to be know about their jobs: What areas of technical expertise are required for my team to function? In which of these areas do I personally work? Am I setting the standard or following someone else's standard in these areas? What areas should I be learning and where am I already the expert? Where do I have room to grow? Most of us like to be part of a team that assigns tasks to the right person, levels workloads, and reduces redundancy.
Level-up your sous chefs
Training a sous chef to fill Bobby Flay's clogs won't happen overnight, but through a well-designed knowledge transfer process it can be done. In my next article, I'll share my advice on the best ways to move work from pacers to other team members so you can clear bottlenecks and create career path opportunities for junior staff. It's well worth the investment. In addition to increased efficiency, you'll have happier, more engaged employees because your most valuable experts will be less likely to burn out and underutilized staff will get reinvested in their work — ensuring everyone is cooking with gas.