In the past several years, commercially available headsets such as Facebook's Oculus VR and the HTC Vive have enabled virtual reality (VR) to emerge from the realm of cyberpunk science fiction to become a business opportunity. While VR is often considered through the lens of entertainment and gaming, forward-thinkers in the education sector are focusing on the technology's potential to transform and scale their operations.
VR seeks to provide a computer-generated simulation of reality. Though at present the technology is capable of simulating only two of the five senses (sight and sound), advances in haptic technology are enabling the sense of touch to play a more important role.
VR has been used for training since the 1970s (think flight simulators), but the development of affordable headsets like the Oculus and Vive are taking fully immersive VR experiences out of expensive labs and into the classroom.
Market research and consulting firm Market Research Engine predicted in April that the global VR market will exceed $33 billion by 2022, growing at a CAGR of more than 55 percent in that time. The firm notes that along with entertainment and gaming, VR's role in training and imitation in defense will be a major driving factor for the global market.
Embry-Riddle Aeronautical University, the world's largest, fully accredited university system specializing in aviation and aerospace, is betting the technology will give it a competitive advantage while massively scaling the number of students it can serve.
Virtual Crash Lab takes flight
Embry-Riddle has been in the online learning business for more than 20 years. While it has residential campuses in Daytona Beach, Fla. (serving 5,700 undergraduates and 600 graduate students), and Prescott, Ariz. (serving about 2,000 students), its "worldwide campus" serves more than 22,000 students online and at 130 campuses around the world, including more than 90 on military bases. Air crash and safety investigation is one of the many areas of study the university offers. But until recently, only students at its Prescott campus could visit a lab for hands-on experience.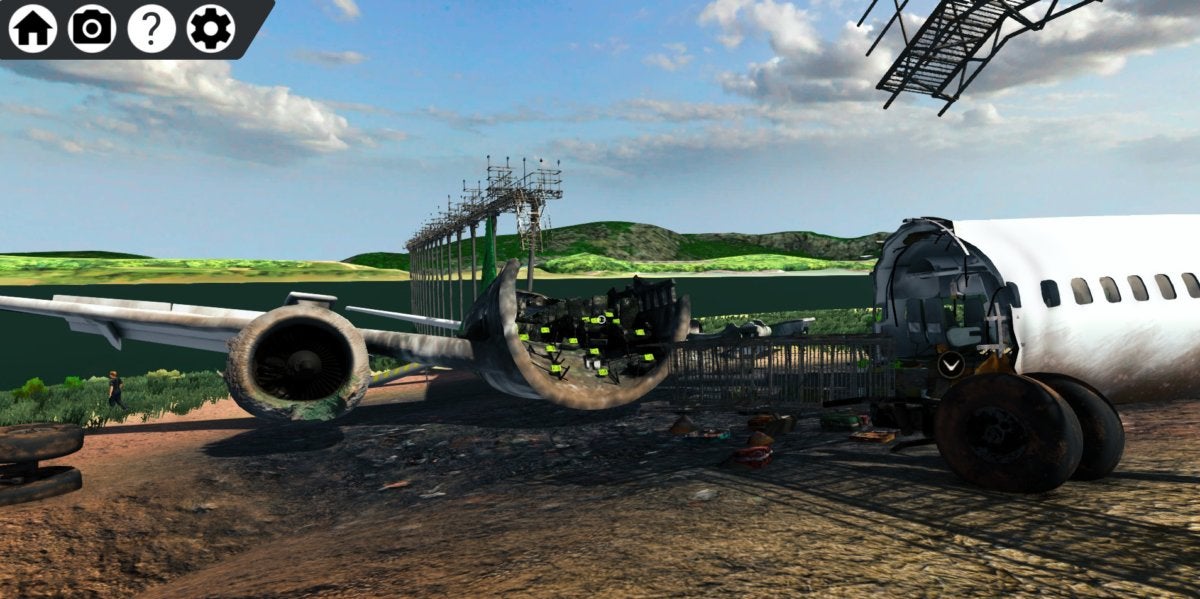 Today, students around the world can virtually walk into an actual crash and experience what investigators on the scene saw and heard, thanks to Embry-Riddle's Virtual Crash Lab, which received a CIO 100 Award in IT excellence.
"With the crash lab, students are able to witness an airplane crash from the flight deck, listen to dialogue between the pilots and air traffic control, evaluate emergency response, investigate the accident scene, and interview witnesses," says Becky Vasquez, vice president and CIO of the university. "Students can take photos and measurements and update their investigation log for submission to the instructor."
Six years ago, the lab was not a required part of the curriculum because it simply wasn't available to most students. But faculty felt the university could do more and brought the idea of an immersive virtual reality lab to Vasquez. She, and the university's leadership, were quick to give their support to the project.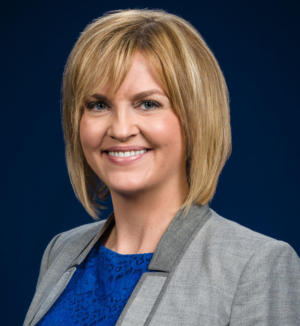 "A compelling case was demonstrated in regard to the limitations of physical space for lab environments and vision established regarding potential benefits for students," Vasquez says. "Given we have over two decades of experience with online learning, a virtual lab environment seemed like a natural evolution towards next-generation learning."
"There's a lot of players in the online education world," Vasquez adds. "This gives us a competitive leg up."
The university was ahead of the curve. It didn't take much research to discover there was no commercially available offering of the kind the university envisioned for aviation aerospace investigation. So Vasquez and her team decided to build the space on their own with a development partner. Vasquez's team worked with the College of Aviation leadership and faculty to detail what the lab environment should look like and aimed to make the experience as real as possible.
In the end, the team modeled the crash lab on an actual crash in 1999, when an airplane overran the runway while landing.
A new frontier for online education
Working with development partner Pinnacle Solutions, Vasquez's team opted to leverage Unity, a cross-platform game engine that powers many 2D and 3D video games, to build the lab.
Related video: Virtual reality and augmented reality for the enterprise
"Our high-level requirements were lofty," Vasquez says. "We wanted an interactive, device- and platform-agnostic lab that was intuitive, could integrate with our learning management system, and was usable online and off. The Unity platform is able to achieve all of these and also naturally supports the 'gamification of education.' Gamified environments support persistence, risk-taking, attention to detail, and problem solving in an intriguing and satisfying way. By using levels, achievements, demonstration of accomplishments, and supporting infinite play requiring varied skills, we are able to increase student engagement."
Design, development and testing of the virtual lab was completed within 14 months. It now provides anytime, anywhere access to an always-open lab as a standalone client that supports Oculus and Vive, or via mobile app for iOS and Android.
"We now have lab space for seven courses that we never had before," Vasquez says. "I think that's a competitive factor for us. Aviation aerospace is pretty niche, but it's great to have that as a differentiator. It's increased registrations by 132 per year since we've had the lab."
That amounts to roughly $154,000 in additional yearly revenue.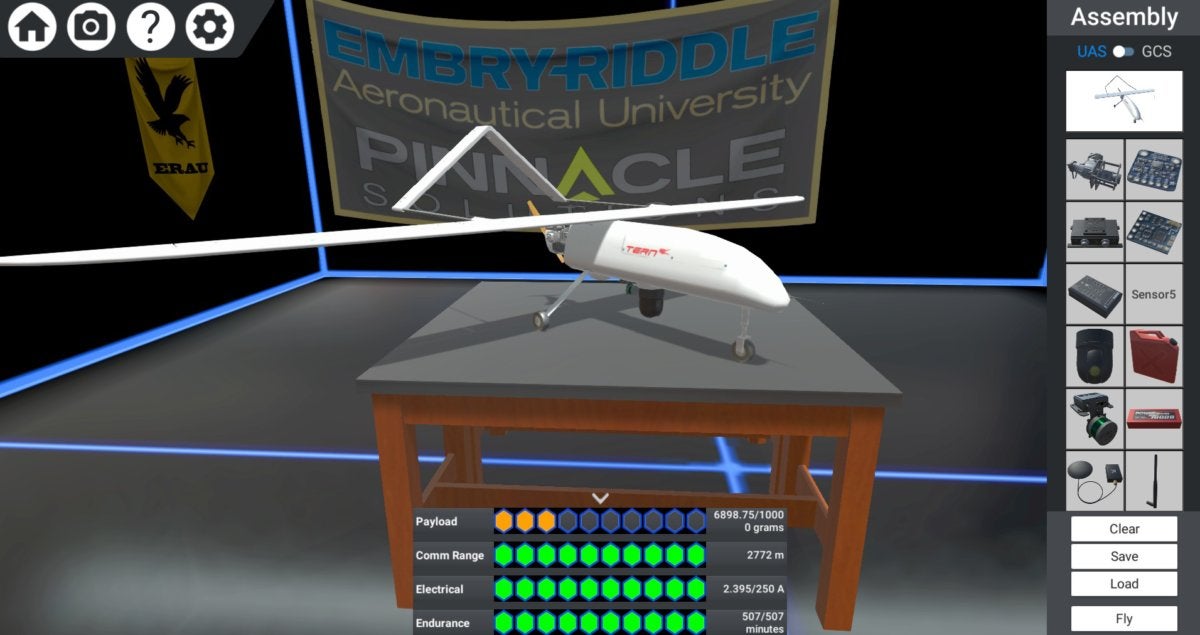 And that wasn't the end. The Virtual Crash Lab proved out the concept, and, together with Pinnacle, Vasquez's team went on to build the Aerial Robotics Virtual Lab (ARVL) for drones, which has enabled the university to offer a brand-new engineering degree program: MS Unmanned Autonomous Systems Engineering.
Vasquez projects the new engineering program will bring in $380,000 in new yearly revenue. In addition, free open courses featuring the labs have been used by 7,355 participants, attracting new students for degree programs and professional education.
Vasquez says the process was relatively painless. While Pinnacle did a lot of the development heavy lifting, her team spent a lot of time sitting with faculty to make sure all the requirements were documented.
"We had to design the entire lab, storyboard it," she says. "A lot of it the faculty had to do. The testing was pretty intensive too."
If she had to make one change, Vasquez says she would have included more graphic designers at the table from the very beginning of the process.
"Look and feel is so critical, but it can get minimized in some projects," she says.