In the past several years, a combination of regulatory changes, pressures from fintech startups and big technology companies, new technologies (like advances in machine learning), and a shifting cyber risk landscape have brewed a perfect disruption storm in financial services.
While retail banking has evolved quickly—mobile and paperless banking are now mainstream—commercial banking has been slower to adjust. But the tide appears to be turning. In "Top-10 Technology Trends in Commercial Banking: 2018," IT consulting firm Capgemini notes that a combination of increasing expectations from commercial customers and the proliferation of next-gen technology, along with new regulations, are motivating banks to overhaul their back-end processes and deploy data analytics and automation.
Capgemini says commercial banks will begin evolving at ever greater speeds as they seek to address customer pain points ranging from slow payment and settlement cycles to paper-based trade finance processes.
Accounting firm, Deloitte, agrees. In "Perspectives: 2018 Banking Industry Outlook," Deloitte experts say corporate customers are increasingly "demanding seamless, tailored product and service choices with user-friendly interfaces." They predict that 2018 will likely see corporate banking divisions focus on making technology investments to enhance customer experience and simplify operations.
Technology leaders at these banks will bear the brunt of pushing through these digital transformations.
Address, anticipate, automate
"I think the biggest change is that the pace of change and technology is accelerating," says Secil Watson, head of Digital Solutions for Business at Wells Fargo. "The [rate of] change we've seen in the last 25 years is now going to happen in the next five years. When the pace accelerates to that level, we can no longer have very linear strategic planning functions. I think we need to place our bets in three different time horizons."
For Wells Fargo, projects fall into three stages:
Address immediate customer challenges or opportunities
Anticipate customer demand or leap-frog the competition
Automate to remove IT from the process
"We're looking to find a way to get ourselves out of a job," Watson says. "Instead of addressing a current opportunity with the tools at hand, we need to think about what it would take to make our role obsolete, to automate ourselves out of a job."
As an example, Watson points to user authentication.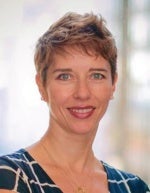 In the near term, Wells Fargo wanted to get away from hard-coded tokens for multifactor authentication. Watson's team embedded the same functionality in its mobile app, which sends a message to an out-of-band phone number. It was a relatively straightforward way of providing the same functionality via a mobile device that customers are carrying anyway.
But that's a reactive solution. The second-tier project was more forward-looking: eliminate the friction caused by passwords.
"We know they can get hacked," Watson says. "Banks ask customers to change passwords regularly. People have a hard time remembering them. Passwords have always been a hurdle for doing business in digital. They're also a very large driver of calls. We said a few years ago that we should get rid of passwords within five years."
The second-horizon project, then, was to replace passwords with biometrics. The result was eye print verification enabled with the aid of partner EyeVerify, which the bank rolled out in 2016.
"It's a game-changer for customers," Watson says. "That was our leapfrog attempt. We learned a lot in terms of what customers prefer and don't prefer in terms of biometrics."
But Watson says true transformation requires going a step further. Reducing the friction caused by passwords is good, but the next step is to think entirely outside the box. What if customers don't have to log in at all?
That's how the Wells Fargo Gateway came to be. It's an enterprise API channel. Commercial customers can hook Wells Fargo's APIs into their ERP system and pull in just the data they need and display it in their system without having to log on or use the bank's channel.
"That's going to cannibalize some of my traffic," Watson says. "You have to be OK with that. Take us out of the process. That's how you get your way out of a job."