Most old-school CIOs would never give the network a second thought. It's been described to be as the pipes or plumbing of a company. Something you need, but it offers no strategic competitive advantage. Oh, the times have changed.
We're now connecting things and moving data everywhere, including the cloud, and that has put the network at the center of the business world. Today's CIOs are pushing forward with digital transformation to improve operations, increase customer satisfaction, and raise worker productivity, and this requires a network that is fast and agile so that it enables business change instead of getting in the way.
Successful digital transformation relies on network evolution
One company that was in need of network evolution was Tokyo-based Makino, a leader in manufacturing tools in a wide range of verticals, including aerospace, automotive, and construction. The company is global in nature with presence in the Americas, Asia, and Europe.
Makino offers several Internet of Things (IoT)-based applications for electrical discharge machines, which reduces machine downtime and enables shop managers and operators to monitor and control electrical discharge machining processes. The company had been relying on legacy VPN and MPLS solutions for years, but decided it needed to evolve the network to align it with the following digital initiatives:
Improve the speed and performance of international data transfer and synchronization
Quickly and easily transition to more cloud applications
Deliver better voice and video communications for customers and partners
The legacy network was holding Makino back
The combination of MPLS and VPN had been sufficient for Makino in the past, but the growth of data combined with the requirements for fast service highlighted that it was time to retire the legacy network in favor of something more modern, such as a software-defined WAN (SD-WAN).
For example, with the legacy network, it would take six to seven hours per day to synchronize the data between two locations. This often led to problems with customer service. If an employee responded to a call from a customer that was ordering parts, the company may have committed to ordering something they did not have, which caused problems with customer service. The latency and lengthy delays in data synchronization caused the employees to constantly work with bad data. A change was clearly long overdue.
Improving the speed and performance of data synchronization was a primary goal for Makino. To meet the demands of its global customer base, Makino constantly needed to synchronize massive amounts of data for their machine specs and schematics from their Tokyo headquarters to the company's tech center in Mason, Ohio. As a secondary objective, Makino has a goal of shifting 90 percent of its applications to the cloud, so it was important to choose a network solution that could meet the demands of today, but also the future. Lastly, any change in the network needed to factor in the transmission of voice and video traffic.
Makino leveraged an SD-WAN to power its digital efforts
To meet these challenges, Makino turned to global SD-WAN solution provider Aryaka. Unlike most SD-WAN vendors, Aryaka has a private, global network, so it can maintain better quality and performance over long distances compared to using the internet.
For Makino, the results were like night and day. The data synchronization process that previously took up to seven hours was now being completed in just 20 minutes, ensuring the employees were always working with the right data. Plus, the cost-effectiveness of SD-WAN compared to MPLS enabled Makino to get twice the amount of bandwidth for about the same cost as they had been paying.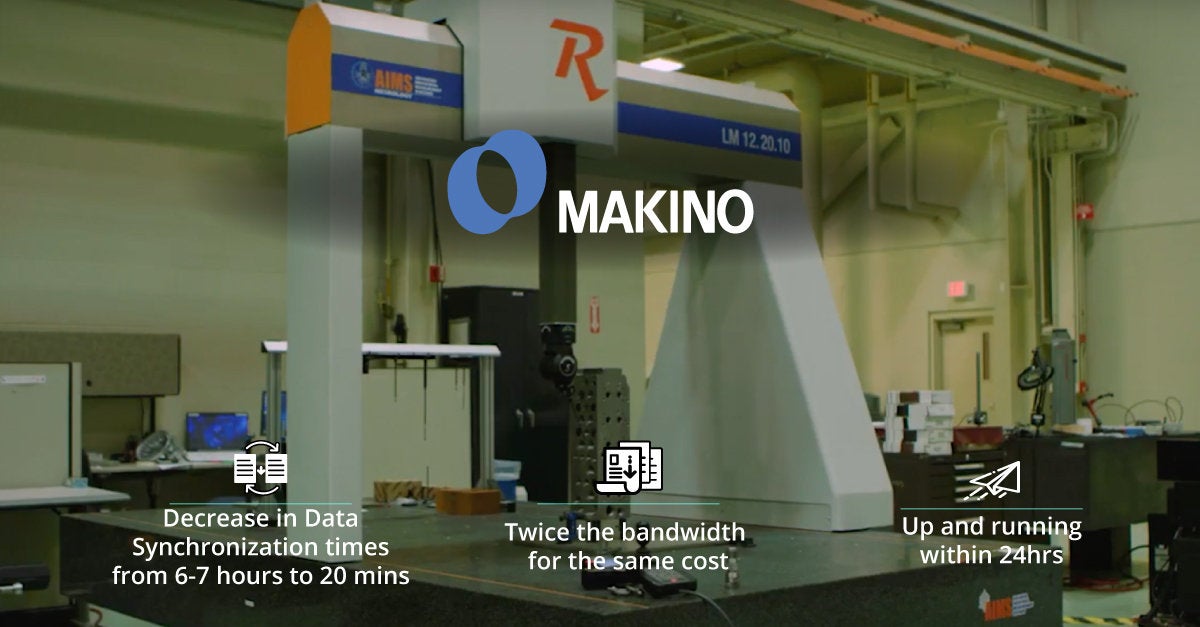 The global SD-WAN is ideally suited to be the foundation for Makino's shift to the cloud. When asked about the SD-WAN, Glenn Hensley, IT infrastructure manager at Makino, said. "We now have the infrastructure in place to handle the upcoming cloud migration and can deliver data and applications to every end-user as if it lived in this local data center. Aryaka's SD-WAN is a global fast lane for all of our business applications."
Digital businesses require a network that delivers consistently great application performance regardless of where in the world the users are. Aryaka's unique global SD-WAN and as-a-service delivery model enables global companies like Makino to use the network as a foundation for digital transformation at a significantly lower cost than legacy networks.