If Brad Clay gets the formula right, Lexmark printers will no longer go thirsty, running out of their precious toner during critical business tasks. Leveraging machine learning (ML) and internet of things (IoT), Lexmark's printers will soon predict when their business-critical liquid will run out and automatically order more before leaving customers high and dry, says Clay, Lexmark's CIO.
Printers typically warn corporate staff when their cartridges are down to their last 10 percent of ink or toner, but an uptick in use can quickly drain supplies before they can be replenished. Clay says his team is building proprietary algorithms that read information firing from sensors to track quantities and usage rates, as well as quarterly close or other timelines that precipitate spikes in use, to ensure that fresh toner arrives the day it's needed. Just-in-time replacement can also help curb waste associated with replacing cartridges before they're empty.
"It's not just the printer tells you that you need toner, but using machine learning to accurately predict exactly when the printer needs a new cartridge," says Clay, who is leveraging IoT and cloud technology from Microsoft for the initiative. "The optimization is to deliver not just toner to the printer, but the day that the cartridge is 100 percent empty."
Smarter printers are par for the course in this new era of automation, where algorithms, sensors and robotics are emerging as go-to tools for business process optimization. IoT adoption is growing in large part because increasingly affordable sensors can yield data that affords companies significant business insights. Global spending on IoT endpoints and services approached $2 trillion in 2017, Gartner says.
Data science begets continuous learning
For Clay, who worked in several IT roles over 16 years at Lexmark before becoming CIO in 2016, the initiative is part of a digital transformation that entails harnessing data to improve business processes. For example, Clay has created a data science center of excellence incorporating both data scientists and statistical experts to more quickly make sense of data Lexmark is collecting.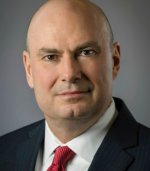 "We've got to get to learning that is highly competent," Clay says. "We can't skip learning levels, but we can learn faster. Continuous learning is part of what we're trying to drive and digital tools can improve the learning rate so there isn't overlap."
The continuous learning Clay aspires to is a long way from his early days at Lexmark, which he joined in 2002 as director of IT global architecture, strategy and delivery. At the time, the company's mission was centralizing, for example, regional ERP instances, into a single global system of record. He also helped move the company from frame relay to MPLS networks and leveraged several outsourcing partners, including IBM, Wipro, TCS and AT&T, to help develop, deliver and manage the company's enterprise software.
"We'd spent millions of dollars integrating things that made things complicated, but never achieved the promise of automation," Clay says. These days, Clay says he tries to leave functions alone unless they require fixing or he knows his team can add value for Lexmark's 9,000 employees, as well as its customers. For example, another Lexmark IT project entails streamlining an SAP ERP system that relies on anywhere from five to 20 codes for claims processing or serving invoices and putting everything a financial analyst must see into a single view so that they can click on a tab to retrieve specific claims.
"Our transformation strategy is: How do we make something better more responsive, faster and cheaper that delivers on the business strategy?" Clay says.
Change management comes to HR content
Another major Lexmark change initiative includes consolidating knowledge management for the human resources department. Clay is migrating the company from a hodgepodge of collaboration software comprised of tools from Jive, Google and IBM to Unily, a cloud-based social intranet platform where employees access documents and engage with each other through discussions and blogs.
Clay says the software, which also includes organizational charts, corporate policies and other HR content, integrates well with Lexmark's Office 365 software, comprising Outlook, Yammer, Teams, SharePoint and other tools in the productivity suite. "It's about understanding their work needs and driving engagement within the organization," Clay said, adding that the platform facilitates faster learning for employees, from those still in the onboarding process to those who have been there for years.
Related video: CIO Leadership Live with James Rinaldi, CIO, Director for Information Technology, NASA's Jet Propulsion Laboratory | CIO Leadership Live series
From ML and IoT to make printers more predictive to integrating HR and other corporate information into a single platform, the proliferation of emerging technologies that help automate business processes has convinced Clay that this is the best time to be a CIO. "This is the absolute best time in history to be working in IT," Clay says. "We can deliver value and learn at a rate that 10 years ago we couldn't contemplate."
The key for Clay is to ensure Lexmark employees get that message and understand that IT is there to be their partner. While Clay can deliver the tools and capabilities to move Lexmark forward, he says that it's incumbent on employees to demonstrate the willingness and readiness to accept the changes.