Traditional IT outsourcing service providers in the Philippines are feeling the heat (but also seeing opportunities) as more enterprises shift to cloud service providers, according to the IDC Asia / Pacific, excluding Japan (APeJ) Semiannual Services Tracker.
The total outsourcing services revenues in the Philippines exceeded $300 million ($USD) for 2017 — an 8.8 percent year-over-year increase. However, IDC says the IT outsourcing market is experiencing a fundamental shift caused by cloud services, which are the key to the growth of outsourcing, hosting and managed services.
While the outsourcing services market continues to grow, the traditional IT outsourcing declined by 3.4 percent from 2016 to 2017 and is likely to decline further in 2018, Alon Anthony Rejano, senior market analyst for Services at IDC Philippines, tells CIO Asia.
IDC attributes the decline to "the radical change of cloud-based models of outsourcing involving infrastructure as a service (IaaS) and software as a service (SaaS), a changing cost structure, and fundamental shifts in the competitor environment."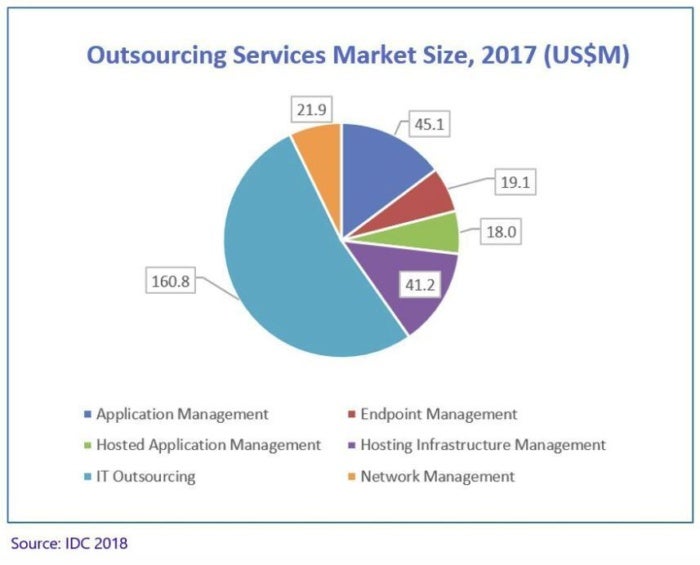 However, while traditional outsourcing service providers are feeling the effects of the shift to cloud providers, opportunities exist for outsourcing service providers in the Philippines to take advantage of the changing services paradigm. Savvy players are, for example, focusing on cloud-centric and hybrid IT strategies.
New ways to deliver services
"More traditional services providers are expected to include new delivery structures to accommodate end users that require services such as cloud, automation and security solutions," says IDC's Rejano.
While the shift is seen as a positive sign for the health of the overall IT outsourcing market, IDC reports that traditional outsourcers will feel the negative impact, at least in the short-term. "From a market perspective, cloud continues to grow in the country, but the overall market value remains muted due to the lack of scale for ICT [Information and Communication Technology] deployment and availability of advanced skills in application migration in the Philippines," Rejano says.
The scalability, affordability and agility of cloud services are driving change in the Philippines market, according to IDC. Among the advantages of cloud managed services offer over traditional managed services are factors like reduced capex and accelerated time to market.
Rejano adds that overall the outsourcing market in the Philippines remains a healthy one. "Traditional IT outsourcing has been cannibalised by models such as IaaS or SaaS that provide more flexible payments, which reduced the size of traditional IT outsourcing contracts/deals. However, contained within the whole IT outsourcing market are managed cloud services, which ultimately are substituting for the traditional part of this market."