Can you imagine having the same customer experience with your healthcare provider as you do your favorite retail chain? Jonathan Shoemaker, chief information and improvement officer at Allina Health, can. He and his fellow executives are creating a culture of consumerism at the Twin Cities-based healthcare system.
—————————————————————-
When did you begin to transform to a culture of consumerism at Allina Health?
We started to move toward consumerism a number of years ago, but the concept didn't have broad support at the time. We saw pockets of opportunity where we could improve: How could we improve our patient scheduling capabilities? How could we handle patient calls in a consistent way? We began to see bits and pieces of opportunity all over the organization, and then over time, we realized that we were all talking, one way or another, about improving the overall customer experience.
How did you turn that realization into a strategy?
We gradually went from disparate and targeted opportunities to broader oversight of the transformation. We gained early traction through a partnership with an senior vice president in our health group, who is responsible for clinic and ambulatory care. We worked with him to develop a strategy that would define the farthest reaches of our consumerism. We started to think about market segmentation and opportunities, which is a shift from traditional healthcare where you open your doors and wait for people to arrive.
We started to think, for example, about what we could do to give the 35-year-old mother of two in a specific geographical area a great experience. We started to think about the lifecycle of patients, and we began to layer in streamlined capabilities starting from the earliest part of a customer's online experience all the way through to her need to find an acute care location.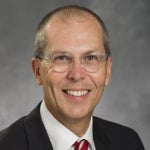 We realized that the transformation has to be much more than a prettier website. It's about having retail locations, offering services online, and allowing patients to do as much as possible over the phone or online before they have to get in the car.
What we came to understand is that creating a culture of consumerism, which is a such a new way of thinking about our patients and our work, has to happen at multiple levels. It is not something that IT can just push out there. That kind of change must involve a collaborative conversation up, down, and across the organization.
What are some examples of consumerism that you are putting into practice?
We are digitizing our appointment scheduling processes. With very few clicks, consumers can get an appointment with whatever doctor they want. If the appointment is a week out, they can put themselves on a cancellation list to come in earlier if possible. The capability might not sound sexy, but it's really important to patients. The hard work was not delivering the technology; it was getting the physicians to change their scheduling process. Physicians like to have their own visit types with complicated schedules that work for them but not always for the patients. To do any digital innovation, we have to drive for standardization and transparency across all of our processes.
We've also improved our e-visit capabilities. We've been providing online treatment for years, but we could only work with a dozen diagnoses. We knew that patients valued the service, but we realized that we could not move forward quickly enough to expand our capabilities here. So, we partnered with a solution provider who has significantly better algorithms, and we have now dramatically improved our ability to deliver online treatment across a wider variety of diagnoses.
You mentioned that technology is not the difficult part; it's changing the way physicians work. How are you driving that change?
Physicians are hesitant to change, but if you can prove that what you are doing will improve care, they get on board. I meet weekly with a senior leader in our ambulatory care division, and we have IT people regularly attend clinical staff meetings. We are all having highly integrated conversations with physicians and other clinical staff about what consumers want.
We are working hard to think less about how we want to deliver care and more about what we would expect as consumers of healthcare for ourselves and our families. It sounds simple, but it is a big change and takes a huge amount of focus. In IT, we ask more than we tell. We work arm and arm with the clinical staff. We could never make this change occur on our own.
How are you driving a mindset change within IT?
We built a new digital customer experience department that is separate from IT. In this new group, we have product managers, who think less about annual technology updates and more about customer needs and product maturity. We operate on an Agile framework to deliver on enhancements quickly, and we partner with third-party vendors that can help us build out new technology stacks more quickly than we could on our own. This has been a real change for us, since in traditional healthcare, we tend to buy packaged software and slowly do updates.
Traditional IT manages infrastructure, applications, and data centers. The digital customer experience department is much more aligned to online products and experience. They sit in a part of the building adjacent to marketing and interact with their partners in both marketing and operations in a very tight-knit and collaborative way.
What advice do you have for healthcare CIOs who want to follow a similar path?
You need to start having in-depth, intensive conversations with patients about how to improve their experience. I'm not talking about traditional hospital experience surveys. We've probably involved more than 1,000 people in focus groups all geared toward changing the customer experience
You need to build a consumer experience that reflects your organization's strategy and the role you play in the market.
As CIO, you need to build connections outside of healthcare. Learn how retail and other consumer companies are approaching digital consumerism, and consider hiring your senior leaders from outside healthcare.
Remember that not everything has to be big. Small wins over time can change thinking. Stretch yourself, put yourself out there with some of your most enthusiastic internal leaders, and show that you are willing to bring your own organization along in this change. You start to feel the fly wheel spin up as transformation goes from something nobody wants to do to something everyone wants to do.
About Jonathan Shoemaker
Jonathan Shoemaker is senior vice president, CIO and has responsibility for Allina Health's information services, clinical equipment services, and health information management.
Shoemaker joined Allina Health in 2005. His tenure with Allina Health has included driving the strategies and implementation of major technologies that help improve the delivery of care. These include electronic health records and health information exchange systems, as well as products for anesthesia, radiology, lab, and hospice that make these areas run more efficiently. He has served as the committee chair for the State of Minnesota Standards and Interoperability Committee and currently serves on Minnesota's eHealth Advisory Committee representing large hospitals.
Shoemaker has both a bachelor's and a master's degree from the University of Minnesota – Twin Cities.