Governments around the world are spending big-time on smart city initiatives and that investment will grow substantially over the coming years. And much of the smart city boom is happening in Southeast Asia.
Technology investments related to smart cities will surpass $81 billion globally in 2018 and spending will grow to $158 billion in 2022, according to IDC's Worldwide Semiannual Smart Cities Spending Guide, which is designed to offer insight into how cities around the world are transforming.
While transportation and public safety remain the largest investment areas, countries are also investing in less notable areas. "We are also finding significant pockets of spending and growth in back-office and platform-related use cases, which are less often publicised but increasingly happening behind the scenes in cities around the world," said Serena Da Rold, programme manager in IDC's Customer Insights and Analysis Group.
Singapore tops the lists
The Asia/Pacific region, will account for nearly 42 percent of global spending in 2018, followed by the Americas (33 percent), and Europe, Middle East and Africa (EMEA) (25 percent), according to the IDC report. Spending among the 53 cities currently tracked by IDC accounts for about 15 percent of global smart City spending, with Singapore, Tokyo, New York City, London and Shanghai at the top of the for 2018 investments.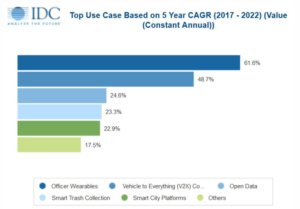 The three largest applications are of smart cities technology are fixed visual surveillance, advanced public transit and smart outdoor lighting. Those will account for nearly 25 percent of global spending in 2018, according to IDC.
By 2022, however, intelligent traffic management will overtake smart outdoor lighting for third position, and the top three use cases will only account 20 percent of total spending, as smaller and fast-growing use cases emerge and reach critical mass, IDC predicts. Wearables and vehicle-to-everything (V2X) connectivity, although starting from a small base now, will generate the fastest growth, reports IDC.
Smart Cities Video Series: Singapore
The three largest use cases appear among the top five in terms of spending across all regions, other use cases that emerge among the largest current Smart Cities investment areas include mobile video capture and recording in the United States and Latin America, and digital permitting, licensing, and inspection in the Middle East and Africa region.
Among ASEAN countries, Singapore leads the way in government IT spending, according to IDC data. Given its geographical size, and city-state status, most of its spending in IT is equivalent to smart city spending, an IDC spokesman tells CIO Asia (see breakdown of government IT spending in Singapore, Malaysia, Thailand, Philippines, Vietnam and Indonesia below).