Amazon.com regularly launches new points of attack on top shipping providers' turfs. But there is one area where United Parcel Service insists it maintains a competitive advantage: using internet of things (IoT) to improve fleet and field operations.
Perhaps more than any other shipping company, UPS leverages sensor-driven analytics for anything from preventative vehicle maintenance to route optimization.
It's a critical process as UPS, fellow rivals FedEx, DHL and others grapple with the digital disruption Amazon.com has exacted on the shipping industry. Once content to simply partner with and pay shipping giants hundreds of millions of dollars to deliver shoppers anything from books to furniture, Amazon.com has begun competing more closely with its partners.
Amazon.com in June announced a program to let people launch businesses delivering its packages to shoppers. And later this year it also plans to test a new service in which company couriers pick up products from businesses that sell goods through Amazon and deliver that merchandise to its warehouses — work that UPS, FedEx and other companies currently do on its behalf.
The logistics arms race hinges on sensor data
But shipping and freight cargo companies were early adopters of IoT, placing RFID tags on cargo, pallets, and packages for track and trace purposes, according to researcher Gartner. IoT use cases expanded to improve transport operations performance, including sensors to measure machine health and maintenance, repair and overhaul, among other use cases. So what these fledgling couriers won't have is access to the massive trove of logistics data that has kept UPS one of the tightest ships in the shipping business.
UPS was among the first shipping giants to use sensors for preventative maintenance, pulling its package trucks from the road before a critical part fails, which can lead to a breakdown. "A failure was more expensive than replacing a working part," Jack Levis, UPS' director of process management, explains to CIO.com.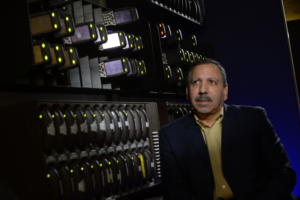 Today's UPS trucks are equipped with more than 200 sensors, which collect data points on vehicle operations. The data migrates to UPS analytics software, which crunches it overnight to determine whether new parts are needed.
Vehicle sensors are also crucial in improving driver safety, noting, for example, whether a driver has put on his or her seatbelt. Sensors also "know" when a driver, for example, pulls out of a parked position improperly. UPS asks its drivers not to back out of parking spaces, but offers five specific steps in the event a driver finds himself in such a position. The sensors and corresponding analytics also calculate a driver's idle time; leaving the engine running burns fuel unnecessarily.
UPS uses sensors and analytics to crunch crucial metrics it uses to quantify its business operations. For instance, reducing 1 mile of driving per driver a day shaves $50 million off of UPS' bottom line, Levis says. The company has dozens of similar metrics it tracks closely to improve efficiency of fuel, time and other factors that impact the bottom and top lines.
Data strategy orbits ORION
Among UPS' greatest data management assets is ORION, short for On-Road Integrated Optimization and Navigation, an analytics engine that includes package-level detail, customized online map data, fleet telematics, and advanced algorithms to determine the most efficient delivery route for each driver every day. ORION, which saves UPS hundreds of millions of dollars each year, helps the company's 55,000 drivers log 100 million fewer miles each year. This system also reduces emissions by 100,000 tons.
ORION gets help from sensor-enabled handheld devices, known as Delivery Information Acquisition Devices (DIADs), that drivers use to inform their routes. UPS uses telematics to collect data from computers and sensors installed on trucks and from package scans UPS drivers make to gain insights into where things are, where they're going, when they're supposed to get there and what their customers think about the service. These data streams enable the company to create efficient routes and ensure driver safety. Or, as Levis puts it, the technologies help UPS make better decisions.
For example, when a customer uses UPS' MyChoice service to schedule a delivery window time for an expected package, ORION will reroute the driver as efficiently as possible, delivering the updated schedule directly to his or her DIAD. This saves drivers as much as 100 driving miles a year.
"It's wonderful when you watch this work properly," Levis says, of UPS' choreographed sensors and analytics systems. "An algorithm by itself or a driver by himself is not as good as driver and algorithm together. It's a great blend of the human and machine."
Today, the drivers operate off of predetermined delivery routes programmed into their DIADs, with route changes coming via MyChoice. Eventually, UPS will integrate mapping technology into the process to re-sequence deliveries and help drivers route around traffic, Levis says.
Such efficiency is increasingly important in the company's financial footing at a time when same-day delivery will drive up logistics costs as a percentage of revenue by 50 percent by 2020, according to Gartner data.
UPS has also recently answered Amazon.com's digital disruption with its own IoT- and analytics-based service. The company is testing in-building deliveries to multi-unit homes in New York City. A UPS driver taking packages to a Latch-enabled building receives a unique credential that works only for a specific building receiving deliveries on his or her DIAD.
When a driver uses a credential to enter a building, Latch records the entry digitally to create an audit trail that identifies the user and the time of access. The move rivals Amazon.com's own Key service, which uses a camera, smartlock and mobile app to allow couriers to open a customer's front door and drop off packages.
"The use of smart access devices on doors of apartment and condominium buildings is a big step forward for the package delivery business," Jerome Roberts, UPS vice president of global product innovation, said in a statement.