Imagine a sporting contest between two teams. One team consists of athletes assembled from various teams but from different sports. The other team is a well-oiled machine that has played multiple games together and has a history of winning. Which team do you think has a better chance of coming out on top? This scenario plays itself out continuously today as companies pit internal personnel who are ill-equipped to effectively manage consultants against consulting firms that manage clients every day. Read more to significantly improve your team's chances of winning.
Companies today typically staff major programs with internal talent who spend a majority of their time engaged in the day-to-day operations of the company. Their participation in projects is typically infrequent and usually part-time. Those assigned to the project often return to their normal jobs as soon as the project is over. Companies rarely consider training their teams on how to be effective in extracting value from consultants. Nor do they track results showing if all the value expected was extracted.
Contrast this with the consulting business model. These companies are skilled at managing and in-fact lowering companies' expectations after the deal has been completed. They are quick to dismiss the capabilities of their client companies' personnel in favor of increasing the leverage of their own firms. There is also a heavy reliance on developing management relationships to divert attention away from less capable consultants.
The types of problems created by this mismatch of competition can include:
Failures when junior consultants are employed in key roles.
Over payment when expensive resources are used in staff augmentation roles.
Scaled back results when scope is not effectively managed.
On-going high cost structures as companies fail to retain and integrate what they have learned.
One way to illustrate value extraction (or destruction) is through the utilization of a 2×2 matrix.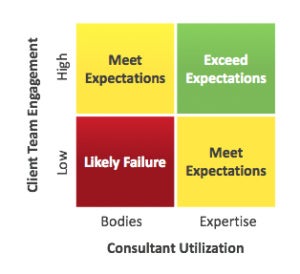 The vertical dimension provides a scale representing the client company engagement. High levels of engagement are characterized by the company assigning top talent to the project, clearly defining the business problem to be solved, and exerting management control in execution of the project. Assigning top talent allows for quick orientation of the consultants, navigation of the political minefields, rapid access to data and it supports the buy-in process of the enterprise.
The horizontal scale illustrates the mix of consulting talent employed. High value consulting roles are defined as areas where the company does not own the expertise. These roles typically include:
Technical expertise – Functional, industry, methodologies, and project management.
Consulting process – Structured thinking, communications, and change management.
Third-party perspectives – Independence, objectivity, and external party experiences.
Low value-added roles would be resources to support research, data gathering, documentation, programming and configuration, administration, and the capture and reiteration of management perspectives.
Companies can improve dramatically in extracting value by following these 6 best practices:
1. Get educated and measure value
Take the time up-front to understand the basic consulting business models, learn how to evaluate consulting talent, and develop techniques to measure and monitor consultant value extraction.
2. Clearly define the business problem and objectives
Consultants are likely to see problems through the lens of their core skills or assets they provide. Companies need to be specific in the goals of the organization and set clear objectives for performance.
3. Thoroughly vet the proposed organization
Consulting companies will attempt to maximize the headcount assigned to the project and typically under-use the clients' resources. The best value-extracting firms will challenge the model by applying their own considered perspective and aligning the proposed organization to their particular situation.
4. Periodic skill reviews and assessment of consultant value proposition
Over the course of a project, the skillset demands change and your own internal team develops skillsets that can be applied. Schedule regular reviews to look for cost effective ways of filling non-expert roles internally or from other sources. Consultants may accuse the client of cherry-picking, but why should the client pay for filler resources or ones learning on the job? If anybody should be learning, it is the client company's people.
5. Retain a strong dominant role in project management and control
Consultants should be managed like a team reporting to a single client manager. They should not be allowed to reschedule work, redefine work, or substitute resources. This will require the client team to staff the leadership position with "A" players who can exert the required level of control.
6. Do not simply depend on the brand
Teams deliver projects not brands. In the end, the talent and expertise applied by the consulting company to those areas where your company has the greatest skill gap, provides the greatest opportunity for value extraction. Just because it is Accenture, IBM, Deloitte or another top-tier firm does not ensure value. The responsibility for value extraction lies with the client.
Train your internal team on how to best extract value from your consultants in order to maximize the outcome of your projects and initiatives.