National Life Group's headquarters is nestled in the foothills of Montpelier, Vermont, just across the Winooski River from the Vermont State House. The company has been a fixture for the better part of two centuries, as much a part of the landscape as Barre granite or covered bridges. Yet its focus is entirely future-facing: providing life insurance and annuities to an estimated 60 million underinsured American households.
"We have been, by many measures, the fastest growing major life insurance company in the United States over the past five years or so, and we've experienced double-digit growth for the past several years," says senior vice president and CIO Tom Anfuso. "Growth and scalability in my tenure here has been one of our greatest challenges."
Anfuso, who joined the firm in 2014, focuses on the operational basics – in his words, "security, availability and quality." National Life's growth has been purely organic, rather than the product of a merger or acquisition. Since the company has increased its own output and increased sales accordingly, Anfuso reports that it is imperative that IT staff provide consistently better tools to operations and agents to ensure larger volumes of business.
"I've been focused on really reinventing the IT shop in the sense of becoming more process-oriented and operationally focused," he says. "And we're trying to adapt our skills and our workforce to what is really an entirely different set of technologies than what we were focused on when I started."
Rejuvenating a staid digital landscape
"Annuity and life insurance policy owners have been really underserved by the carriers in terms of digital," Anfuso says. "They tend to not have very robust digital capabilities, whether that's customer portals or mobile apps. And so almost everything a customer wants to do results in them calling their agent or calling the carrier, so delivering even rudimentary self-service is a win in our industry."
Even within the larger insurance industry, digital lag is especially acute in life insurance, he adds. Property and casualty (P&C) insurance carriers can potentially renegotiate terms upon renewal for short-term products such as renters insurance. Such insurance arrangements lend themselves to more digital touchpoints thanks to their relative fluidity.
Life insurance, however, is purchased for newborns who could potentially be customers for more than a century. The product has to perform as it was sold, in spite of future hypothetical regulatory changes, market shifts or legal actions. Accordingly, life insurance firms have been fairly conservative technologically, relying upon older systems than P&C or capital markets – with fewer technical suppliers, consortiums and infusions of venture capital but the same amount of regulatory complexity.
Technological investment for growth
In spite of these larger trends, National Life's significant growth – doubling its annuity and life insurance sales from 2012 to 2017 – has prompted a hard look at how to further remove friction for agents and internal staff. At the front end of the sales funnel, Anfuso and his colleagues have focused on more usable interfaces.
"Those [initiatives] have ranged from web-enabling mainframe applications to entire replacements," he says. "We have some major ones underway to replace legacy systems that might be mainframe-based or written with old client server technologies with modern web application platforms. … In many cases, we've focused on building more straight through processing (STP), so there are less and less human touches and judgment needed to process a piece of business."
When people buy permanent or cash value life insurance, they still want to speak with a human being, Anfuso says. Agents bridge that gap, and National Life management seeks to support the role of an agent in a customer interaction while working to maintain productive relationships with their respective third-party agencies. The larger agencies tend to have the wherewithal to invest in themselves digitally, but at the smaller end of the spectrum, agencies tend to be more reliant on carriers such as National Life to provide better tools for prospecting, customer education, and business management. Anfuso and his team have maintained a steady focus on agency support and, increasingly, integration of digital tools and platforms.
One upshot of this endeavor has been the 2018 release of a customer portal and National Life's first-ever native mobile app for policyholders, an extension of the company's extant app for agents.
The company is also piloting chatbot functionality based on the Microsoft Cognitive Services stack – first for internal communication, and potentially later for customer service and account transactions. In a highly regulated industry based on maintaining the highest level of customer trust, National Life's implementation approach is incremental, but not overly cautious.
"We're going to make sure that it's ready for prime time by using it ourselves," Anfuso says.
Artificial intelligence (AI) is another area of interest. National Life has performed customer segmentation modeling using machine learning algorithms to identify previously unknown clusters of consumer traits.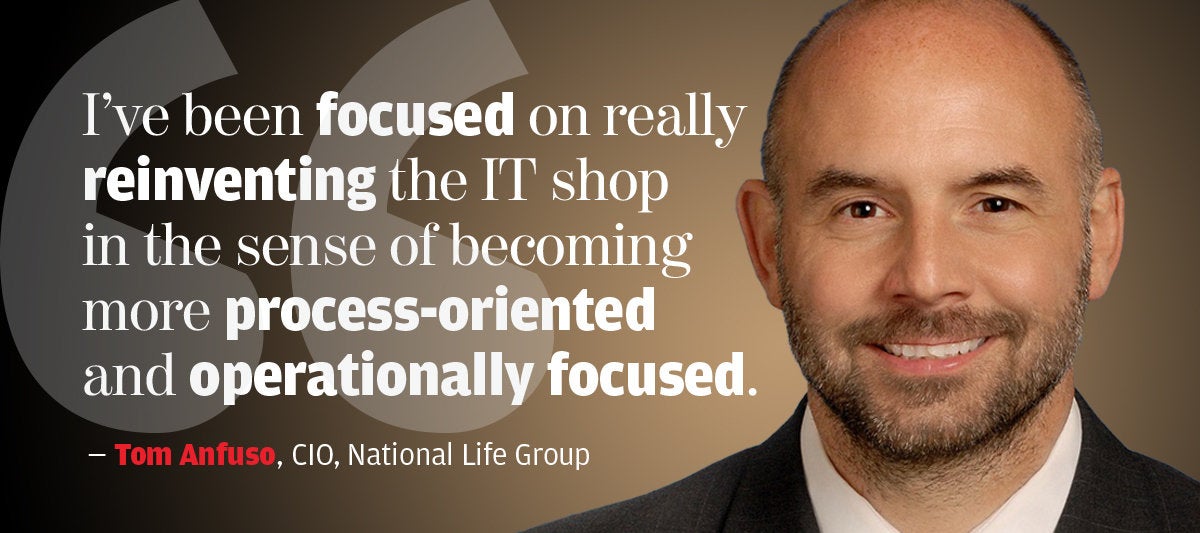 Ultimately, however, two primary pillars of National Life's IT strategy are impactful agency support and agile integration. Anfuso is interested in potentially increasing the ways in which agents can learn helpful information about their customers' activities and life events – and that could take many forms, from SMS text alerts to on-demand business intelligence.
"[We are focusing on] what can we do to prepare ourselves for distribution disruption," Anfuso explains. "So, if someone finds a much smarter and better way to use digital to educate customers, to reach customers and sell to them, will we be ready to quickly integrate with those kinds of platforms? No one has cracked that nut yet in our industry, but in my opinion it's inevitable and we need to be ready for it and start building that out now."
Anfuso knows that to remain competitive in such a shifting environment, agility is key. Three primary drivers fuel National Life's continuing journey towards greater institutional swiftness and effectiveness: virtualization, cloud computing and DevOps. National Life's tech stack is entirely virtualized, from servers to desktops. Anfuso claims this has allowed for easier tech stack management, better security, and increased operational agility.
National Life is primarily a Microsoft shop, and Anfuso shares that the goal is to have at least 60 percent of its data center assets in Azure by the end of 2020. The primary focus is to increase agility and scalability, with a focus on improving the company's ability to automate and manage workloads.
DevOps provides the underpinning for rapid deployment and integration. Anfuso reports that National Life has approximately two dozen continuous integration (CI) pipelines across a range of projects, and these pipelines have about 70 percent automated testing coverage. The company's Customer Experience (CX) program – new customer-centric digital capabilities and CRM efforts – is the company's pilot "full" DevOps initiative. CX encompasses Agile methodologies and tools, Continuous Integration, Continuous Delivery (CI/CD), persistent build/run Scrum teams and empowered product owners.
The innovation imperative
For National Life, growth is an opportunity for reflection and investment. IT staff pursue innovation through formal funded programs, as well as informal strategic collaborations with agencies and distributors.
"We have an innovation program to vet and fund and oversee disruptive innovation," Anfuso explains. "We also have another program, a funded capital program, whose job it is to keep a finger on the pulse of distribution and make sure that we are responding to [distributor] needs both in the market and their technology needs or, for example, emerging channels by which we can distribute products."
At the same time, it is a strategic imperative for home office staff, including IT employees, to get connected to agents and distribution channels. As an example of this collaboration, Anfuso notes he was able to attend a kickoff for one of National Life's largest agency relationships, seeing firsthand how they talk about their business and how National Life IT could potentially be a better partner to them.
Cultural touchstones
Vermont offers stunning vistas and was ranked the best place to live in America by CNBC in 2018. At the same time, the state population is the second-lowest in the country – meaning National Life has relied on its strong culture and workplace flexibility to attract talent.
"I think that people who come to work for the company are usually joining for our corporate culture, but they have to make a lifestyle choice about Vermont," Anfuso explains. "We're never going to be able to pay what Netflix pays elite talent or provide people with the number of career options that a mammoth company can. But what we can sell on – and we do sell on successfully – is culture."
The company is increasingly open to additional locations and even telecommuting for its roughly 450 IT staff, Anfuso reports. Most of the IT function is outsourced, and headquarters is supported by a growing number of smaller locations across the United States, most notably a major office in Addison, Texas. Additionally, National Life is piloting some work-from-home options for IT employees and exploring a potential additional location for contractors to increase flexibility.
Anfuso says the company culture is down to earth, grounded in what he describes as "servant leadership" in which employees look after colleagues and customers alike.
"We have practically zero politics, and we expect and demonstrate humility, and that resonates with some people," he says.
Anfuso relates that the company's mentality is to try to keep current employees' skills current, rather than shunting them aside in favor of new people with different skills sets. The company is currently deploying a variety of Java instances now, for example, which has historically not been an area of focus or development.
"We're not averse to teaching people Java, as opposed to going out and getting Java people, because we've got good people who can learn the programming language, but more importantly already fit well within the company's culture and understand our business," he says.
Digital transformation is very much a crucible. The call for change can be ignored, leading to massive opportunity cost. Or, worse, it can be misunderstood, taking an entire IT strategy off track. For Anfuso, the challenges that technological change present are best met with a disciplined and collaborative culture – and by persevering in spite of unforeseen obstacles. This has been especially important in 2018, a period of strong growth and decision making.
"One of the things that makes me excited to be in this organization is that a number of technology things that historically were presented as hurdles or practically impossible or were insurmountable obstacles, the team here has just routinely achieved them," Anfuso concludes. "'Scrappy' is a word that our CEO uses, that we pride ourselves on – and that describes our IT team well."