Rightly so, IT leaders are increasing their focus on their company's customers in an effort to deliver the highest level of service to those wonderful people who buy their products and services. But while those external customers matter a lot, so do internal customers — employees who come to work every day.
Prakash Kota, Autodesk's CIO, understands the need to give employees a superior experience and is delivering on an innovative digital workplace strategy.
——————————————————
How is digital changing the workforce experience at Autodesk?
For us, "digital" means providing frictionless self-service to our end users, including employees, customers, and partners. When an employee joins a software design company like Autodesk, they expect to be able to use innovative solutions right away, at any time, on any device, and with no training required. They also expect an immediate and fully automated self-service experience that provides real-time results. Modern workers can't relate to a ticketing process. They expect service on demand.
How are you creating a self-service on-demand employee experience?
Our approach is to remove the back-end complexity from the end-user experience, making it simple, seamless, and intuitive.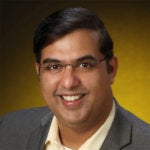 For example, we built a platform, called "Help Hub," which runs on top of a ticketing system that is hidden from the user. The platform, which users can access from their phone, laptop, or tablet, is integrated with our HR system on the back end, so the system knows who the employee is when they enter the portal. This is a one-stop shop where new employees have access to all the tools they are approved for. They don't need to submit a ticket. They can start collaborating and being productive right away.
The platform also gives guidance to a new employee. "All of the people who share your profile are using these tools; here is how you activate them." Help Hub is a single front door that increases our employees' productivity.
How did you develop Help Hub and what are the benefits?
When we developed the Help Hub, we wanted to ensure that the solution met employee needs. Our approach was to start with user design principles first, and build backwards using our new service taxonomy. Our taxonomy was developed to use service names that are technology-agnostic. In addition, we consulted our internal brand and marketing team to name the portal, and assist us with the employee-facing service names.
Since implementing Help Hub, we are saving 32,000 worker hours per quarter. People are no longer waiting for days — or even hours — to get the services they need.
Through the platform, we are capturing data to understand which services employees consume the most and which they consume the least, and we make investment and divestment decisions from that data. IT people are traditionally not that good at divesting technologies. This new usage data makes it much easier for us to take technologies out of our environment when they no longer suit employees.
How have you created a culture in IT that allows for this kind of innovation?
For us, it's a mindset shift from investing in technologies to investing in experiences. We no longer say, "Here is a cool technology that we are bringing to the table." There are so many cool ideas; we need to prioritize the ideas that will truly improve our employee (or customer or partner) experience.
One approach I've taken to driving this perspective shift is considering employee communication when making a decision regarding launching a new service. When we assess a potential employee service or investment, we ask, "What will we communicate when we announce this?" If we are not able to define real user experience benefits in the launch message, we know we do not have the right solution. Considering communication also helps with scope creep. When we add new functionality to the service, we revisit how we will communicate to make sure we still have a compelling message. This allows us to focus on the "So what?" of a new idea and keeps us on the right track to deliver great value.
About Prakash Kota
Prakash Kota is CIO at Autodesk. He's been with the company since April 2005, and has held various roles of increasing leadership in IT, including vice president IT, senior director of infrastructure and enterprise operations, and senior director of global enterprise operations. Kota holds a bachelor of engineering (BE) degree from the University of Madras and an M.S. in electrical engineering from Oklahoma State University.