AI may be feared as the next great job killer, but many of the AI tools and services currently available focus on improving business productivity rather than replacing employees. In fact, nearly two thirds of employees in a recent UK survey conducted by software company ABBYY said they'd be happy to hand over tasks like taking meeting notes and reviewing long documents to a machine.
Sales professionals already leverage AI tools in services such as Salesforce and Microsoft Dynamics that offer better sales forecasts and help them target prospects and close deals, but AI is useful for more general business work too. From coaching managers to interact more efficiently, to suggesting the right time to send email messages, to getting value out of information that might otherwise languish on whiteboards, AI-powered tools are boosting business productivity across a variety of industries. You don't need to set up your own machine learning team — but you may want to think about how you can get your business ready to make the most of them.
Smarter search and discovery
Smartphones and consumer cloud storage services have been using image recognition to automatically tag photographs for some time now. Business cloud storage services such as SharePoint Online and OneDrive for Business are starting to do the same. "We have a lot of intelligence infused in SharePoint document libraries," says Dan Holme, director of product marking for SharePoint. "When you upload an image, the AI figures out the geolocation, recognizes the object and extracts the text." If you scan or photograph a receipt from a restaurant, you can extract the information for your expense report, for example, straight from the document library.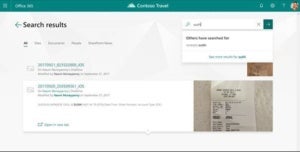 The next step, coming later this year, will be making it easier to use that information in business processes using Flow, Microsoft's low-code tool aimed at creating workflows. "The AI unlocks the value of those photos; if you couple that with Flow, you can tap in to Cognitive Services for translation or transcription or sentiment analysis," Holme says. For example, an insurance adjuster can take a photograph to show damage and have it automatically sent to the auto division if the photo showed a car or the home insurance team if it showed a house. Or you could teach SharePoint about your new company logo and use conditional formatting to highlight any documents using the old logo.
On your mobile device, the latest version of Adobe Scan uses image recognition to spot when you're photographing a business card. It then performs OCR on the card's text and creates a new contact based on the information it extracts. That includes working out what an email address looks like. It can also automatically adjust previously scanned images to clean up shadows, sharpen text and correct perspective so the text can be recognized more accurately; Microsoft's Office Lens feature for OneNote and OneDrive performs similar corrections, but only when you take the photograph.
Recognizing and tagging documents automatically to make it easier to find contracts, invoices and other common document types isn't as advanced as image recognition, but Box promises that with its Box Skills platform (which is still in beta and includes image OCR and audio transcription). ABBYY's Text Analytics for Contracts service already uses AI to detect contracts and identify the roles of entities like buyers and sellers, making it easier to see what commitments you need to comply with (like data breach notifications or delivery deadlines), assess risks, or check if your contract clauses are consistent and meet compliance guidelines. It should also work with other semi-structured business documents such as insurance slips and leases, says Paul Goodenough, head of ABBYY UK & Ireland. The tool also highlights key information; "that enables users to speed-read documents by pinpointing sections, clauses and facts for business processes," he says.
More broadly, Acrobat Document Cloud can automatically identify lists, tables, form fields and figures in uploaded PDFs, to simplify searching and form filling. Microsoft has also talked about using machine learning to automatically identify documents that should be marked as confidential in a future version of the Azure Information Protection Service.
The SharePoint mobile app and the Office.com portal both use AI to suggest recommended documents from colleagues that you might need to know about, as does the Quick Access feature in G Suite Drive. Putting these suggestions where you already go to find files is probably more useful than a separate service like Delve. Holme calls it a "personalized intelligent search experience; the goal is when you click in the search box you see zero-time recommendations of apps, files and new sites that are likely to be useful for you, so you might find what you're looking for without having to type anything in."
Smarter documents
AI features can also make it easier to create documents in the first place. The Editor feature in recent versions of Microsoft Word 2016 and the new Google Docs grammar check both use machine learning to suggest when a correctly spelled word isn't the right one to use. That's not a new feature but learning new vocabulary like business names makes it less fragile than older rule-based systems that didn't keep up with the news.
The QuickStarter and PowerPoint Designer features can take your outline, suggest what slide layouts to use, fill them in with images from Wikipedia and suggest multiple designs for text and bulleted lists. Excel now includes the Insights feature first seen in Power BI, which automatically creates visualizations of outliers in your data set to make it easier to spot when numbers are unusually good or bad.
Power BI has always let you drill in further by asking natural language questions such as "Who was my best customer last quarter" or "Which region is most profitable this year." Tableau now integrates with DataRobot's machine learning-created automated data models to generate similar visual analyses for spotting patterns and correlations.
Some documents such as resumes are so structured that they're easier to recognize, and LinkedIn is a huge store of details like job roles and titles. Word's Resume Assistant can tell when a document is a CV and opens a pane where you can see what skills people with the same job titles have listed on their public profiles. "People suffer from 'blank page' syndrome, so showing you how other people in the same role describe their work experience can kick-start the writing process," says Kumaresh Pattabiraman, director of product management for careers at LinkedIn.
Handwriting recognition is getting more useful now that interactive whiteboards are more common. For example, Microsoft's Whiteboard app — which runs on Surface Hub or any large PC touchscreen — uses Windows Smart Ink AI to clean up shapes and tables, and recognize lists, telephone numbers and dates. (Another app, Ink to Code, converts sketches of user interfaces into Visual Studio projects.)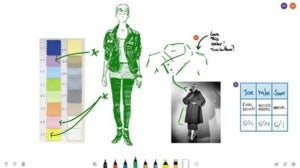 Whiteboard can also take your drawing and use it to search Bing Images. Google's interactive whiteboard Jamboard has a similar AI-powered drawing tool called AutoDraw that looks for images that match what you're sketching on the board. That means even if you're not much of an artist, you can scribble a picture and quickly swap it for something more immediately recognizable.
Meanwhile, AI-powered speech recognition is only just starting to become useful. Dictating a short search query to the high-quality microphone in your smartphone that's been listening to your voice to build your speech profile can be reasonably accurate. There's a plethora of transcription services like Trint, Simon Says, Speechmatics, Callnote, Otter and others that will attempt to use AI (often powered by speech recognition cloud services from Microsoft, Google and IBM) to transcribe recordings and videos. Nearly all take you out of your normal workflow because you have to review the transcription on a website, and audio quality, accents, multiple voices, background noise and vocabulary specific to your industry will affect how accurate those transcriptions are. In general, they're more useful for making audio searchable than for turning it into a perfect written version.
The Presentation Translator add-in for PowerPoint (which produces real-time captions and translations of a presentation) has the advantage that many of the terms will be in slides or slide notes, so it can perform custom speech recognition. This takes about 5 minutes to train, so turn it on while practicing the presentation in advance; it's also more accurate if you wear a headset microphone.
Microsoft's Azure Stream video service integrates with SharePoint and Teams, meaning it has a lot of content to mine for custom dictionaries to improve speech recognition in videos, as well as details of who was in a meeting or presentation to power face detection. Once the text of a video is created, you can jump to the relevant point in a video by searching for keywords or by choosing the name of the presenter in SharePoint.
AI to fine-tune your business
Many of these tools to help individual productivity don't require significant work from the IT team. As automatic document classification becomes broadly available though, you'll want to look at how to integrate it with data leakage and rights management tools you already use. But addressing team productivity may need more formal processes and management buy-in.
Recent research shows that managers who prepare for the coming week by firing off email on Sunday evenings (intending it to be read on Monday morning) are often training their staff to check email out of hours too. Workers who have to worry about staying on top of messages at all hours are more likely to complain about stress, lose focus or even burn out, and in some jurisdictions work email counts as overtime; an executive in Ireland was recently awarded €7,500 by the courts for all the out-of-hours work email they had to deal with. Sending emails during meetings is another bad habit employees pick up from managers.
The MyAnalytics and Workplace Analytics features in Office 365 use machine learning to analyze email and meeting patterns from the Microsoft Graph. Individual users get weekly email reports showing how much time they've spent in meetings, doing email or working out of hours, as well as how many of those emails have been read. Managers can see aggregated views like how much time managers spend with their reports, whether people routinely use email when the business day is supposed to be over, or what the working patterns of the most successful teams are.
You can use those to see problem behaviors and track whether they're improving. You'll also get immediate hints about how you work: Fire off a late-night message to the same person over and over again and Outlook will pop up a tool tip suggesting you schedule the mail to send in the morning.
Similarly, the new predictive analytics dashboards in the Hive project management service use machine learning to show which teams have too many tasks and not enough staff, and how well teams are estimating project times. Addressing the problems these tools make visible is where the AI stops and people still have to take over.