Robotic process automation (RPA) has become a popular go-to technology for insurance companies looking to automate data entry and replace paper shuffling. One insurance provider is embracing RPA in a different fashion: Automating computing infrastructure to free up engineers to focus on more strategic tasks.
Anthem has implemented more than 130 RPA "bots" to manage the company's data center infrastructure, says CIO Tim Skeen. The bots are a key part of Anthem's broader digital transformation to make IT more nimble for external stakeholders, including consumers, healthcare providers and employers, says Skeen, who took the reins from Tom Miller four months ago.
RPA bots are software programs that mimic human keystrokes to check records, populate online forms, and facilitate payments and other transactions. Although many classify these agents as rudimentary forms of artificial intelligence (AI), they follow business logic and routines. As AI goes, they tend to be concrete and narrowly focused.
However, RPA can also significantly reduce error rates for business processes, according to Deloitte Consulting partner Jeff Schwartz, who said at the CIO 100 Symposium that the consultancy is using RPA to drive efficiency into its IT service center, reducing help desk calls and visits via self-service. Several other companies, including American Express Global Business Travel, Federal Reserve Bank of Boston, Land O'Lakes and other enterprises are leveraging RPA to automate mundane business processes, including data entry for financial services.
Spending on RPA software will reach $1 billion by 2020, Gartner says, growing at a compound annual growth rate of 41 percent from 2015 through 2020. By that time, 40 percent of large enterprises will have adopted RPA software, up from less than 10 percent today.
Server workloads get RPA treatment
Anthem is tapping RPA to help shift computing workloads. Bots scan how data packets are moving in the network, identify when a server is reaching capacity and shift workloads to machines with more availability capacity, which helps ensure uptime, says Skeen. These agents are automating over 70 percent of Anthem's high-volume, repetitive tasks each month. IBM is building the bots as part of a broader enterprise services agreement to manage Anthem's mainframes, servers and storage systems. The partnership builds on a $500 million contract Anthem and IBM announced in 2015.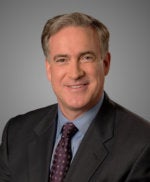 RPA is one of many aspects of a digital transformation Skeen, who previously ran Anthem's innovation lab, and his peers are working on to modernize the company's technology systems and business processes and improve service delivery for its 40 million consumers. As with most insurance firms, business process transformation includes exploring conversational messaging in the form of chatbots that augment online portals and mobile applications.
The company is also using Hadoop-based analytics, combined with its own predictive models, to better understand how to fill care gaps and deliver the right information to consumers when they request it, effectively "meeting them where they are," regardless of the channel with which they prefer to interact. The idea is to make Anthem a "trusted advisor," Skeen says. Core to these efforts is design thinking, essentially applying an "outside-in" approach to building IT solutions. Skeen says Anthem's IT conducts A/B testing to see what digital features resonate best with consumers.
C-suite collaboration is key
Skeen is also working with Anthem's first chief digital officer Rajeev Ronanki, whom the company in June hired from Deloitte, where he worked on personalized consumer engagement, intelligent automation, and predictive analytics, to focus on AI and other data-driven capabilities.
For example, Anthem earlier this month struck a deal with doc.ai to explore whether AI can be used to predict when people will experience allergies. Using doc.ai's Ethereum-based blockchain solution, doc.ai and advisors from Harvard Medical School will develop a framework for using machine learning to identify predictive models for allergies based on characteristics such as height and weight, exposure to weather/pollution and physical activity collected from participating Anthem employees and members of the public.
The arrival of a CDO at a company can cause CIOs to cast a wary eye over their shoulders, but Skeen says that partnering with Ronanki will help push Anthem's business toward a digital transformation faster.
Faster business transformations that lean on collaboration between various C-suite and line of business leaders are fashionable these days. IT leaders who can create and nurture such relationships while mastering back office and front-office strategies are "vanguard CIOs," according to new research from Deloitte Consulting.
However, such CIOs are rare; only 10 percent of 1,437 organizations Deloitte surveyed for its 2018 state of the CIO report rated as digital vanguards that possess a proficient digital strategy led by IT.
"If tech leaders don't drive the dialogue with their business partners, they may be left behind," said Kristi Lamar, managing director and experience leader in Deloitte CIO program and co-author of the report.