Randall Mott joined General Motors as CIO in 2012 with a direct mission from then CEO Daniel Akerson: Establish a competitive advantage by bringing IT in-house, reversing the auto giant's decades-old practice of outsourcing technology to third parties.
As daunting an IT strategy as it may have been, it was music to Mott's ears. After dealing with just about every available outsourcer in his prior CIO roles at Dell and Hewlett-Packard, Mott realized, "I ran captive organizations outside [at both HP and Dell] really well and really well sucked," Mott said at IDG's CIO 100 Symposium earlier this month.
The remark got some laughs, but Mott was only half joking. He noted that he was fortunate to join a company where the "IT organization is part of the business."
Cutting costs to reinvest in IT
When Mott took the helm, GM employed just 1,400 full-time IT workers versus 20,000 contract employees. He's since flipped the model, significantly reducing reliance on outsourcers (now only around 3 percent) while hiring and building out a team of 9,500 IT workers who support 180,000 global employees.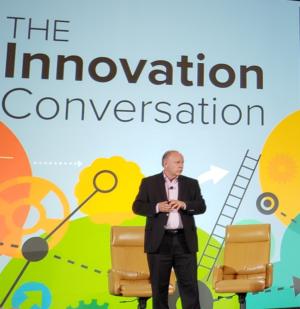 That tech team whittled 23 managed data centers, which operated antiquated infrastructure, to just two, running modern, private cloud with full business continuity. GM migrated from 100 percent outsourced network and telecommunications services to entirely insourced, largely leveraging Microsoft Skype software for phone calls and A/V conference sessions. The company has also sunsetted more than 3,000 applications, reducing the number to 2,865.
In 2012, GM used non-existent, redundant or manual processes to govern IT. Today, more than 70 percent of core IT processes are automated, Mott said. When he joined, GM didn't keep inventory of IT assets, enterprise performance metrics or adhere to standards; today it does all of those things. Mott saved money with each IT reduction or elimination, enabling him to reinvest in modern IT solutions. For example, Mott eliminated "hostage-holding" IT contracts in favor of enterprise license agreements with favorable terms. And he booted IBM's Lotus Notes in favor of 10 enterprise collaboration solutions.
While the reductions (and resulting change management) were considerable, they might not have been possible if Mott hadn't altered how GM courted talent. He made conscious effort to spread out staff over a disparate geography, creating innovation centers in Detroit, Arizona, Austin and Atlanta, each of which are within 200 miles of 50 percent of the top computer science schools.
Leading off with a business discussion
And Mott targeted a younger team. Since the start of 2013, Mott has hired more than 3,000 college students, which he says generally have high energy with low resistance to change. What does he look for as he's building his team? Employees who can drive a conversation in which they describe the business benefits of a solution, rather than just the technology. "We have very few roles where all they think about is technology," Mott said.
Today, 80 percent of Mott's tech team focuses on innovation, and is poised to notch more than 1,600 IT deliverables in 2018. Exploratory efforts include blockchain systems, as well as tests of artificial intelligence and machine learning tools.
"IT teams are helping with the art of the possible as the business tries to solve a problem," Mott said, noting that more than 800 current IT projects are business-facing. Success in those projects builds credibility with the business.
One mature innovation output, for which GM won an award at the CIO 100 event, is Maxis, a self-service analytics stack GM built from the ground up using a complement of open source and proprietary technologies. Maxis enables any employee from business analysts to data scientists to software engineers glean insights about the company's business. Such insights are proving increasingly salient.
From driverless cars to connected vehicles, the automotive industry is undergoing a once in a lifetime transformation that can buoy or sink careers for IT leaders and their C-suite peers. The built-in connectivity of modern cars provide tremendous opportunities for auto companies to collect data on how consumers use their motor vehicles, potentially paving the way for GM and its rivals to better cater to consumers with new, differentiated services. Every auto company seeks a leg up in a sector where the line between fast followers and fast failures is razor thin. Maxis is tackling this opportunity.
Mott summed up his personal IT operating model:
1. "Real innovation happens when IT professionals are tightly aligned to the company strategy." Everybody on the ship must be steering in the same direction under the CIO, who is captain.
2. "Real business applications on an enterprise scale do not come from venture capitalists." CIOs must make applications work for their business. Transformation doesn't come in a box.
3. "Modern, innovative companies have a good mix of experienced IT professionals and college hires." A diverse IT team composed of multi-generational minds trumps a one-dimensional highly experienced staff.
4. "Contractors and outsourcers impede success." Enterprises require a great, in-house IT staff to execute on and lift the business strategy.
5. "Sustained competitive advantage comes from a focus on continuous improvement, creative process and technological change." Keep learning and adapting to drive forward.
6. "IT is a strategic, corporate asset with speed of innovation and information as a critical, underlying success factor." Again: Nix those outsourcing moves.
7. "Successful IT organizations are run like a business." How else do CIOs expect to align with the business strategy?
Asked to offer one additional piece of advice to help CIOs, Mott advised his peers to make several changes in parallel rather than piecemeal. "Incremental changes are distractors or barriers to levels of change," Mott said. "You have the most opportunity of success if you change everything at once."