Managing projects successfully comes down to skill, tacit knowledge, and having the right tools to collaborate with stakeholders and share information. Wrike, an online project management and collaboration tool, makes light work of these essential tasks.
Wrike is available through the web to PCs, Macs, and Android and iOS devices. The company also offers a desktop version that syncs with the portal and enables users to work offline. The tool has become a popular solution with project teams and stakeholders, thanks to its intuitive interface and its wide-ranging of functionality. In particular, Wrike's wide variety of project view modes, from spreadsheets to Gantt charts to calendars, are a boon for users who may have differing preferences when it comes to engaging with their tasks.
The tool's comprehensive collaboration, proofing, and approval feature, which enables users to store, edit, and share various assets directly within the solution, is also impressive. Moreover, Wrike's resource management and allocation feature makes it easy to determine which resources are underutilized and to assign tasks to those resources using a drag-and-drop motion. Plus, customizable customer "request forms" can capture all customer and project information from the outset, automatically moving this data directly into a project workflow without needing to be manually re-entered — a significant time-saver that demonstrates Wrike's dedication to efficiency.
Following is an in-depth review of Wrike's project management platform that covers many of the tool's key features as well as some of the touches your users are likely to find the most beneficial.
Team structures and roles
As with most collaboration tools aimed at teams, Wrike offers a variety of primary user types and access roles. The four primary roles include: administrators, regular users, external users, and collaborators.
Administrators can create, edit, or delete all other user types. There is no limit to the number of admins an account can have. The account owner, on the other hand, is by default the person who initially registered for the Wrike account, and there can be only one account owner per account.
Regular users have full rights within your Wrike workspace, with the exception of rights reserved for admins. External users have similar rights to regular users, but without the ability to share tasks, folders, or projects. They are also not included in the "My Team" group. External users can only see the contact information of people who share common tasks, folders, and projects with them.
Collaborators have limited rights within a Wrike workspace. These licenses are useful when you need to share project plans with partners, clients or contractors without enabling them to make a lot of changes in your workspace. A more detailed view of capabilities for each of these user types can be found on Wrike's website.
In addition to these four user types, administrators can also create user groups and assign access roles to individual users or user groups for more granular control over who can create, edit, share and delete any given project, task, or folder.
Wrike's user interface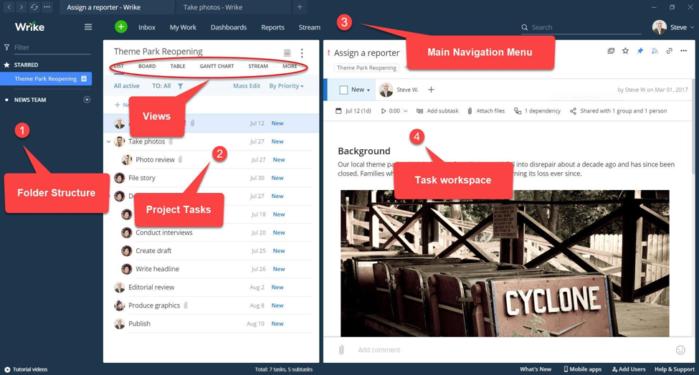 Wrike's user interface is clean, clearly laid out, and easy to navigate. All users, regardless of their role, will find Wrike's workspace intuitive, as it is similar in structure to most modern email clients.
A Wrike workspace is broken down into four main sections: folder structure, project tasks, main navigation menu, and task workspace, as shown in the screenshot above.
1. Folder structure: On the left side of the workspace users can access their folder structure, which shows all of the projects that exist within each environment.
Folder structures are fully customizable and can be created from scratch or duplicated from 80 percent completion of an existing folder and then modified to meet any unique needs. This folder structure can be expanded and collapsed by any user. Administrators can grant folder-level user permissions to full, editor, or limited access, simply by right-clicking on a folder and changing permissions. In addition to being able to add folders and sub-folders, users with full access can delete, rename, or share folders, as well as change workflows, set default views and color-code environments and projects to make them easily distinguishable when they are working with multiple client projects. Wrike's website offers greater detail on folder-level permissions.
An important feature within this environment is the ability to turn off inherited sharing at the folder level, and instead edit permissions at a very granular level. As some users may need to see the entire folder structure, while other users may only need to see and access certain folders or subfolders, permissions can easily be configured based on the needs of each user. This direct permissions feature makes it easy to determine what each user can or cannot do, even if they are within the same team. Organizations that are highly structured or have disconnected teams can use this feature to structure projects the way they need to.
2. Project task listing: When an environment or project is selected in the folder structure, related tasks are displayed in the pane to the right of the project folder structure. The task view can be customized by selecting from the list of view modes above the task pane. Tasks can be seen as a list, board, table, Gantt chart, and more.
The table view mode is structured like a spreadsheet, with tasks, assignees, start and end dates, duration, and the status listed in columns. This mode may be popular with users who spend a lot of time using tools like MS Excel when scheduling their project work.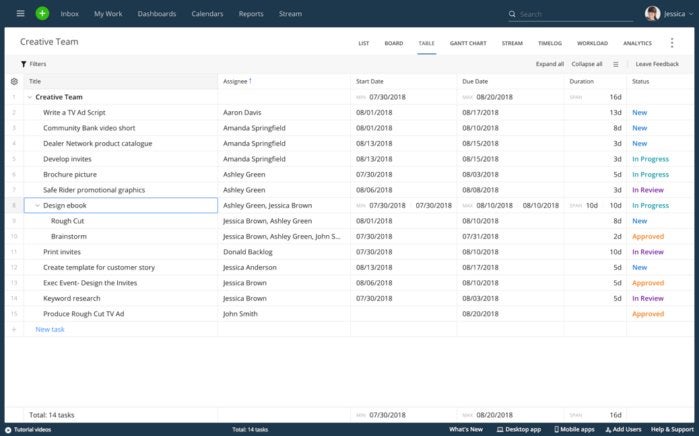 Traditional project managers may prefer the Gantt view as it allows them to see all of the tasks, assignees, start and end dates, durations and status in columns, along with task dependencies. Users can zoom in to see tasks at a high level or at more granular levels such as quarters, months, or days. Wrike has updated the Gantt view to be highly visual with drag-and-drop capabilities for creating, modifying, and removing dependencies. On the left, the Gantt view offers a tabular task view that can be easily customized to display key information by checking the boxes beside the data that is needed.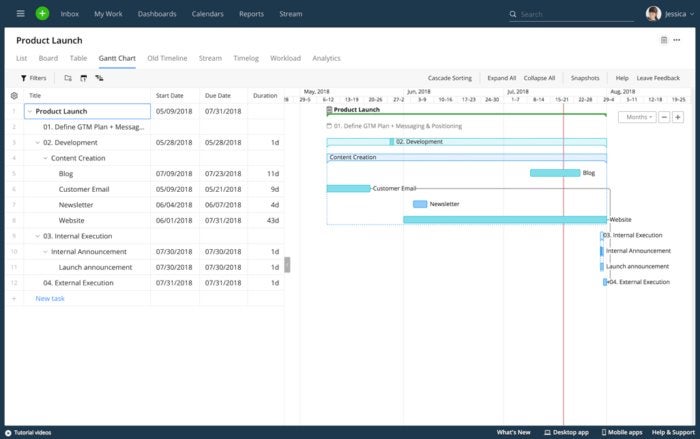 Wrike's task calendar view allows users to get a portfolio view by creating one of three types of calendars, a smart calendar based on tasks, a smart calendar based on projects or a classic date calendar. All calendar modes offer the ability to assign a color to each status type and display each task with its assigned color-coded status for easy viewing. Users can click on tasks to drill into the details and calendars can also be layered to view multiple projects.
The ability to see a project using these various views, especially the three calendar variations, is a great feature since many of your users will be used to living in this type of view daily.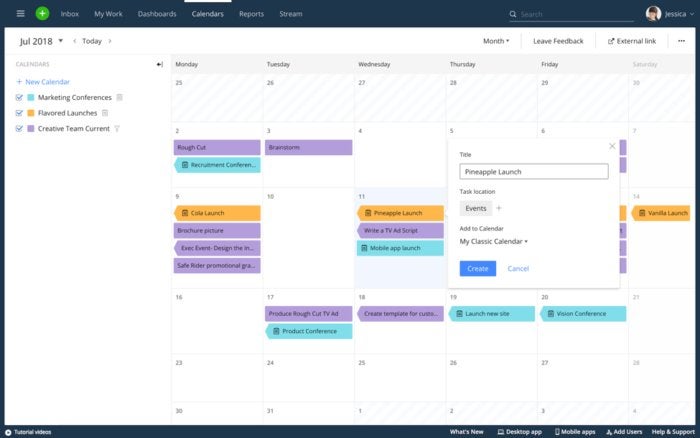 3. Main navigation menu: Above the task view pane, the main navigation menu gives users access to their inbox, their work, and their dashboard. Through this main navigation menu, users can compile, view, print, and share reports and more.
4. Task execution space: When a user clicks on a project task, the main pane of the page opens the task in the task execution space where the actual work is done. This section details the status of tasks and communication between stakeholders, which can be viewed by list, board, table, timeline, workspace, and more. It is structured similarly to the viewing and composing panes of email clients and to workspaces of popular note-taking applications such as Evernote. As such, working on tasks should be intuitive to most users, once the functionality and icons are known.
Wrike features
Wrike offers significant value to all project management stakeholders, thanks to its array of features and its strong collaboration functionality. Here is a look at Wrike's key features according to their area of use.
Planning
A powerful feature is Wrike's "request forms," which use a series of canned and customizable fields to gather all the data necessary to kick off a project and help set correct expectations. Within a project's requirements management process, request forms allow customers to input their business information and project requirements directly into the form, even if they do not have an account. Data collected during the intake process, or added later, can be mapped to custom fields and be used for business intelligence and reporting later. This is a key time-saving feature that accelerates delivery because it instantly moves all customer data from the request form directly into a project workflow, thereby eliminating the need to manually re-enter data into a project workflow before initiating a project.
Task management
Wrike simplifies project and task creation, time tracking and sharing of data. Users can quickly create projects, tasks, events, user groups and more from scratch or from existing ones and then simply modify them as needed. Time entries can easily be created, tracked, and categorized by the type of work being done, and a new "calendars" feature (detailed above) has been added, allowing users to see tasks, deadlines and more, within a familiar view. Another nice-to-have feature is the ability to share a snapshot of any of these views with anyone inside or outside an organization, without that person needing to have a Wrike license. This is done using a link to the snapshot whereby the link expiration date can be set.
Collaboration
Wrike eases collaboration woes by automating notifications and status updates sent to participants as the status of a task changes. Individuals can also choose to manually request a status update at any stage of a project. When it comes to email messages, Wrike has an inbox similar to other email clients, allowing users to initiate and track email threads without having to go outside the portal. This is easily found under the top navigation menu. Message importance can be flagged with a star, and reminders can be set effortlessly. Anyone who has worked on a project knows how important timely updates and seamless communication can be, and Wrike clearly understands the significance.
Asset management
When it comes to proofing and approving assets within any industry, Wrike's solution makes it possible for users at all levels to communicate and track events, activity, and conversations at a high or detailed level all within the solution rather than using disconnected applications or email threads. File uploads and @mentions can be easily added to share content and trigger a conversation with specific stakeholders in real-time. Files can be previewed, assigned, reviewed, approved, scheduled, edited, status updated, with activity and versions tracked right inside Wrike without using other applications for different extensions. When dependencies exist, and task status is impacted, an automatic notification will go out to the next task owner letting them know they can proceed with their task. If your business is of a creative nature, this feature will be one of particular interest and value. Alongside this feature, task cross-tagging is a unique Wrike feature that gives teams the ability to tag a mirrored image across multiple projects, folders, or teams with a quick click of the button. This is handy if an image is used for more than one campaign.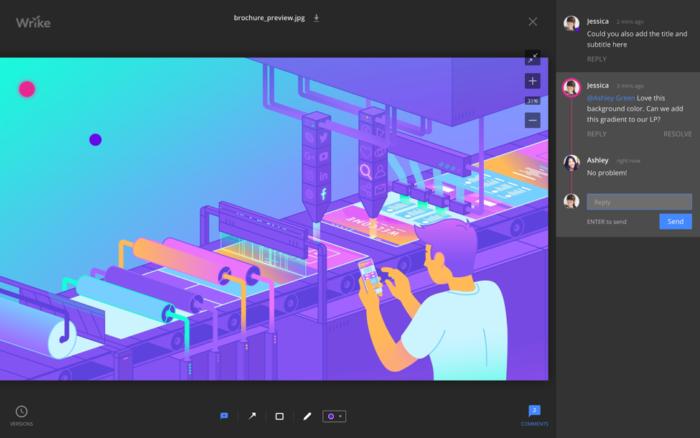 Resource management
The workload view allows project managers to see all available and assigned resources, including a view of all the activities assigned to each team member which shows their full workload. It also displays all unassigned tasks. Once tasks are assigned using the drag-and-drop capability, notifications are automatically generated.
Performance measurement and reporting
Customized dashboards can be set up for different departments or users using widgets that are created using predefined filters. Dashboards can be set up as templates and shared with anyone, and the status of each task is indicated, along with a column that displays any overdue tasks. Wrike has team-level reporting that works best for tasks that allow users to select and track custom fields and management reporting. All reports are designed to be engaging and allow the status of each task to be updated and refreshed right from the reporting environment. Reports can be shared or sent to any internal and external stakeholder as a single snapshot link.
Integrations
Wrike offers numerous integrations, which means versatility for customers. In addition to the Wrike for Developers API, there is a growing list of useful integrations available, including:
CRM: Salesforce, HubSpot
Software/IT: JIRA, Github
Email: Gmail, Outlook
Chat/messaging: Microsoft Teams, Google Hangouts Chat, Slack, HipChat
Export/import: MS Project, MS Excel, MS Office 365 Add-in, iCal Sync
Social: LinkedIn
Single sign-on: SAML, Okta, Microsoft, Bitium, Google, Active Directory Federation Services, OneLogin, PingFederate, Shibboleth
File storage: Box, Google Drive, Microsoft OneDrive, DropBox, Evernote
Extensions: Adobe Creative Cloud, Office Timeline, Chrome
CMS: WordPress, Marketo, ProofHQ
Customer support: Zendesk, SurveyMonkey
Forms: Google Sheets, Wufoo
Automation: Zapier
Accounting and invoicing: QuickBooks, Harvest
Documentation and support
Wrike offers detailed documentation on how to use all the features, including Wrike for Developers, right from within the portal.
Pricing
Wrike's platform is offered in several tiers, based on number of users and access to features, starting with a 5-user free version that is limited to task list functionality. Wrike's Professional tier serves up to 15 users and includes project planning and collaboration, at $9.80 per user per month. The Business tier can serve up to 200 users at $24.80 per user per month, including work management, customization, and executive reporting. The Enterprise tier supports an unlimited number of users, and includes the complete suite of functionality, including advanced security and controls. The Professional, Business, and Enterprise versions include a free trial of proofing and approval.
Wrike also offers a platform targeted at marketers and creative teams, at $34.60 per user per month.