Non-disclosure agreements (NDAs) supposedly protect trade secrets and confidential company information. But these days, especially in Silicon Valley, they can silence workers, preventing them from speaking up about misconduct that happens in the workplace. In fact, it's not uncommon for NDAs to include a non-disparagement clause, which keeps employees from saying anything negative about the company or its executives under the guise of protecting company secrets, according to a recent poll by anonymous workplace social network TeamBlind.
"In March, a user of our [Blind] app asked for clarity about their rights after being let go from a startup shortly after reporting sexual harassment. According to the user, 'I was immediately presented with a severance which I would only get if I signed a non-disclosure agreement and I had to make the decision right then and there. I felt like I had no choice, because I didn't make much money and was barely getting by,'" the user asks.
TeamBlind decided to poll its user base to find out if this scenario was common. With more than 44,000 Microsoft employees, 29,000 Amazon employees, 11,000 from Google, 8,000 from Uber, 7,000 from Facebook, and 6,000 from Apple, Blind has unique insight into tech workers' experience. They asked their users this question:
"At my current company, a non-disclosure agreement (NDA) has silenced me or my coworker(s) from speaking up about important issues."
The survey ran from Aug. 23, 2018, through Aug. 30, 2018, and a total of 10,242 Blind users responded. Turns out, overall, 15.3 percent of the 10,000 overall responses answered in the affirmative, while 53.6 percent said they weren't silenced by an NDA and 31.1 percent said they didn't know. It gets more interesting when it's broken down by company.
Thirty percent of Tesla employees said they or their co-workers have been silenced by an NDA at the company. This is the highest percentage among all companies with at least 50 responses from employees. The four other companies that top the list are Intel, with 20.74 percent, Amazon with 20.25 percent, Airbnb with 16.36 percent, and Apple with 15.79 percent.At the bottom of the list, Salesforce (9.32 percent), Oath (9.62 percent), and Nvidia and Adobe (9.8 percent). Linkedin had the lowest percentage of employees answering 'True' with only 7.25 percent, according to TeamBlind.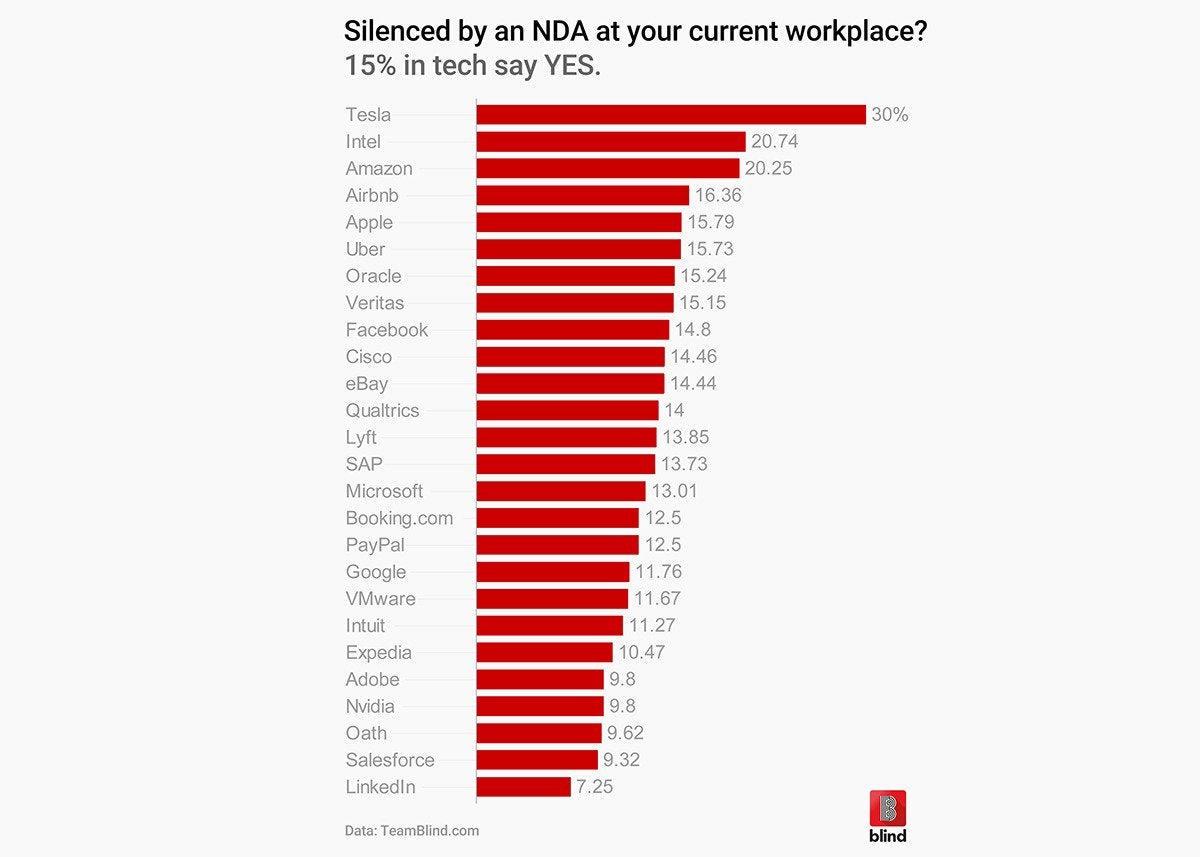 In a pretty well-known example, it was an NDA that seems to have prevented StitchFix founder Katrina Lake from blowing the whistle on Justin Caldbeck, the serial sexual predator and founder of investment firm Binary Capital. Though Caldbeck was later publicly accused and forced to resign, how many women did he harass and abuse because his behavior was swept under the rug?
How many other stories are being kept from the public? Thankfully, the issue is being brought into the light by a few brave souls willing to risk punishment or firing to expose problematic cultureand the individuals who perpetuate harassment and abuse. We need to keep speaking up if we're ever to change the culture of silence and complicity.