Throughout his extensive career in IT, including 16 years as CIO of University of Chicago Medicine, Eric Yablonka has seen healthcare technology evolve before his eyes. Recently, I spoke with Yablonka, now the CIO of Stanford Health, about the digital innovations his organization is working on and the challenges healthcare CIOs face today.
—————————————————-
How is digital technology impacting the healthcare industry?
Healthcare has typically been a laggard in adopting digital technologies, but we are catching up. We are starting to use the Internet of Things, artificial intelligence, and machine learning for patient care, quality improvement, and healthcare operations.
Can you offer some examples of digital innovation for patient care?
The Apple Heart Study, in partnership with Stanford Medicine, is a fascinating program that uses data from patients' Apple Watches to identify irregular heart rhythms and other signs of a serious heart condition. The study — which is now closed and doesn't accept any new participants — had grown rapidly through an app that made it very easy for patients to enroll in the program. In fact, a friend of mine on the East Coast signed up for the study before I even had a chance to talk to him about it.
That takes us to artificial intelligence and machine learning: When I was at University of Chicago, we did some interesting work that used advanced algorithms to predict cardiac arrests up to five hours before they occurred. When a patient has a cardiac arrest, they essentially die, and then attempts are made to revive them. Once a person has died and then been revived, he or she can often have complications and other serious issues. Advanced algorithms are helping to improve patient care and quality of life in some pretty significant ways.
How are you using AI for healthcare operations?
Industries that have been using real-time and predictive capabilities for years have found a way to engineer their architectures to support those capabilities. Executives in those industries have learned to manage their operations in real time, which is different from responding to conditions after they happen, as we have always done in healthcare. But we are making great progress.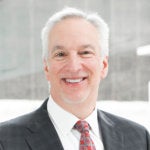 For example, we are now exploring how artificial intelligence can help physicians deal with physical burnout. Physicians tend to spend a lot of time completing all of the documentation their clinical work requires. That work is often done during off hours because the day is filled with seeing patients. At Stanford, we are working with Google on a project we call "digital-scribe," which takes a physician's verbal interaction with a patient and uses artificial intelligence to transcribe the notes from the visit into formal documentation. This way, rather than forcing a physician to turn to her PC — and away from her patient — to type in notes, she can talk to her patient in a natural way and still have the documentation completed before she leaves work.
Automating clinical notes might seem like an easy problem to solve, but decision trees in healthcare are very complicated with all sorts of dependencies on diagnoses and test results. But we believe we can make significant progress here. We want the machines to do more of the work that machines can do so that doctors and nurses can spend more time with the patient. Of course, any machine work output has to be accurate and meet clinical standards, a key aspect of training the machines.
What is the primary challenge facing healthcare CIOs?
Through technology, healthcare is becoming a different kind of industry, which is not lost on the technology provider market. Healthcare CIOs have much greater choices in technology solutions, but they need to be careful. The vendor community is willing to sell a whole range of tools, but some of these tools are more mature than others. There is likely to be a long shake out and adoption period for these technologies. CIOs in healthcare have to think through how to architect these solutions as a part of their ecosystems as opposed to buying 10-point solutions that solve narrowly defined needs.
The data architecture in a healthcare system is very complex, since data comes into the system from so many places — patients, referring physicians, payers. The future includes wearables, home monitoring and other sensors that are beyond the hospital and physician office. And data comes in so many forms — diagnostic test results can be images, paper, and lab results, structured and unstructured — all of which have to be brought into the record and integrated into a set of processes.
If as a CIO, you buy a 10-point solution and have too many databases across the company, then you likely will have challenges to report consistently. If we imagine that the data will be used in a predictive way at a high volume and at an enterprise level, where hospital operations or patient care depends on it, we have to manage our data assets extremely well. We cannot bolt on a bunch of solutions, expecting people to sort out the data. Machines should do that work and at an expert level.
What advice do you have for these CIOs?
Many CIOs have invested heavily in electronic health records (EHR), but that's just the transaction layer. Having an EHR [system] is necessary, but not sufficient. With the complexity of the healthcare ecosystem, the criticality of patient care, the always-changing regulatory environment, and the real challenge of physician burnout, CIOs need investment dollars, but we are living in a time when healthcare budgets are getting challenged. The federal government is reducing reimbursement levels, and the payers want to reduce costs with requirements for demonstrably improved quality. If we are going to be able to support alternative payment models, provide patient care, and improve population health, we must make the right decisions about the healthcare technology ecosystem.
My advice to CIOs is to be very thoughtful about engineering an ecosystem that will allow for advanced computing. How do we interact with patients both on and off premise? How do we build an architecture that can respond to regulatory changes? We have to thoroughly modernize our infrastructure. It is no longer acceptable to think that electronic healthcare records technology will do all of this for us.
Administrators over time will be faced with challenges about which technologies will provide them with value in the short and long term. It's great to get some immediate return from a technology investment, but we need to think about what healthcare will look like in 2025. CIOs need to think from the patient perspective, past EHR, to make the right investment decisions for the short and long term.
About Eric Yablonka
Eric Yablonka joined Stanford Health Care as CIO in 2017. Most recently, Yablonka was the CIO at the University of Chicago, a position held for 16 years. He has extensive experience developing and implementing technology strategies that align with academic medical center strategy, transforming how health care organizations operate. Before joining the University of Chicago, Yablonka served as vice president and CIO at the Saint Raphael Healthcare System in New Haven, Conn., for six years. He earned an MBA from the Advanced Management Program in the Eli Broad Graduate School of Management at Michigan State University and is a graduate of the State University of New York College at Buffalo.