Any industrial manufacturer knows that securing its future requires tackling digital disruption head-on. As more machines become connected via sensors, Bluetooth, WiFi, and other technologies, manufacturers who don't get ahead of the internet of things (IoT) curve will swiftly fall behind.
That's the attitude Schneider Electric's management is instilling in the French company's 145,000 employees, who make industrial-scale energy management systems that range from circuit breakers to safety switches to power meters and transformers. And as Schneider relies more heavily on IoT for predictive maintenance and machine optimization, among other strategic initiatives, employees must become more comfortable working with smart machines.
Some of this will happen organically if you buy into certain trends. Gartner, for instance, claims Generation Z workers will enter the workforce proficient in smart-machine technology by 2020. This next-generation workforce will expect to use natural language to interact with computers, including chatbots and other smart assistants to complete both mundane and complex tasks. As a natural outgrowth of the consumerization phenomenon, employees that have IoT experience via connected homes, cars and schools will anticipate IoT-enabled workspaces and business networks.
Cloud underpins IoT, smart machines
Schneider is preparing for this smart computing era by implementing software-as-a-service (SaaS) applications that enable employees to access critical information from any connected device, according to CIO Elizabeth Hackenson. In what Hackenson calls an "API-first" approach, these applications hook together with simple API calls, creating a seamless, service-based workplace that moves Schneider beyond the siloed, monolithic computing pattern of yesteryear. And as more apps become available, Schneider will simply plug them into its existing platforms with few modifications, Hackenson says.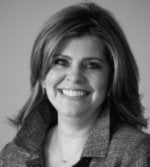 "We're moving away from monolithic, full stacks to APIs," Hackenson says. "Cloud gives us the ability to break those monoliths and create the digital core we need." This is no trivial pursuit. According to Deloitte's 2018 Global CIO survey, only 54 percent of 1,100 CIOs surveyed were confident that they have the necessary core technologies to serve as a foundation for their digital strategy. For many businesses, SaaS apps are considered cornerstones of digital platforms.
To wit, Schneider is reducing technical debt and modernizing IT by replacing legacy applications with SaaS. Microsoft Office 365 email and productivity software, Salesforce.com customer relationship management (CRM), DocuSign digital signing software, Edcast learning management system and Box collaboration software are a handful of the SaaS apps in Schneider's portfolio.
Whereas Schneider employees once shared and accessed documents through discrete file-sharing systems tailored for desktop access, approximately 110,000 Schneider employees now use Box to access critical documents, such as product specifications and sales contracts, from their laptops, tablets and smartphones. Hackenson says the move to Box is a reflection of the workforce's need to access content from anywhere in the world.
From digital citizens to digital experts
The cloud technologies, many of which Hackenson's predecessor and current Schneider Chief Digital Officer Herve Coureil implemented before Hackenson joined the company from energy giant AES in December 2017, are a key part of the company's digital strategy. But Hackenson is also working to change and upgrade the talent culture. This strategy includes partnering with human resources to assess and reskill employees based on their digital acumen — or lack thereof.
Starting with her IT staff of 2,200, Hackenson buckets employees as "digital citizens," "digital disruptors" and "digital experts."
Citizens have a sound grasp of digital technologies. They know how to access web and mobile software from any device. Disruptors are learning how to consume new and emerging technologies of their own volition. Disruptors, for instance, might learn how to leverage robotic process automation (RPA) to automate the employee onboarding process.
Experts possess the disruptor mindset but take it a step further by, for instance, understanding how to apply RPA more broadly to improve Schneider's business segments. Moreover, experts can communicate the potential business outcome of technology applications to each business line. "Instead of being an order taker, they are changing the game," Hackenson says.
Cultivating talent with such skills is one of the hallmarks of CIOs that Deloitte puts at the "digital vanguard," or the front lines of modern IT leadership. "I really want to get my group of 2,200 IT workers to move from digital citizens to disruptors to experts," Hackenson says.
To that end, Hackenson is retraining everybody to be cloud-savvy. In software development, Hackenson never want to see anything that's "not mobile-enabled." Aspiring to new digital heights also means upskilling her staff to master machine learning, artificial intelligence and RPA.
For example, Schneider employees will eventually be able to solicit self-service RPA to process help-desk tickets and query HR, financial services and other corporate knowledge systems. Chatbots that can help with this endeavor are also on her to-do list.
Ultimately, Hackenson says one of her core responsibilities is ensuring that every person in the organization is connected to Schneider's digital strategy. "I'm helping people understand: How am I important in this journey of becoming a digital leader in energy management?" Hackenson says.