Most IT leaders can only dream of a $10.8 billion IT budget. Lucky for JPMorgan Chase & Co. CIO Lori Beer, the beneficiary of such an embarrassment of riches, the financial services firm has its sights set on perfecting its digital business. And that requires the latitude to make significant investments in new products, services and staff.
Harnessing the tools du jour for the digital age, Beer is constructing software platforms that cut across the company's retail, wholesale and investment banking businesses. This strategy, which includes APIs and microservices, is yielding virtual assistants and other artificial intelligence (AI) capabilities intended to better serve both customers and employees.
"We are continuing to see the digital channels increase," says Beer. The company's 47 million digital customers accounted for roughly 1 billion digital sign-ins in July for a bank that processes $5 trillion in payments daily.
It's a digital world, and enterprise CIOs are adjusting on the fly. Eighty-four percent of CIOs have reimagined their role to focus on digital transformation, prioritizing innovation and business outcomes over IT service delivery, according to Gartner's 2018 survey of 3,160 CIOs.
Agile-built platforms drive digital services
At JPMorgan Chase, Beer is part of that 84 percent. Like most financial services behemoths, JPMorgan Chase is intent on providing its customers the kind of frictionless experiences that Amazon.com and other ecommerce players have groomed consumers to expect and, increasingly, demand. It's fitting then that the company in March unveiled a partnership with Amazon.com to provide investors tear sheets and other information via the ecommerce giant's Alexa virtual assistant.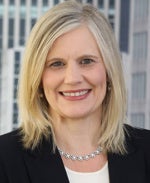 Beer says it's part of a digital strategy to extend virtual assistant technology across the bank. Her team is building software to enable employees to log password resets and other traditional IT help desk requests via a chatbot. JPMorgan Chase is leaning on a combination of proprietary and commercial software to build these capabilities, including both private and public cloud services.
To achieve the velocity the bank needs to stay ahead of competitors, Beer is leaning on a one-two punch of agile software development and platforms. In a departure from classic, siloed software development, JPMorgan Chase is using APIs, microservices, orchestration and repeatable processes to ensure that applications seamlessly work across different businesses.
APIs, the core components in platforms, help various applications communicate with one another. A break from monolithic application architecture, microservices entails loosely-coupled architecture to facilitate the continuous delivery and deployments of apps. Orchestration automate these CI/CD pipelines, facilitating repeatable processes.
For example, virtual assistant technology built for the retail banking business can be used in products and services in the company's wholesale and investment banking businesses. Software engineers can change the user interface and experience to suit each customer base, whether it's an individual consumer, or one of the company's many enterprise clients. Traditionally, such products would be built individually and tailored for each business line.
By taking this platform-centric approach favored by so many technology companies, JPMorgan Chase can cease reinventing the software wheel, ostensibly to achieve the operational velocity it requires to serve business stakeholders' evolving needs. Among the services leveraging this approach are JPMorgan Chase's You Invest digital investment service and Finn by Chase mobile banking service, which caters to younger, smartphone-toting consumers.
Before formally launching such services for mass consumption, JPMorgan Chase rolls out minimally viable products to customers, who test them in the company's digital labs. The feedback is instrumental in helping the company rapidly refine and accelerate products to market.
Doubling down on talent
Keeping up with that pace of change requires a stout, cutting-edge staff, something of which Beers can easily boast. Fully 20 percent — 50,000 of JPMorgan Chase's 250,000 employees — work in IT. But Beers says she is looking to add more.
Beer has adopted a multi-pronged strategy to the war for talent: She's seeking individuals who want to build next-generation technology, as well as those who specialize in tackling specific business problems.
"The reality of where we are today is that we need both the talent that can take and drive that business use case for those things that can help us competitively differentiate, such as in AI and blockchain, and we need more people to build the frameworks for those technologies," Beer says.
To that end, JPMorgan Chase is cultivating a mix of undergraduates as well as seasoned specialists from internet giants and academia to work on anything from cloud, cybersecurity and analytics to bleeding-edge disciplines, such as AI, machine learning (ML) and blockchain.
JPMorgan Chase in August lured Apoorv Saxena from Google as head of AI and ML services. Saxena is working closely with JPMorgan Chase's machine learning center of excellence to drive the design, development and governance of the firm's core ML patterns. In May, the bank hired Manuela Veloso, head of the machine-learning department at Carnegie Mellon University, to explore potentially transformative opportunities in financial services.
The company offers several programs for undergraduate and recent undergraduates. Code for Good is a 24-hour hackathon that enables students to work with JPMorgan Chase employees on solving real-world problems for social-good organizations.
The company is also trying to narrow the diversity gap with Tech Connect, in which college graduates whose studies focused on non-technology areas, such as math and life sciences, train as software engineers. These recruits learn how to code in Java and receive career development, mentoring and networking opportunities.
"We know the pace of change of technology is rapidly evolving," Beer says, adding that TechConnect can help JPMorgan Chase stay ahead of the digital disruption roiling financial services.