The following interview was conducted prior to Bayer's acquisition of Monsanto. Jim Swanson is now senior vice president/CIO and head of digital transformation at Bayer Crop Science.
There are great CIOs out there who, by changing the way their businesses relate to data, technology and the IT org, are strengthening their companies, boosting the bottom line, and even disrupting their industries. And a very few of those IT leaders are also, literally, aiming to change the world.
We sat down recently with one of the best examples of a world-changing CIO: Monsanto's Jim Swanson. Five years into his tenure, he has helped leverage data to change how Monsanto runs its global agriculture business — and now Jim is leading a program to make Monsanto a true digital company, molding a workforce entirely steeped in technology and the unlimited potential of data.
Talking about his innovative Digital Leadership development program, Jim emphasizes the scope of the vision.
"This is about enterprises transforming, not IT," he says. "It's about the entire employee base and how important it is that every employee in the company is thinking this way. And it's about what it takes to get there."
Creating a top-to-bottom digital workforce is an audacious goal, but Monsanto has no shortage of big-picture ambition. By connecting data across the company, breaking it out of its traditional silos and incorporating new data sources, the agricultural biotech giant is changing everything it does, from reducing its carbon footprint to improving seed availability to using climate science to help farmers get better yields. The result, Swanson says, is about more than one company's quarterly performance because when you change the way agribusiness operates, you change the way the world gets fed.
"Transformation is sorely needed," he says, noting that as even as global population grows and climate challenges increase, there's only so much arable land for farming, only so much water. "Monsanto has a unique opportunity to apply digital technology in this industry and have a substantial impact on the world."
CIO as economist, scientist, venture capitalist
We travel around the country and meet with CIOs regularly, and we ask them, "Name one non-tech company that's leading the way on digital transformation. Who do you respect most?" Monsanto, by far, is the most often mentioned company. Yet Swanson's response to that statement draws out one of his strongest leadership qualities: humility. He is quick to credit other leaders and team members, and Monsanto's culture as a whole.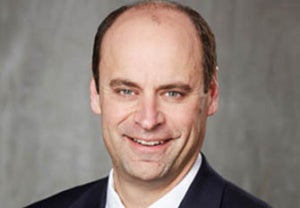 "Monsanto was a forward-leaning company to begin with," he says. "There's a culture around advancement that's unique from other companies — a foundation we were able to build on."
In that culture, he's able to promote a vision of fully connected data. But he didn't sell just the idea of various systems being technically capable of sharing data. When you hear Swanson talk, he doesn't sound like an IT guy. He sounds like a combination of economist, scientist, and venture capitalist. He knows how to lead an IT team, but he also knows how to engage and excite business leaders, CFOs, and the line employees he's targeting with the Data Leadership initiative.
"Jim is a really intuitive leader," says Swanson's human resources partner, Director of HR for Corporate Strategy and Global IT Malvika Jhangiani. "And he surrounds himself with complementary skills. He treats you not like you're a functional leader, but like you're a business leader with domain expertise in, in my case, HR. And he's very inspirational."
It's because Swanson has the passion to articulate — and fight for — a big vision that he's able to change the entire conversation, not just around data, but around the business.
"Today we sell a bag of seeds," he says. "What if tomorrow we sold solutions? That's a very different business model than what we do today."
Data democratized
Swanson emphasizes that the journey with data and digital transformation has been "a learning experience." His team's focus on making data available across the company and applying models to extract new insights is letting the company do things with data that it didn't even envision a few years ago.
"For example, if we had not democratized data across the enterprise, we would not be able to do things like reducing our seed safety stock because we needed info out of R&D, supply chain, and commercial to find the right amount of crop supply to produce," he says. "We've got to grow all our products — you can't just turn a factory on."
Similarly, data has allowed Monsanto to cut its carbon footprint; the company has committed to being carbon neutral by 2021, and it is using data to get there.
"We removed 350 metric tons of carbon annually, and we've reduced over 2 million miles of truck traffic, and it was done by combining data across multiple environments to create the decision science, algorithms, and logistics with sensors and IoT, to optimize our carbon footprint reduction and optimize how we distribute product and track it," Swanson says.
Similarly, data has transformed how the company grows its seeds, with new levels of efficiency and control.
"We now, for example, have a seed processing capability where we plant over a million seeds every season," he says. "Every seed is geolocated. Every single seed has a specific mapping to a subset of a field down to fidelity of a meter grid, and we use operational research models to determine what seed, in what field, what density. We couldn't have imagined that two years ago."
'Digital Fluency' becomes 'Digital Leadership'
Earlier this year, a joint IT and HR team at Monsanto rolled out an initiative originally called "Digital Fluency." Craig Alexander, the global talent management leader who helped create the initiative with Talent Management Lead Carlos Gomez, sums up the need for the effort in a one-line anecdote: "I was sitting behind someone at a presentation on digitization who said, 'I'm all for digitization. I just wish I knew what it meant.'"
The pilot program brought in 40 middle management leaders from around the company, not just from IT, to engage with a specialized curriculum around digital literacy and leadership. The program takes classes of 30-40 employees at a time through about 24 hours of virtual and in-person sessions over three days, with maybe 10 hours of preliminary work ahead of that. Participants end with hands-on brainstorming sessions in which they spin out their own "what if" scenarios about the potential of digital transformation — not merely digesting a message of innovation, but putting it into action.
Crucial to the program is that it's not focused on IT staff.
"If we don't embed IT and data and domain expertise in the core organization, none of this will be successful," Alexander says. "We've got to embed this skill set into every part of the organization."
The program has been strongly embraced, though the name quickly fell flat. The first cohort of graduates gave feedback: "Call it Digital Leadership" because they saw it as more than being "fluent" — they saw an opportunity and need to lead. The seemingly subtle distinction was, Swanson says, "a huge step change in our thinking about how to embed this program into our core programs, from our Global Executive Leadership program to how we embed it in a job description."
Swanson is quick to say that the point of the program is that "Digital Leadership turns everyone into a data scientist," and he credits Gomez, Alexander, and Jhangiani for creating the curriculum and guiding the strategy for rolling out the program across the enterprise.
A digital moonshot
Swanson is not only changing the conversation, but he's enlivening it. Boldly, he likens the challenges of Monsanto's digital transformation to the Apollo Program.
"We've got to have the moonshot in front of us that says it's worth it," he says. "Reaching the moon in 10 years wasn't easy. Yet we learned, moved forward, and did something great."
That kind of audacious thinking is necessary, Jhangiani adds. Companies and industries are quickly transforming, and she says today's leaders need to be able to reject business as usual in favor of startling new ideas. That's how you get, say, an Airbnb running a hotel business without real estate, and it's how Monsanto can go from selling "a bag of seeds or a jar of chemistry" to providing a complete, data-driven solution to the world's farmers.
And that vision, from seeds to outcomes? "Five years ago," Gomez says, "that thought would not roll off anyone's tongue here, but today people are talking about how we'll get to that state."
"That's what the entire leadership team and [Swanson] bring to the table," Malvika says. "That ability to look at weird and wonderful ideas."
Swanson is definitely thinking big. For him, it's about going all in, about pursuing big bets on transformation, not just incremental projects. He says Bayer's $66 billion acquisition of the company is exactly the kind of bold bet that has to drive Monsanto itself.
And when your goal is as ambitious as changing the way the entire world puts food on the table, there's no room for half-measures.
"We have to be all-in on digital transformation — it can't be something you just shrug off if you fail," he says. "That is the only way to be. Otherwise, you're not transforming anything."
For more on workforce strategy and talent management, check out our blog at Ouellette & Associates, and HR2IT, a new community around supporting the talent needs of IT.