Cultural transformation is the unsung engine of digital transformation success. For most organizations, this requires a mind-set shift toward digital-first solutions. But it also means connecting with your customers and bringing in new talent, and that is where diversity and inclusion strategies can have a significant impact.
For Julie Elberfeld, senior vice president of shared services and executive sponsor for diversity and inclusion in tech at Capital One, her two roles are inextricably linked: Successful navigation of ongoing digital transformation initiatives at Capital One require an equal commitment to cultural transformation.
Elberfeld's creation of the Women in Tech (WIT) program at Capital One has been integral part of Capital One's digital transformation journey, driving recruitment and retention efforts at all levels, but particularly in engineering, Elberfeld says.
"To stay relevant and thrive in this new, digital economy, we need exceptional problem-solving skills, creativity, innovation, and that comes from a diverse workforce that's tuned into the needs of our diverse customer base," Elberfeld says.
At the heart of Capital One's ongoing transformation, which includes conversational, customer-facing AI platforms such as ENO, is the need to create the best teams for delivering creative, innovative solutions, and that has meant creating a diverse, inclusive culture, Elberfeld says.
"The best, most creative and innovative and successful teams are built on a culture of diversity and inclusion," she says. "The teams working on your biggest problems have to be solving those problems for everyone; they have to reflect your customer base so that you can achieve both digital and cultural transformation."
A holistic approach to diversity and inclusion
Because cultural transformation must be holistic for success, Elberfeld and her team sparked their diversity and inclusion efforts at both ends of the org chart, through a grassroots push and by engaging company leadership, she says.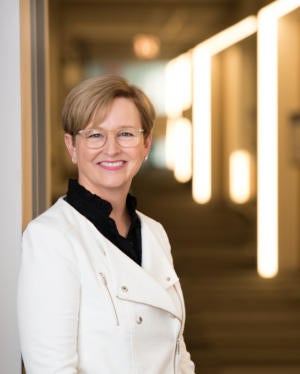 "When you have that kind of passion to address change throughout the entire industry, it has to start this way — from the bottom up and from the top down," she says. "You need to get buy-in from the bottom so it doesn't feel like a directive, but you also need to get that funding, support and direction from the top."
Capital One's WIT initiative, which focuses not only on gender representation but also the underrepresentation of Black, Hispanic/Latinx and other groups, kicked off with a summit to bring Capital One's women together to discuss strategies, challenges and opportunities, and to increase engagement.
Capital One has since established a broad, deep set of diversity and inclusion initiatives that work together, up and down the corporate hierarchy, and include both internal- and external-facing programs, Elberfeld says. That holistic approach to D&I has helped make it possible to reach as many people as possible, she adds.
"We've shared this message with all of our technical teams and associates; increased awareness and added additional bias mitigation training," Elberfeld says. "Now we have a common language to share both the opportunities and the challenges within the industry and in Capital One itself."
Capital One's D&I initiatives span the organization, Elberfeld says. "There are nine different WIT chapters across the country; one in the UK and one in Canada, to support women local to those offices through mentorship, sponsorship, leadership training and affinity groups," she says. In addition, there are specific groups for male allies.
How IT diversity helps workers thrive
Capital One also sponsors WIT demo days, which offer a hackathon-like experience without the cutthroat, sometimes hostile environment that those kinds of events can sometimes have, she says.
"We wanted to take the hackathon concept and make it more open and more inclusive. We welcomed families and children; allies — challenging them to use technology to solve for an issue that women in tech face, as well as prepare women and underrepresented minorities for a sense of what hackathons are like," Elberfeld says.
In addition to work within Capital One, externally facing programs and partnerships, like the Capital One Coders kids program in conjunction with ten Virginia schools, is helping boost young girls' interest in STEM careers early.
Tackling D&I as a business problem
When it comes to measuring progress, metrics are important, but some facets of D&I initiatives are difficult to gauge accurately, Elberfeld says, adding that you may need to allow your gut and intuition tell you if you're moving in the right direction.
"It can't all be about these hard numbers and metrics, which we do have and we do share with each other, but it also involves talking to our people and listening," she says. "You can say, 'Oh, we have X percentage of African-American women now,' but if you don't understand what those women's experience actually is, the numbers won't mean much. It's about qualitative experience, and that's hard to put into quantitative terms."
Every organization is unique, so there's no one-size-fits-all solution to the challenges of digital transformation or diversity and inclusion, Elberfeld says. Tackling both issues as you would any other business problem — identifying the scope and scale, breaking the problem down into smaller issues, goal-setting, measuring progress — can help any organization work toward a more successful digital transformation buoyed by increased diversity and inclusion within the ranks, she says.
The key, Elberfeld says, is to find areas where your organization already excels and then leverage those for greater success in order to provide motivation and prevent engagement and enthusiasm from waning.
"There's a tendency to get caught in the weeds but you have to see the bigger picture. Find the biggest leverage point for your organization — whether that's your leadership, your hiring processes for your mid-level associates, for example, and then focus on that first. Once you get momentum, you will find you naturally add on to those areas," she says.
In that sense, tackling D&I is not dissimilar to tackling a digital transformation, she says.
"The work we're doing is really echoing the work we'd do on any other business problem or opportunity we'd face," she says. "In IT, it's somewhat more difficult because we're addressing a macro issue that spans the whole industry, and we don't control all the variables. We have to look at every moment that matters across the entire technology lifecycle and figure out how that fits into the bigger picture."
While both the digital transformation journey and Capital One's efforts to improve diversity and inclusion have seen significant progress, there's still much work to be done on both fronts. That's perfectly fine with Elberfeld.
"This is a long game. You have to keep pushing, keep working toward the end goals. It's a macro-level issue facing our entire country and the entire IT industry; it's not going to happen overnight," she says.